Toca Fiberglass Doumbek has a very innovative design which becomes clear as soon as you look at the fiberglass shell that offers durability and resonance. Along with fiberglass, the thing that adds to the durability of this doumbek is the rubber bottom edge that is present to guard the shell when it faces sudden and unexpected bumps.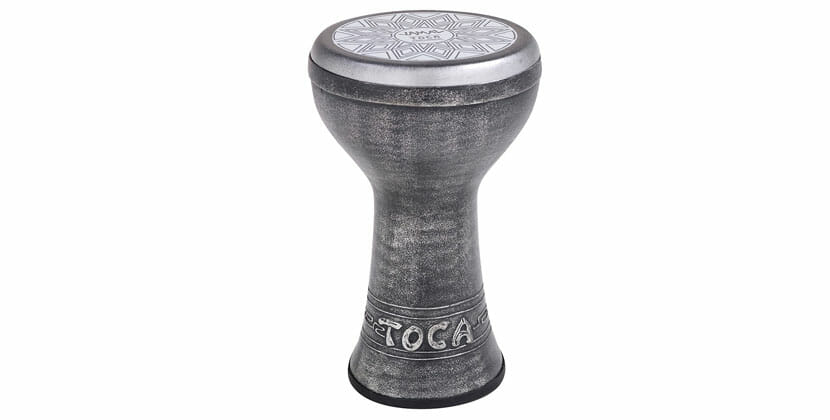 Table of Contents
Basic Construction
The Toca Jamal Fiberglass Doumbek sliver is a very elegant and compact doumbek and is one of a kind. Standing at just 16 inches tall and having the head of the diameter to almost 9 1/2 inches, it is easily portable which is pretty convenient for a player. The head is silk-screened along with a distinct and decorative pattern, which is also an indicator of its ethnic heritage. It is very innovative when it comes to design and thus is very unique. It has a fiberglass shell offering it durability and also a rubber bottom edge which makes it resistant to unexpected collisions. The resonance of the drum is also derived from the fiberglass shell. The silver finish is icing on the cake. Fitted over the shell comes a pre-stretched and synthetic head.
Attractive Features
It has been made in collaboration with the master doumbek player Jamal Mohamed.
It has a fiberglass shell which offers it durability and resonance, making it a very innovative design.
It is also fitted with a rubber bottom to protect it and increase its durability.
It also has a very unique appearance.
It has both "Toca" and "Jamal" embossed on the surface.
It has a hand-applied silver finish.
It can produce sounds over a wide variety of frequencies and is also free from tuning hassles.
Its silk screen and decorative patter, take is closer to its ethnic origins.
It can produce deep "doum" and penetrating and significant "tek" sounds.
It also has a pre-stretched synthetic head.
Combines the best of both the modern and classical world.
How Does It Fare?
This drum is seriously a complete package and is ideal for anyone and everyone. It can be bought by a collector since it has been designed in collaborating with Jamal, and also has a very unique look along with being durable. Even a novice who cannot handle a drum can use it, since the product is extremely durable and is prone to handling by crude hands. And, coming to the professional drum players, they can certainly buy it for its aesthetic features and can also study how innovators like Toca and Jamal come up with new designs while sticking to the roots of the instrument.
The drum produces a deep doum (bass) sound and very descriptively clear and penetrating tek (high) sounds that can face any musical requirement. Even the though the Doumbek is pretty compact, it can produce sounds of varying frequency and amplitude and can even withstand outdoor playing. And, since it is very compact, it is very mobile and does not cause any inconvenience to the player of the drum. It also is a treat for the eye, with its unique appearance with the beautiful hand-applied silver finish.