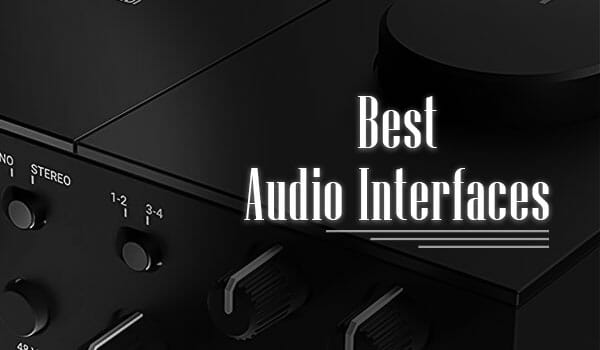 An audio interface is the key to high quality recordings of any home studio or podcast station. The audio interface connects to your computer and facilitates high-resolution recordings of instruments, vocals and even voice-overs.
It converts analog signals to digital signals for your computer, and at the time of playback it converts the digital signals to analog audio for listening on speakers and headphones. There are audio interfaces which also connect to an iPad and you can comfortably control your recordings on the iPad.
Table of Contents
Top Audio Interface Reviews Under $500 In 2023

The M-Audio M-Track Eight is a no-frills audio interface that is very high on efficiency. Priced under $500, this audio interface offers great versatility and can channel inputs from a variety of sources. The audio interface has 8 preamp inputs, with two microphone preamp inputs placed at the front panel. The other 6 preamplifier inputs are XLR/TRS type which can be used both for instruments as well as for microphones.
A very clean display on the front panel flashes the channel meters. The system comes with two headphone input options with individual volume control and source switch. There are two separate 48-volt phantom power buttons on the front panel as well. The audio interface connects to the computer with a USB connection port at the rear panel. The system includes many utility features like the Pro Tools First software, Eleven Lite plugin, XPand2!, and award winning technology like virtual drummer assistant and virtual acoustic piano.
With a 24-bit analog-to-digital conversion and a sampling rate of 96 kHz, this is a great audio interface for full-fledged professional recording experience.
Features
8-channel balanced XLR high-headroom inputs.
Two headphone jacks.
8 balanced output.
111 dB dynamic range.
Control room output.
Zero latency monitoring.
Virtual instruments by AIR Music Technology.
Windows and OSx compatibility.
Pros
Multi-channel input facilitates connection with all types of sources.
Professional grade audio recording and superior pre-amplification.
The LCD display ensures proper monitoring and engineering during a recording session.
Built-in guitar plugins allow creative exploration of many sound effects.
The Touch Loop feature allows mixing two music recordings.
Cons
Slight heating issue which needs to be managed with a cooling fan.
Does not come with a thunderbolt connection.
The M-Audio M-Track Eight is a sensibly designed audio interface with all necessary controls and features. The placement of input and output lines is very convenient. Overall at its price, the 8 channel audio interface is a fantastic option for a recording of a large musical band, drums set etc.

The Resident Audio T4 Thunderbolt is a bus-powered audio interface, which means that it doesn't need an external power supply. This is a huge advantage in terms of portability and flexibility, making it indispensable for live-recordings and outdoor recordings.
The utility software drivers built-in with this audio interface include auto-detecting multi-channel output and smart monitoring technology, which are worth every musician's time and money. All the 4 channel inputs are XLR combinations allowing all varieties of source input options. There are many other features which offer immense versatility to the audio interface including MIDI connectors, gain controls, and dual headphone jacks.
The control knobs have a 3-color LED-light level indicator around them, which allows ease of controlling levels even in low-light environments. The audio interface has an input mix control and instrument / line switch which also allows greater control and monitoring while recording. The system can operate in multi-channel mode as well as in stereo mix mode. And of course, the thunderbolt interface is much faster and better sounding than a USB audio interface.
Features
Bus-powered.
Dual headphone outputs.
Microphone preamplifier and ADA converters.
Thunderbolt 2.0 connection.
48-volt phantom power button.
Automatic switch between mono and stereo with Smart Monitoring feature.
Zero latency recording.
Compatible with Windows 8 or higher versions, and OSx 10.9 or higher versions.
Pros
Thunderbolt interface yields low latency and very good sound quality.
Light, portable and flexible audio interface.
The LED-light signals around control knobs are very convenient.
Cons
Requires Thunderbolt enabled computer system.
Slightly higher price range for a 4-channel audio interface.
The Resident Audio T4 Thunderbolt comes with leading technology and enviable features. The audio interface is portable and highly versatile, making it the best resort for recording on-stage music performance or DJ mixes. This is a highly reliable audio interface for smooth professional recording experience.

Behringer U-phoria UMC1820 is one of the most affordable 8-channel audio interfaces in the market. The audio interface has XLR/TRS combination inputs that can connect to microphones, instruments and MIDI devices. All the input channels are fitted with microphone preamplifiers and yield ultimate professional quality sound recordings.
This audio interface is very convenient since it pairs up with most of the popular music recording software, and you don't need to get used to any new software particularly for this audio interface. The controls and switches on the interface are well designed for zero-latency and effective monitoring. You can download free software for unbelievable effects and features. A total of 18 inputs and 20 outputs ensure that your recordings are hassle-free with super smooth connections for every imaginable device and multiple headphones.
There is an option to expand to further 8 microphone amplifiers too. Priced at around $300 only and with high resolution converters and multi-format support, this is one of the best devices for high-quality recordings and DJ mixes.
Features
8-channel audio interface with microphone preamps
Expandable for 16 microphone preamps
Mix control and Mono/Stereo switch
18 input and 20 output options
Dual headphones jack
Dedicated main level control
Free software for enhanced recording, editing and podcasting
Ultra-low latency
3-year warranty
Pros
Superior design and engineering and durable construction
Many input and output line connections makes it very handy for a full band recording
Compatible with music recording softwares like Avid Pro Tools, Ableton Live, Steinberg Cubase etc
Extremely affordable 8-channel audio interface
Cons
Does not support Thunderbolt connection
Behringer U-phoria UMC1820 is the best selling "made in Germany" audio interface that offers the greatest advantage of numerous channels often sought after by top musicians and recording artists. It looks classy and has a highly durable construction. With expandable features and downloadable softwares, this audio interface is highly recommended and great value for money.

Roland OctaCapture is a USB audio interface with 8-channel microphone preamps. The superior quality components on this audio interface generate high quality recordings while offering amazing ease of controls and monitoring. This is a portable audio interface with 10 input, 10 output options and 4 direct monitor mixers.
The dedicated direct mixer control allows independent settings for different mixes and the LCD displays meter levels for monitoring the output. The auto-sens feature automatically adjusts input levels for perfect recordings. The 8 digital microphone preamps come with XLR inputs, individual phantom power buttons, low-cut filter and digital converters. Price just under $500, this audio interface promises quality and performance well worth the price.
Features
8-channel premium microphone preamps
10 input and 10 output channels
Auto-Sens feature
4 independent software controlled direct mixers
Compatible with Windows 7 and higher versions, and OSx 10.6 and higher versions
Low latency
Cakewalk Sonar X1 LE software included
Rack mount angles included
Pros
Numerous input and output connections are suitable for a full band recording
4 direct mixers allow independent mixing
Superior quality preamps which yield very good recordings
Cons
The bundled software only facilitates use of only 4 input channels, and you need to purchase a full version for complete usage.
Roland OctaCapture is a one-stop solution for recording drum sets and large music bands. The direct mixers and in-built preamps are a huge bonus and guarantee a truly satisfying recording experience. Although on a higher budget, you will get the trusted quality and performance of the Roland band.

Focusrite Clarett 2Pre is a portable 2-input channel audio interface with microphone preamps. It also comes with MIDI in/out ports and four balanced output. There are two USB ports, one type C connection and the other one can be used as bus-power supply. There are dual headphone connection jacks with control knobs for adjusting headphones level.
There is a control knob for monitoring output level, and a gain control knob. The analog to digital converter has a 24-bit depth and 192 kHz sampling rate. The USB Type-C interface gives clear latency free recording output. Overall this is a highly recommended audio interface for song recordings for individual artists.
Features
USB audio interface with two microphone preamps
119 dB dynamic range
+57 dB gain range
Two USB ports
ADAT expandability
Dual headphone outputs
Reliable Focusrite plugin, EQ and control
Ableton software included
Plugin Collective feature for updating tools
Pros
Air feature preamps give exceptional sound quality
Expandable to more channels
Multiple output connections are ideal for tracking recordings
Cons
High price for two microphone preamps
Focusrite Clarett 2Pre is a costly audio interface but the sound quality is exceptional and other cheaper audio interfaces do not match anywhere close to the AIR preamps. The software and tools package included in this audio interface are also much desirable features.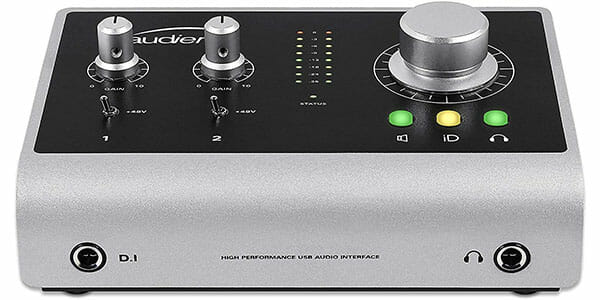 Audient iD14 is a 10 input / 4 output audio interface with a rear USB port. This affordable audio interface has been rated highly by users especially because it yields the best audio quality among all other entry-level interfaces. The interface uses the top notch Class A microphone preamp which is inherent in all Audient interfaces, irrespective of their cost value. The device is small and simple, but has a highly adaptable interface.
There is an in-built JFET amplifier for instrument output. The console style monitor control comes with features like cue mixing, Mono Sum, Polarity Reverse, DIM, CUT etc. The virtual scroll control allows knob-control for digital parameters. The Burr Brown converter hugely boosts the sound output. The ADAT and S/PDIF compatibility allows 10-input expandable channels. The simple software is compatible with Windows and MacOS.
Features
USB audio interface with 10 input/ 4 output channel
2 Class-A microphone preamplifiers
Virtual scroll control
Burr Brown converter
JFET instrument output
Software controlled monitor control
Low latency
ADAT expandability
Software and tools included
Pros
Affordable and reliable
Durable and sturdy design
Low self-noise renders better sound quality
Audient iD14 is a fairly priced basic audio interface which allows professional quality recordings with Class A microphone preamplifiers. With the simple supportive software and utility features, it is the best entry level interface for beginner artists.

Tascam iXR is a compact audio interface that connects not only to computers but also to iPhone or iPad directly and offers the ease of recording virtual instruments from the mobile phone or tablet. The audio interface connects with iPhone/iPad with a lightning connector and comes with two XLR combo input channels and High Definition Discrete Architecture (HDDA) microphone preamps.
The Tascam iXR comes with registered Cubasis LE recording software and a microphone, desktop stand, cable and protective cover. The system is compatible with most of the other popular recording softwares too. It operates on bus-power when connected to the computer and can also be supplied with power from an adapter, external battery or mobile battery.
Features
USB and lightning port audio interface
Dual HDDA mic preamps
Balances XLR/TRS input jacks
57 dB dynamic range
Zero latency
Balanced output jack
Headphone jack
MIDI input/output connection
Mono / Stereo switch and direct monitoring
Pros
Clear recordings with reduced noise from unused channels with the input mute feature
Steinberg Cubase LE8 software is bundled in
Includes a microphone and works as a starter pack for beginner recorders
Individual controls for line and headphones
Tascam iXR is a complete recording solution for iPhone/iPad users and the best one in the market too. The input channels allow flexibility of source and also provide phantom power for microphones, which is a huge bonus in such an entry level interface.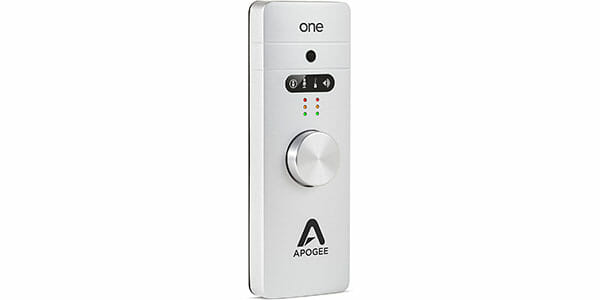 Apogee ONE is a highly efficient USB audio interface for mobile recordings and music. In this ultra-compact device, there are 2 input and 2 output line connections and also a built-in microphone for recordings. Also there is an option to connect instruments with the XLR input cable. This is the ultimate portable interface with high performance AD/DA converter and mic preamp, suitable for individual artists and recordings on-the-go.
Features
USB audio interface with 2 input and 2 output channels
Low latency
Built-in microphone
Instrument input and external microphone input
Stereo output for headphone
Direct monitoring
62 dB gain range
Compatible with MacBook and PCs, and also upgradable for connection with iPhone/ iPad
Pros
It serves as a portable microphone, audio interface and also headphone amplifier
Very reasonably priced entry-level USB audio interface
Comes with Apogee Maestro Software
Cons
Fewer control options due to its compact size
Single headphone jack
Apogee ONE is an amazing little device with much power and performance packed within. The sound quality of recordings is exceptionally good at this price. With an ease of use and all basic features, this audio interface is ideal for songwriters and beginner artists.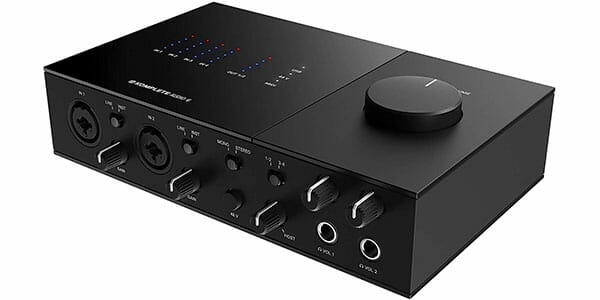 Native Instruments Komplete Audio 6 is a bus-powered 4 input and 4 output USB interface. There are 2 digital input/output channels, dual headphone outputs and a MIDI input/output. The combination input channels allow you to plugin instruments directly. With these connections and 48-volt phantom power, the Komplete Audio 6 is an ideal interface for home-studio recordings.
The Cirrus Logic converter delivers high quality recordings. Software and tools bundled in the package include Monark, Mod Pack, Replika, Solid Bus Comp, Maschine Essentials, Ableton Live, Traktor LE3 and Komplete Start. Users also get two months free access to Sounds.com and a cash voucher.
Features
USB interface with 6 input and 6 output channels
24-bit/96 kHz sound resolution
USB 2.0 bus-power
Direct monitoring and mono/stereo switch
Dual headphone output jacks
Softwares and tools included in the package.
Compatible with Mac and PC
Pros
The preamps are powerful and generate superior quality recordings
LED signal indicators are very insightful and convenient
Amazing softwares and tools
Komplete Audio 6 is a great entry-level audio interface with reliable sound quality and functionality. With easy installation and a durable structure, this is a must have for home-studio recordings and podcasts.
Top Brands: Audio Interfaces
1. M-Audio
M-Audio is one of the oldest companies in the audio interface and sound solutions business. The company is trusted for its superior engineering and technology and high quality products.
2. Resident Audio
Resident Audio is relatively new in the business, but it has made a solid mark with high quality deliverables. It is one of the leading brands for Thunderbolt audio interfaces globally.
3. Behringer
Behringer, which started as a humble venture in 1961 in Switzerland, has progressively grown into the best names for professional audio devices. The products are affordable but high quality.
4. Focusrite
Focusrite is a globally recognized British-brand which manufactures audio interfaces, preamps, consoles and EQs. Over time it has acquired some well known brands like Adam Audio, Martin Audio London, Novalton and Amplify Music.
5. Apogee Electronics
Apogee Electronics is an American company specializing in manufacture of professional audio interfaces and converters. The brand is dedicated to delivering high quality sound, functional design and good value products.
6. Native Instruments
Native Instruments is a highly revered brand among computer music producers and DJs. Native Instruments products are innovative and technologically advanced, and promise superior performance.
Frequently Asked Question About Audio Interface
Is it possible to use an audio interface without a computer?
Yes, it is possible to use audio interfaces without a computer, when it comes with dedicated on-screen controls. Most of the affordable audio interfaces require a computer connection for monitoring and control.
Is it possible to use all preamps on the audio interface simultaneously?
Yes, all preamps work simultaneously on a computer.
Can I operate the audio interface with my phone?
Yes, there are some audio interfaces which come with an iPhone / iPad connector and can be used for controlling recordings through mobile phones.
Is it possible to use an audio interface for live recordings?
Yes, audio interfaces can be used for recording live sessions. Some audio interfaces are bus-powered and lightweight which allows recordings on-the-go.
Is it possible to use the headphone output without direct monitoring?
Yes, you can use the headphone jack without direct monitoring.
Is it possible to control the gain on the audio interface?
Yes, most audio interfaces come with a gain control knob for this purpose.
Do I need an expensive audio interface for my expensive microphones?
Even lesser priced audio interfaces come with powerful preamps and converters and work well with premium microphone. You don't necessarily need an expensive audio interface.
Conclusion
Some of these audio interfaces have the best sounding preamplifiers and converters, which make the perfect recordings highly affordable. We hope that our buying guide will help you figure out the best audio interface for your recording projects, and also use it well in your home studio for the most professional results.