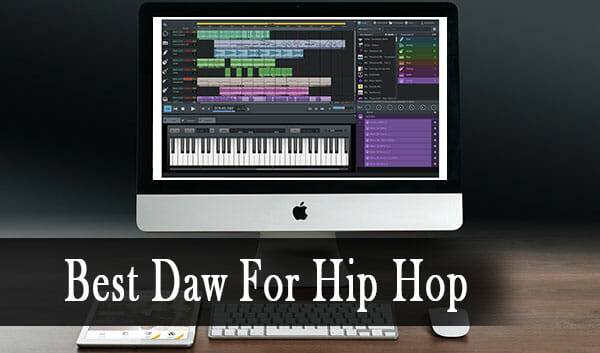 DAW or Digital Audio Workstation is a computer software platform that provides an interface for musical compositions and recordings. Most software come with a variety of plugins and tools which can take your music production to infinite possibilities.
Here we present a buying guide for the best DAW in the market for recording, composing, editing and polishing your tracks in 2023, so that you can select one which blends with your music style and vibe.
Table of Contents
Top DAW Reviews of 2023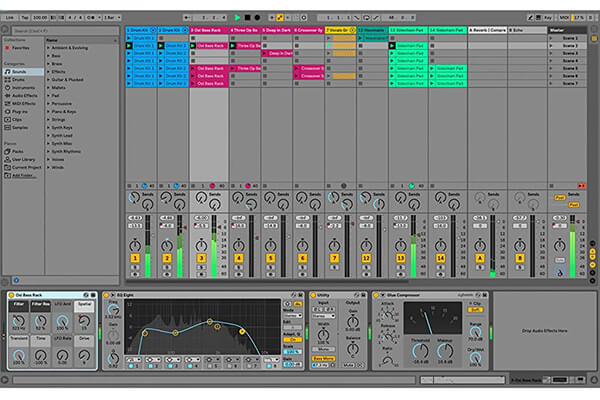 Live 10 is the latest update on the Live series of software for music production from Ableton. The software is ideal for multi-track audio recording and MIDI sequencing. This software comes with a host of advantages in terms of effects, integration and workflow.
The themes on this software are straightforward and do not create distractions at the workstation. The software sorts out little details which improve work efficiency, like highlighting buttons with mouse hover, easy access for enabling effects. The Standard version of the software is the medium range option with full features and some additional ones like 'Audio-slicing' and 'Audio to MIDI'.
Features
Unlimited audio and MIDI.
Unlimited scenes.
12 send and return tracks.
256 mono audio input and output channels.
Capture MIDI for converting notes to music.
Audio warp modes for real-time warping.
Auto-slicing.
Audio to MIDI.
1800+ sounds, 34 sound effects and 8 MIDI effects.
5 software instruments.
Compatible with Windows 7 or higher, and OSx10.11.16 or higher.
Pros
Convenient workstation with time-line workflow and live-session view.
Advanced warping modes for real-time warping.
Recording of virtual instruments.
Useful clips and downloadable sound packs for beginners.
Ableton Live 10 Standard is exceptional recording software that can also be used for live performances. Most audio interfaces and hardware controllers are compatible with Ableton Live 10. This software also allows musicians to capture spontaneous notes and ideas and produce final music with it.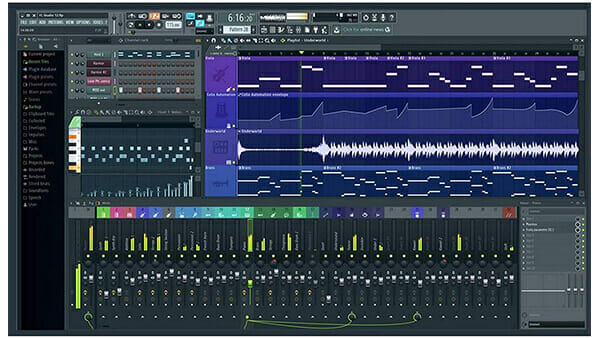 FL Studio 20 is the newly released version of the digital audio recording software from Image-Line. It is one of the very popular pattern-style interfaces for music sequencing. The software manages to offer professionally advanced tools and features in a very easy to operate style in spite of being in the market for the past twenty years.
It is a powerful software for mixing and recording with quick plug-and-pay patterns and sequencing tools. The new feature allows conversion of spontaneous audio-takes to audio clips, and conversion of MIDI to audio, and addition of melodies and harmony. The music editing tools offered by this software are the best in the industry. The Producer edition is the medium price range version of the FL Studio 20 software which offers full song production and recording.
Features
Flexible and adjustable interface design.
More than 80 instruments and effects plugins.
Piano Roll feature allows sending notes to a plugin instrument.
Time Signature feature.
Supports all VST standards and acts as a VST plugin.
Supports touch control.
Compatible with Windows and Mac OSx10.11 and higher.
Pros
Lifetime free updates.
Flexible workstation.
Supports all VST standards.
FL Studio 20 is a power-packed dynamic Digital Audio Workstation with complete music production tools for hip hop artists. The software has been loved and highly recommended by beginners and professionals, and trusted by celebrated musicians for years. The active online community of FL Studio users is a huge support and storehouse for learning tips and tricks.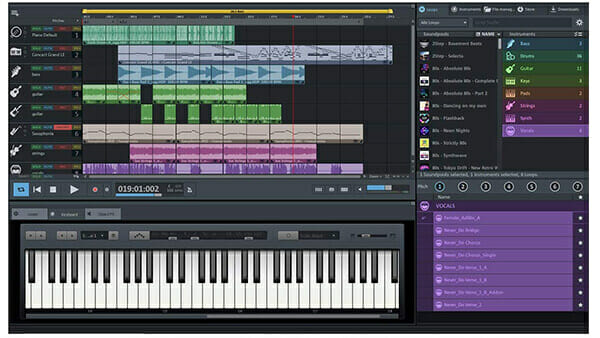 Music Maker 2020 is the latest version of the entry-level Digital Audio Workstation from Magix. It is simple, easy-to-master software developed especially for beginner artists and musicians. The software comes with a collection of loops and effects which can be dragged and dropped to the interface to create beats.
The software also comes with virtual instruments which can be played for adding melodies and creating music from scratch. It also allows users to input vocals and keyboard music. With the simple tools and functions you can quickly create your own professional sounding mix on this software.
Features
Drag and drop interface.
8 virtual Instruments.
Free sounds and loops library.
Automatic mastering presets for quick mixes.
Mastering Suite feature for professional editing.
Integrated purchases for more sounds and loops.
Input connections for live instruments and vocals.
Includes software like Sound Forge Audio Studio 12.
Compatible with Windows 7 or higher.
Pros
Easy to learn and quick to master music production platforms.
Extensive sounds and loops collection.
Highly affordable pricing.
Cons
This is not a professional standard software.
Incompatible with Mac.
The Magix Music Maker is the most reasonably priced software for professional quality beat production, and is ideal for rap and vocal artists who are just beginning recordings. The huge library of sounds and loops included in this software covers all possible genres, and makes music creation quick and easy.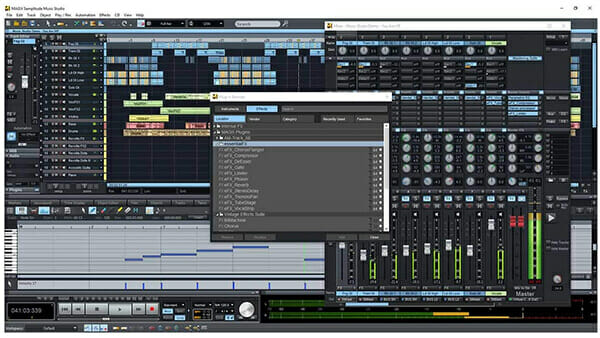 Magix Samplitude Music Studio is another affordable software from Magix which allows complete music production from recording to mixing, editing and MIDI input. The software also comes with very effective improvisation and mastering tools for adding a professional touch to your music creations.
The new automation features allows automation for tracks in lanes within the audio track. The interface is very user-friendly with shortcuts and tabs for quick browsing on the workstation. With plenty of software based instruments and multitude effects and sounds included in the package, music production with this software is an absolute delight for any musician.
Features
Multi-track recording.
32 virtual Instruments.
10 VST instruments.
Plug-and-play MIDI input.
Mastering plugins and professional filters.
Simultaneous recording for 16 mono tracks and 8 stereo tracks.
Extensive sounds and loops library.
Magix Audio Remote app for controlling recordings from mobile phone.
Compatible with Windows 7 or higher.
Pros
Recording templates to help beginner recordings.
Easy to operate graphic interface.
Affordable pricing.
Magix Samplitude Music Studio is the perfect Digital Audio Workstation for beginner as well as intermediate level rap and hip hop artists with a very impressive package of tools and functions for a seamless workflow.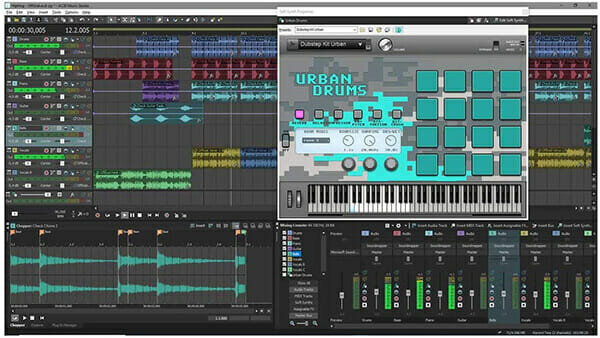 Probably the lowest priced music production software, the Acid Music Studio's latest version is the first choice of young learners and beginner artists, trying their hand at professional music production. The loop-based software yields quick beats for rap songs or hip hop performance.
The remixing tools included in the software are very handy for creative music experiments and tracks. The software also comes with virtual instruments and vocal recording functions. You can give master touch to your creation with the built-in effects and mixing options.
The overall interface is bright and easy to operate. The new 64-bit support is perfect since it has better access to the computer's RAM and allows seamless working and creativity.
Features
Loop-based Digital Audio Workstation.
More than 2500 loops.
8 virtual instruments.
6 dynamic effects plugin.
Advanced remixing tools.
Professional quality multi-track recording.
Advanced MIDI editing tools.
Automatic time-stretch feature for perfect mixes.
Remixing tools with chop and slice effects.
Compatible with Windows 7 or higher.
Pros
Refined and comfortable workflow.
Intuitive features for quality music production.
Affordable pricing.
Cons
Loop-based work environment may not be preferable for every user.
Magix Acid line of Digital Audio Workstations was the fore-runner of loop-based music production, and has retained its position as one of the best options for loop-based software. Acid Music Studio is recommended by top music collaborators and producers from the hip hop genre.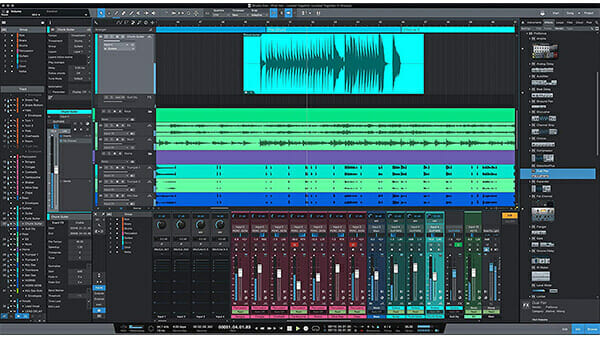 One of the highly rated pattern style Digital Audio Workstations in the market, Presonus Studio One 4 is the high-end software for top-end music production. The Professional edition of the software comes with two new virtual instruments for creating powerful beats and loops.
The workstation is designed as a single-window interface with multi-touch support and drag-drop functions. Users can create their own keyboard shortcuts for a more personalized experience. This is a complete professional software for both vocal and instruments, and promises the best work environment for musicians.
Features
Unlimited audio and instrument tracks.
Single-window workstation with multi-touch and drag-drop functions.
Automation features and advanced functions like Console Shaper and VCA Faders.
Chord Track for experimenting with chords.
5 virtual instruments including Impact XT and SampleOneXT.
37 effects and VST support.
Harmonic editing and ripple editing.
AAF supports exchange with other applications.
Compatible with Windows 7 or higher and Mac OSx10.11 or higher.
Pros
Advanced automation features.
Ease of use with touch control and drag-drop function.
Flexible and modern operation.
Facilitates collaborations with the support for song/session exchange with other applications.
Cons
Does not capture notes for conversion to patterns.
Studio One 4 is an innovative Digital Audio Workstation which has been universally acclaimed as one of the best software for music production and recording. With every new version of Studio One, Presonus has brought revolutionary upgrades for hip hop music production, and the latest one also lives up to this tradition.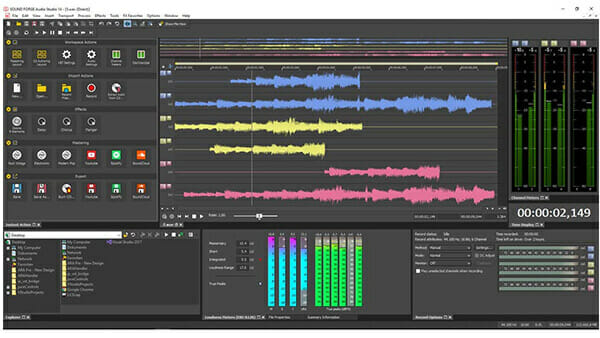 With extensive features for audio recording, editing and mastering, Sound Forge Audio Studio from Magix is the go-to software for top quality hip hop music production. The software has an innovative Instant Action Window feature that allows quick workflow and effortless creation.
With engaging loops and effects included in the software program, you can masterfully create beat and music. As an edge over the other affordable workstations from Magix, this software also provides VST support. The dynamic tools for editing and restoration facilitate pitch perfect music production.
The Ozone 9 mastering software is also bundled in the package and helps in automatically elevating the sound-quality of any mix. Overall this is a very reliable digital audio workstation software.
Features
Instant Action Window.
High-resolution recordings.
Signal visualization tool.
Audio files editing up to 6 channels.
VST support.
Optimization tool for video and sound.
CD burn tool.
Restoration tool for audio and vinyl recording.
Surround sound editing and effects.
Ozone 9 Elements included.
Compatible with Windows 8 or higher.
Pros
Affordable pricing.
Quick and easy-to-operate interface.
Advanced tools for restoration and mastering.
Cons
Not compatible with Windows 7.
Sound Forge Audio Studio is a professional editing and music production software at a very reasonable feature and reliable advanced tools. The multi-channel recording feature of this software is suitable for hip hop music recording and production.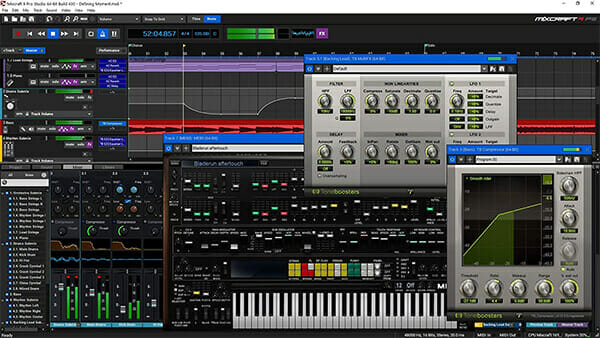 Mixcraft 9 Prostudio is pitched as the musician software with the best workflow among competing programs. The program is fairly priced but comes with most of the premium range functions and tools. The software supports recording of live performances and loop-based productions, ideal for the hip hop genre.
Users can edit in real-time even during live performances. The software boasts of amazing MIDI editing and automation tools for professional sounding productions. With plugins and tools for mastering and effects, the Mixcraft 9 ProStudio offers incredible performance at very fair value.
Features
Unlimited multi-track and MIDI recording.
More than 7500 loops and samples.
16 virtual instruments.
35 audio effects.
Piano roll feature.
MIDI editing feature.
VST support.
Pitch-shift and time-stretch technology.
Melodyne tuning.
Mastering tools and plug-ins included.
Compatible with Windows 7 and higher.
Pros
Free plugins like Voltage Monitor Ignite, Mastering Essentials, Memorymoon, Cherry Audio and more.
Superior routing and control.
Allows experimentation supported by modular synthesis.
Cons
Not compatible with Mac OS.
Mixcraft 9 ProStudio is packed with free plugins which value about a thousand dollars, and this is a win-win deal at the price point. The software is the ultimate upgrade to digital audio workstations which have come to the market this year.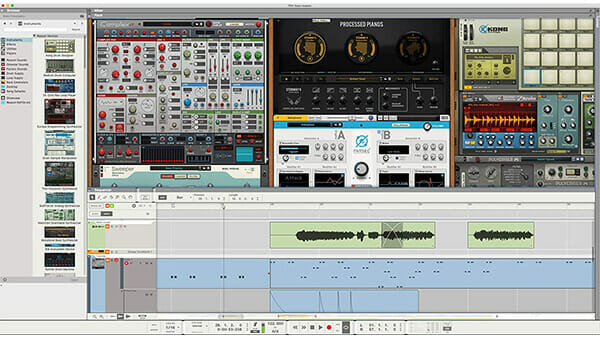 Reason 11 Suite is the much-awaited premium music production software from Reason Studios (formerly Propellerhead). There have been rave reviews about the Reason Rack plugin launched in the Reason 11 Suite digital audio workstation. The Reason Rack brings in all of the instruments, effects and sounds as a plugin which can be used with any other digital audio workstation, thus giving you an opportunity to have the ultimate personalized rack.
Coming to the standalone Reason 11 digital audio workstation, it has the best work environment and sequencer, with uncluttered and organized tools and options, and smooth transitions. The software comes with a master bus compressor, channel dynamics and sweeper effects which allow dramatic compositions and modulations.
Features
Unlimited tracks recording.
28 virtual instruments including the featured Europa synthesiser.
31 sound effects.
Reason Rack plugin with VST 3.
7 MIDI FX players.
Matrix pattern sequencer.
14 channel mixer and 6 line mixer.
Equalizer and stereo imager.
Compatible with VST3.
Pros
Reason Rack plugin.
Seamless and smooth workflow.
Supports VST.
It can be used as a plugin for any other digital audio workstation.
Cons
Reason Rack plugin does not support VST.
Reason 11 comes with futuristic features like the Rack Plugin which makes it more versatile and customizable than any other digital audio workstation in the market. The master bus compressor, channel dynamics and sweeper effects in Reason 11 are creative effects loved and trusted by professionals for the ultimate music production experience.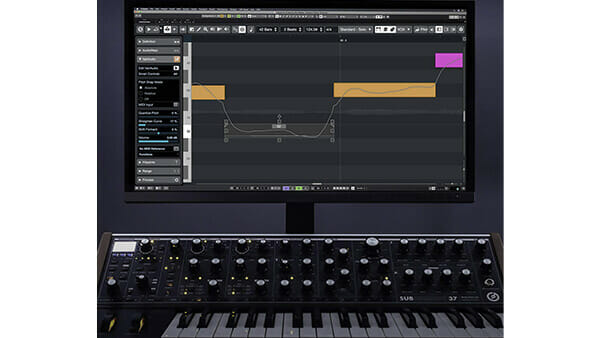 Cubase has emerged as the unrivaled digital audio workstation software packed with high-powered tools and effects. The high-resolution workstation and the crisp interface standout amongst all other premium software packages, and offer the highest convenience for using all the sophisticated tools.
While the Elements version is priced at around a hundred bucks, the Professional version is much costlier and comes with advanced features. The software comes with audio pitch enhancer and controller, automatic audio alignment function, highly efficient mixer and the best of the class loops, samples and effects. It supports advanced CD authoring and music publishing.
Features
Audio alignment tool for synchronized recordings.
Channel strip module.
Chord pads for experimenting with chords.
Lane-track comping.
Intuitive interface.
MixConsole with option to save history.
VariAudio for audio pitch control.
Supports digital delays and echo units.
Retrospective MIDI recording.
Compatible with Windows 10.
Pros
Free update for ARA2 (Audio Random Access 2) support.
Allows data exchange between projects.
High-standard workflow and features like zoom and scroll.
Cons
High price.
Incompatible with earlier Windows version.
Cubase is also the most trusted software appreciated by musicians and sound engineers in the past 30 years since it was first launched, and it has now almost become the gold standard for music production software. The software is ideal for composition, beat, sequencing, recording and mixing music of any genre.
Buying Guide: DAW For Hip Hop
Top Brands: DAW Software
1. Ableton
Ableton has been selling music production software and hardware since 2001. The Berlin-based company has global operations and its offices are also located in Los Angeles and Tokyo. Live, Push and Link are the notable brands from Ableton.
2. Image Line
Image Line is a Belgian software company which entered the music software industry with a game Fruity Loops and eventually evolved into one of the world's best music production software. The trial version of Image Line's FL Studio software has reported 30,000 downloads per day!
3. Magix
Magix is a Berlin based multimedia software company, which has made its mark in the market with top-quality affordable solutions for musicians and beginner artists. The brand is well recognized for its value for money programs and software expertise.
4. PreSonus
PreSonus Audio Electronics is a US-based company creating innovative software and hardware solutions for the music industry since 1995. The company has quickly grown from its local operations to a globally revered and trusted brand for music software and component development.
5. Reason Studios
Formerly known as Propellerhead, Reason Studios is a Stockholm based company, dedicated to producing digital audio workstations with innovative effects, instruments and plugin. The Reason Rack plugin introduced by this company is one-of-its kind path-breaking technology in the music software industry.
6. Steinberg
Steinberg is considered as one of the most advanced platforms for music production software and is a globally recognized name. Originally established in 1983 as a German company, Steinberg is now a wholly owned subsidiary of Yamaha.
Frequently Asked Questions About DAW For Hip Hop
What is a DAW?
DAW stands for Digital Audio Workstation, which is a computer software program that helps you compose and produce music.
Can I preview DAW software before purchasing?
Most DAW brands allow free-trial for a limited period. You can preview and compare the software with the free-trial version.
Can I sell music composed on DAW commercially?
This is determined by the User License Agreement at the time of purchase. Mostly a licensed professional version of DAW permits usage for commercial purposes. Please understand and clarify the terms of usage before purchasing the software.
Can you import files and projects on a DAW?
Most DAW programs allow collaboration and data exchange. Please check the individual program to see if the files you want to import are supported.
Can I use an audio interface with DAW?
Yes, you can use an audio interface with DAW. Please check for compatibility.
Does DAW include audio mastering tools?
Yes, most professional versions of DAW come with mastering tools.
Can I use a launchpad with DAW?
Yes, most DAW software support MIDI keyboard input and you can use a launchpad through it.
What is VST plugin?
VST stands for Virtual Studio Technology, which uses digital signals for integrating software instruments and effects in the digital audio workstation.
Conclusion
With so many innovative features and advanced tools bundled in the latest DAW software platforms, this is the best time to dive in the world of music production. We hope that our buying guide would give you necessary insights to the captivating world of music production and inspire your new venture.