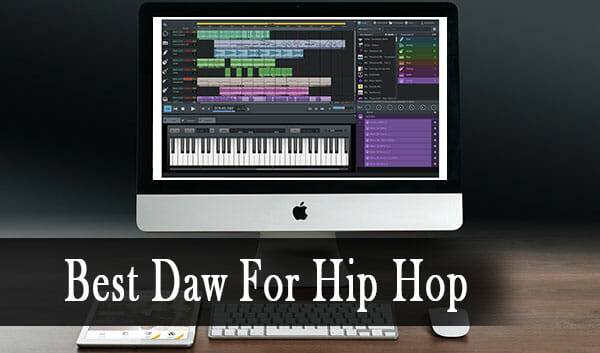 DAW or Digital Audio Workstation is a computer software platform that provides an interface for musical compositions and recordings. Most software come with a variety of plugins and tools which can take your music production to infinite possibilities.
Here we present a buying guide for the best DAW in the market for recording, composing, editing and polishing your tracks in 2020, so that you can select one which blends with your music style and vibe.

Top DAW Reviews of 2020
---
---
---
---
---
---
---
---
---
---
Buying Guide: DAW For Hip Hop
Whether starting out on using DAW software or looking for the latest update, there are some factors you should consider before selecting the right DAW for quality music. Check out our top pointers to check before you buy a new DAW software.
1. Software Compatibility
Some DAW platforms are compatible with both Windows and Mac OS, while others have been specifically designed for only one of the operating systems. You should carefully consider the system requirements to understand the compatibility with your computer.
2. Version
Most of the DAW software comes in two or three versions to suit different budgetary requirements of the buyers. Although pricing is the main point of difference, the premium versions also come with some additional tools and advantages over the lesser priced versions. It is best to opt for a free-trial limited use and decide whether it is worth paying for the premium features.
3. Interface and Workflow
The interface of DAW platform is a huge factor in determining how quickly and effortlessly you will be able to produce your music. Also the workflow should be with smooth transitions to keep frustration at bay while editing or composing music.
4. Convenience
If you have been using a particular brand of DAW for years now, it makes more sense to continue with the same one with its latest update, rather than switching to a whole new interface and learning how to use it. New-comers should also consider the ease of use and learning curve of the software.
5. Purpose
While selecting the best DAW for music production, one must consider the main purpose of using the software – Is it recording new songs at your home studio or live recordings? How much of editing and remixing you would be doing? Do you need professional mastering technology in the DAW? These are some of the important points to consider when you narrow down your options.
6. Features
All newly launched updates for DAW platforms have a host of impressive features like piano roll, loops, virtual instruments, auto alignment, delay and echo effects etc. You must compare the features and select the DAW with most usable features for your music goals.
7. Upgrades
Some DAW brands have attractive offers on future upgrades and updates. In fact, companies like FL Studio even offer free lifetime updates. Once you start on a DAW platform, it is likely that you are going to use it for years to come. Hence, the choices and offers on upgrades are important factors to consider.
8. Budget
DAW prices range from $50 to $700. This means there is a DAW for every budget and user. Consider the best options in your affordability range, or if you have no budgetary restraints do compare the price to performance ratio.
Top Brands: DAW Software
1. Ableton
Ableton has been selling music production software and hardware since 2001. The Berlin-based company has global operations and its offices are also located in Los Angeles and Tokyo. Live, Push and Link are the notable brands from Ableton.
2. Image Line
Image Line is a Belgian software company which entered the music software industry with a game Fruity Loops and eventually evolved into one of the world's best music production software. The trial version of Image Line's FL Studio software has reported 30,000 downloads per day!
3. Magix
Magix is a Berlin based multimedia software company, which has made its mark in the market with top-quality affordable solutions for musicians and beginner artists. The brand is well recognized for its value for money programs and software expertise.
4. PreSonus
PreSonus Audio Electronics is a US-based company creating innovative software and hardware solutions for the music industry since 1995. The company has quickly grown from its local operations to a globally revered and trusted brand for music software and component development.
5. Reason Studios
Formerly known as Propellerhead, Reason Studios is a Stockholm based company, dedicated to producing digital audio workstations with innovative effects, instruments and plugin. The Reason Rack plugin introduced by this company is one-of-its kind path-breaking technology in the music software industry.
6. Steinberg
Steinberg is considered as one of the most advanced platforms for music production software and is a globally recognized name. Originally established in 1983 as a German company, Steinberg is now a wholly owned subsidiary of Yamaha.
Frequently Asked Questions About DAW For Hip Hop
DAW stands for Digital Audio Workstation, which is a computer software program that helps you compose and produce music.
2. Can I preview DAW software before purchasing?
Most DAW brands allow free-trial for a limited period. You can preview and compare the software with the free-trial version.
3. Can I sell music composed on DAW commercially?
This is determined by the User License Agreement at the time of purchase. Mostly a licensed professional version of DAW permits usage for commercial purposes. Please understand and clarify the terms of usage before purchasing the software.
4. Can you import files and projects on a DAW?
Most DAW programs allow collaboration and data exchange. Please check the individual program to see if the files you want to import are supported.
5. Can I use an audio interface with DAW?
Yes, you can use an audio interface with DAW. Please check for compatibility.
6. Does DAW include audio mastering tools?
Yes, most professional versions of DAW come with mastering tools.
7. Can I use a launchpad with DAW?
Yes, most DAW software support MIDI keyboard input and you can use a launchpad through it.
VST stands for Virtual Studio Technology, which uses digital signals for integrating software instruments and effects in the digital audio workstation.
---
Conclusion
With so many innovative features and advanced tools bundled in the latest DAW software platforms, this is the best time to dive in the world of music production. We hope that our buying guide would give you necessary insights to the captivating world of music production and inspire your new venture.