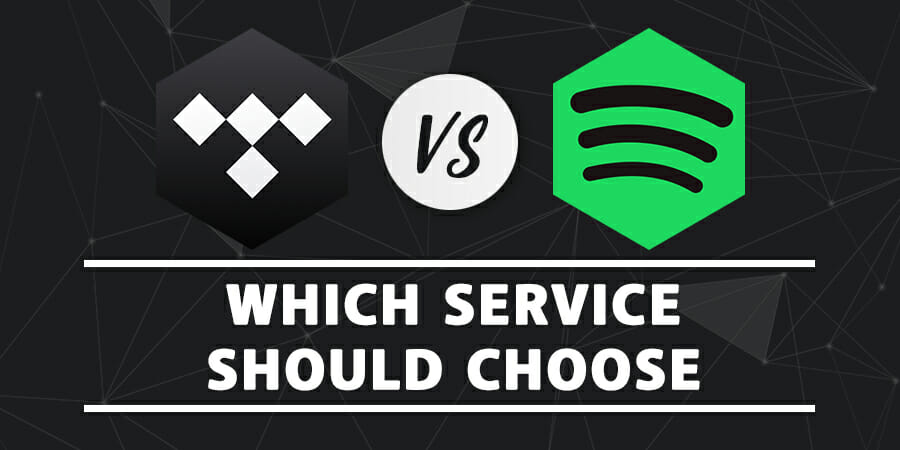 It's the modern world, and the music industry has completely changed in the past few years. The decrease in physical formats, like CDs has been rapidly increasing. Within the US only, the last decade saw a 80% dip in music CD sales!
And that is where the plethora of streaming services come in. The streaming services are the fastest growing revenue source for the music industry. From Spotify to Apple iTunes to Tidal to the relatively recent YouTube Music, it is a vast market out there.
With so many options, it's natural to feel confused when it comes to choosing the streaming service you want to subscribe to. To ease your dilemma a bit, today we are going to look at two giants in the music streaming industry, Tidal vs Spotify, and try to find the differences between these two.
The basic functionalities of both the services are essentially the same:
you can stream music
download songs to listen in offline mode
create playlists, and
discover new music according to your taste
But there are quite some major differences too, which we will focus on, in this article.
Now before we venture into categorical differences, let us first look at a brief description of both these streaming services.
Table of Contents
Spotify vs Tidal
Headquartered in Stockholm, Sweden, Spotify, which was launched more than a decade ago, is currently the biggest player in the streaming market, with more than 120 million paid subscribers, and with the total number of active users more than double the number of paid subscribers.
On the other hand, Tidal is a relatively new company, launched in 2014 by Aspiro, an Norwegian company, and is currently owned by Jay-Z. Advertised as the first streaming service owned by an artist, Tidal claims to pay the highest royalty percentage to songwriters and music artists, in the whole streaming arena.
That being done, let's now look at the differences between the two specifically:
Subscription Plans
Both the streaming services offer their premium services for a trial period of usually one month, after which you'll have to pay to continue the premium services.
Spotify Has A Freemium Plan
Among the two, Spotify is the only one which provides free service. So, if your hands are tight financially, Spotify would be the recommended service, obviously. The free service means some very annoying advertisements in between your music, and that you can listen to your music with the highest quality of 160kbps. And you wouldn't be able to skip more than six songs per hour. Plus there's no option to download music to listen to later, offline. But hey, it's free!
The premium services of Spotify includes ad-free music, ability to download tracks for offline playback, up to three devices, unlimited skipping, and 320 kbps audio quality for music that is better sounding.
There are various options for buying Spotify Premium.
The regular Spotify Premium costs you $9.99 per month, and
in case you're a student, you can get it for only $4.99 per month.
You can also purchase for 6 members together, under the family plan by Spotify, which'll cost you $14.99 per month.
In some markets, Spotify also provides a Premium Duo plan for couples.
No Free Plan In Tidal (Post Trial Period)
Now, if we come to Tidal, there's no free plan, meaning after its trial period, you'll have to pay to use its services. Now, unlike Spotify which only has one Premium variant, Tidal offers two categories of premium services.
The cheapest plan- Tidal Premium- provides you with ad-free music, with 320kbps quality. The pricing for this is almost the same as Spotify.
You can purchase the pack at $9.99 per month, and
in case you're a student, for $4.99 per month.
You can also get a military discount, so that Tidal Premium costs you $5.99 per month.
The family pack, for 6 members, costs $14.99 per month.
The other and better variant of Tidal- the higher-end HiFi service, which costs $19.99 per month, gives you access to audio that has lossless quality, that is, the music would be without any loss, and streams at the CD quality, without any compression. The plan also provides Master Quality Authenticated Quality, which is available for selected tracks, which plays music at the original studio quality sound.
Tidal HiFi is available for $9.99 per month, if you're a student, while the military discount renders the HiFi subscription at $11.99 per month. You can also get it for 6 members, under the Family HiFi subscription, for only $29.99 per month.
So, overall, the basic plans are similar for both Spotify and Tidal. Spotify has the extra benefit of free service, with ad-interruptions. On the other hand, Tidal provides an additional discount in the form of military discount.
Compatibility
Spotify is available as an application on Android, iOS as well as Windows Phone devices. It can also be availed as a web player, plus it has a desktop player for both Windows and Mac, meaning you can use the via your laptop or computer. You can easily start up music at home using Apple AirPlay and Google Chromecast, which Spotify supports. It supports Apple CarPlay and Android Auto too, so that you can listen to music easily, while commuting.
Tidal is similarly available as an Android app (Android 5 or higher), as iPhone and iPad apps (iOS 11 or higher), as a web player (Chrome is needed for lossless streaming in case of HiFi subscribers), and as a PC and Mac desktop player. Similarly, it is also supported by Apple AirPlay, Apple CarPlay, Google Chromecast and Android Auto.
Spotify has the added advantage of Spotify Connect, through which Premium subscribers can stream music to other systems, like TVs and speakers. And this feature is getting more and more familiar with several AV and hi-fi products, bringing in streaming into their systems.
To counter that, Tidal's apps have also become a component of several hi-fi systems, like Sonos, McIntosh, Cyrus, Bluesound players.
Therefore, most of the systems and operating systems are compatible with both of the streaming services.
Music Catalogue and Content
Spotify offers over 50 million songs, whereas Tidal boasts of providing more than 60 million songs. Of course, it doesn't matter until and unless your favorite musician or band is missing.
And mainly because of Jay-Z's influences, several tracks are released early, by several artists like Beyonce and Rihanna, exclusively for Tidal, before they are released on other platforms.
Both of the streaming services provide curated playlists, designed keeping your habits and preferences in mind. Both the services provide playlists based on your mood, while Spotify also provides genre-based playlists, and Tidal provides playlists featuring new talents.
When it comes to podcasts, Spotify wins, hands down. It has a large catalogue of podcasts, and there's a huge chance that you'll be able to find all your podcasts here. Tidal has podcasts too, but nowhere near the collection that Spotify has.
Whereas, Tidal has a much larger, and exclusive video section, with over 250,000 music videos. And Tidal shows them on the very main tab, under the Videos section. There are music videos, live shows, and documentaries and movies based on music, and a lot of them are exclusively present on Tidal. Tidal also suggests videos based on your preferences.
So, all in all, both the services have a huge music selection. Tidal is better when it comes to exclusive music content, and videos, while Spotify takes the advantage when it comes to podcasts.
Music Discovery
Spotify has the very popular "Discover Weekly" feature which generates a playlist of 30 songs, using machine learning and AI, for you every week, based on your listening preferences. It's quite impressively accurate.
Plus, you get the genre-specific six "Daily Mix" playlists, based on your listening habits and preferred artists and genres, generated daily.
There's another playlist curated on the basis of your preferences: a two-hour playlist called 'Release Radar', which includes newly released music according to your taste.
There are other playlists too, based on different genres and subgenres (dance, hip-hop, rap, country…) and moods (relax, happy…) and occasions (workout, party…). Then, there are the top charts which feature the most popular songs according to the country.
Tidal doesn't provide any weekly playlists, but does provide up to eight playlists, which all revolve around the genres you usually listen to. There's another playlist called "Tidal Rising" which features all the new music being released, from new and upcoming artists all around the world.
There's also a "Top" feature which includes all the Billboard's top songs categorised by genre, along with playlists with the best songs, albums, and also the best songs of the past decade.
There's a section called "What's New" which contains curated content: albums, videos, podcasts. Then there are the playlists built on the basis of mood, occasion, and genre.
When it comes to music download, Spotify wins hands down. The discovery feature is much more impressive than Tidal, and there is a huge number of playlists.
Sound Quality
In terms of sound, Spotify offers three quality levels: normal, high, and extreme. And there's also an 'Automatic' option which changes the sound quality on the basis of data speed. Also, you can access the extreme sound quality only under "Premium".
Now, the normal quality means that music streams at 96 kbps, while at high quality, you get music at 160 kbps. At the extreme level, you get 320 kbps, which is the best you can get.
If you opt for Tidal Premium, you get 320 kbps as the highest quality, the same as Spotify, though the music may be a bit more richer sounding than Spotify. It's the Tidal HiFi plan, which gives you the best sound one can think of.
If you subscribe to the Tidal HiFi plan, you get to stream music as 16-bit FLAC and ALAC audio, meaning music without any loss due to compression. Also, there are thousands of the very high-resolution Masters files or MQAs (Master Quality Authenticated), which you can stream as 24-bit and FLAC or WAV audio. You can identify them by the tiny 'M' sign next to the title. It means that the recording which you get is directly delivered from the studio, meaning you get the experience as intended by the artist.
Now, you might have a question, why should one bother with the HiFi lossless music in the first place?
Well, it's like the difference between SD and HD TVs, you can observe a clear difference as you upgrade the quality. So, the HiFi lossless music provided you with quality better than CDs, reproducing the full sound range, and closely replicating the studio quality the musicians were working with while recording.
The HRA has more depth, giving you a wider breadth to actually listen from the recording, and in the process, making the music sound more distinct, clear and detailed.
When it comes to sound quality, Tidal wins by far. Its lossless streaming is a boon for audiophiles, and the Masters quality takes to an even higher level. Spotify doesn't even come close to the varieties of quality that Tidal provides.
User Interface
Spotify has a very easy to use, simple interface, you open the app, your Daily Mixes, along with various playlists are visible, which is another of the reasons why it's so popular. The background is dark, which looks very cool, and the various playlists are arranged in the form of colourful tiles which is very aesthetically pleasing.
The layout of the mobile app is different from the desktop app and the web player. The latter has a sidebar on the left, where you can find new releases, recently played songs, library and more. While the former has these sections hidden out. Searching is quite easy and optimizable, and you can search according to genre too.
Tidal has a pretty cool black interface too, with a similar tile-based interface showing your curated playlists, charts, recommended albums and more. Browsing is quite easy, and the sidebar takes you to the "My Music" area.
The "search by genre" feature is lacking here, and you have to be careful when it comes to spellings. A bit of optimisation would make searching quite easier. Though Tidal has a pretty awesome search feature, which is like Shazam, where it catches the music playing nearby, identifies it, and saves it to your library.
All in all, in terms of user interface, both the services are more or less similar. While Spotify does have a better search feature, Tidal boasts of its Shazam-like feature.
Social Features
Spotify has some pretty great social features. While you can share any song with your friends or followers using social media, you can also see what your friends are listening to, which is a great way of discovering new music.
For comparison purposes, you can also see which playlist has more followers. You can also check out the monthly listeners an artist has, which gives you an idea of the popularity of an artist.
Tidal also provides you with the ability to share songs via social media, but that more or less, it. There are no other social features available. While that might not be something which is important, but still we are looking at them for the sake of comparison.
Both the services allow you to share via social media. Spotify shows the total number of followers and listeners of a playlist and an artist respectively. You can also discover what your friends are listening, in Spotify.
Other Differences
While we've covered most of what we had to cover, let's look at some features which are only a part of one, but not the other.
Spotify has a sleep timer, which would automatically stop the music after the set time, so that the music doesn't keep playing throughout the night. It also has a crossfader feature, which ensures that there is a seamless transition between two songs. There is also a gapless mode, which ensures there are no gaps between two songs.
Tidal has better song credits, with more detailed information. While it may not be relevant for all, it also pays its artists more than Spotify. There's also the Tidal X, which connects you with your favourite artists via events and live concerts.
Conclusion
So, this was all for the differences between these two streaming services. I've tried to cover as many points and features as I could, so that you can make a more informed choice.
While Spotify is more popular, has a free service, has a wider and smarter curation of playlists, which is its biggest USP, and better social features, Tidal is better in terms of its range of exclusive content, with several artists only releasing their content here only, its Shazam-like feature, and most importantly, its brilliant HiFi sound quality, a literal boon for audiophiles, which is its biggest USP.
I hope you'll be able to decide the service you want to subscribe to, on the basis of your priorities, and your preferences. With that, I'll take my leave for now. Here's to a more musical world!