The Latin Percussion LPA256 Aspire Series Timbale Set is definitely one of the best drum sets available in the market. Made in an attempt to continue the legacy of the company, the product has been crafted very finely. The most attractive feature of the instrument is its durability and the quality to withstand rough handling. So, this is equally good for the rookies as well as the professionals who have been playing at the concerts. Let us have a look at some of the primary attractive features of the instrument.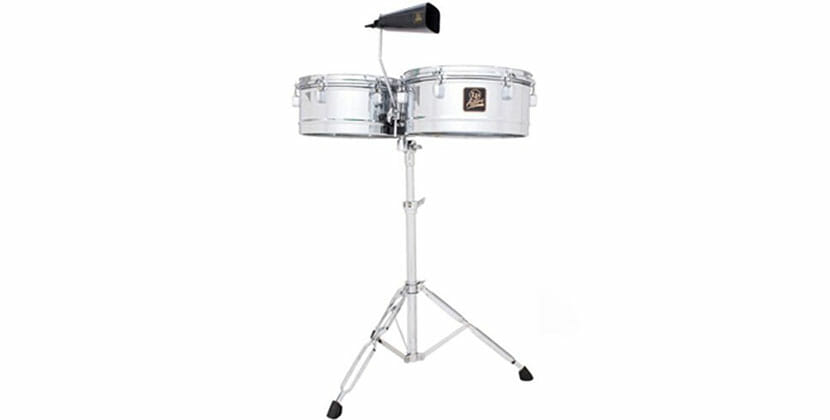 Table of Contents
Basic Construction
With the length of 8 inches, breadth of 31 inches and height of 20 inches, the instrument packs a punch when it comes to dimensions and size. Despite such structure, the Latin Percussion LPA256 Aspire Series 13″ & 14″ Timbale Set with Cowbell weighs just 29 pounds in total, making it one of the lightest drum sets available in the market. The light weight of the drum set means that taking it from place to another is not a big issue. The light weight of the instrument has been achieved mainly because of the fine quality of raw materials used for making of the drum. Thus, it can be concluded that the drum is a big winner in terms of the quality of raw materials, method of construction and the final output that we have at hand.
Attractive Features
Latin Percussion is a name which should be enough to explain the qualities of musical instruments. However, the name of a company is not enough to convince the buyer about its qualities and features. Thus, let us have a look at some of the top qualities and features of this product:
The timbale set is made up of two drums – one of 13-inch diameter and the other one of 14-inch diameter. The drums are perfectly sized to provide you with a great musical performance.
The two drums have six and a half inches shells.
The product has been built meticulously to carry enough projections to make its presence felt.
It has three stick saver hoops, along with two braced stand whose height can be easily adjusted.
The package also includes a cowbell.
How Does It Fare?
Latin Percussion instruments are known to be the best performers in their category and this product is no exception. Power packed with attractive features, the performance delivered by the drum set is admirable. On top of that, the top quality of raw materials used means that the product has great durability. It is sturdy and has been designed to sustain tremendous pressure and rough handling. Hence, if we look at all the categories of performance, this product comes out as a winner in each and every sense. Thus, I will recommend you this product for its good performance.