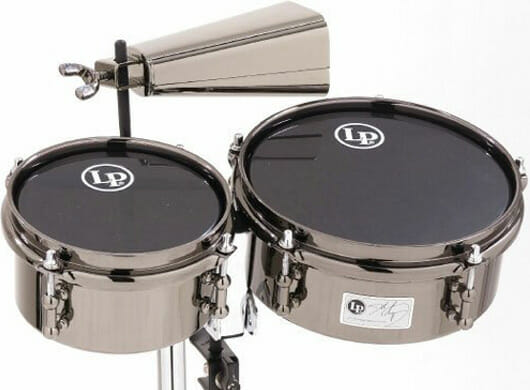 Timbales have been an important part of Latin music for a long time and now they are also being played with pop music. They are similar to single headed tom toms in many ways except they are shallower in construction and tuned much more. They are generally accompanied by an additional percussion instrument like cowbells or cymbals. Many famous drummers are known to include timbales as a part of their drum sets, instead of playing them separately.
You can choose the type of timbales you need for your music as they come in different dimensions (standard and mini sizes). To help you choose the most suitable one, we have compiled a list below which has the best 9 timbales of 2022 available in the market right now.
Table of Contents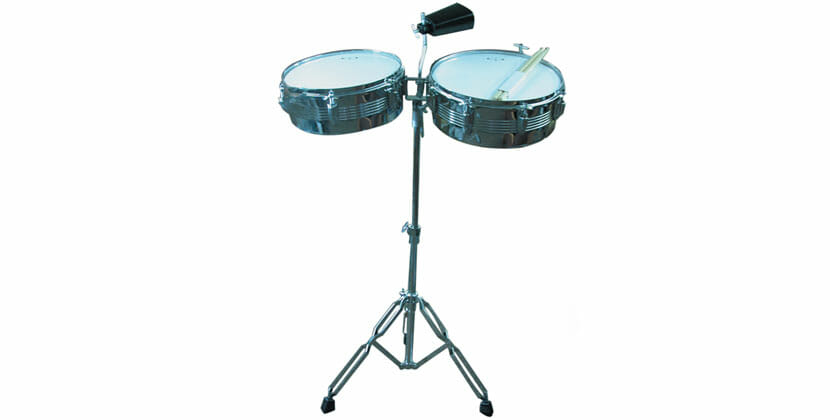 As the name suggests, this timbale drum set by GP Percussion is meant for drum sets. It includes a holder and a support stand for cowbell in the centre. Also, it will go well with all kinds of drum sets. This model has two drums of 14 and 16 inch respectively.
Pros
This will go well with your pre-existing drum sets, if any.
A cowbell can be attached if needed.
This is well suited for both professionals and beginners.
It is available at a reasonable cost.
This model also comes with a tuning key and drum sticks for your convenience.  The drum stand that comes with the drum set can be adjusted to get your preferred height. This will satisfy the needs of both professionals and beginners.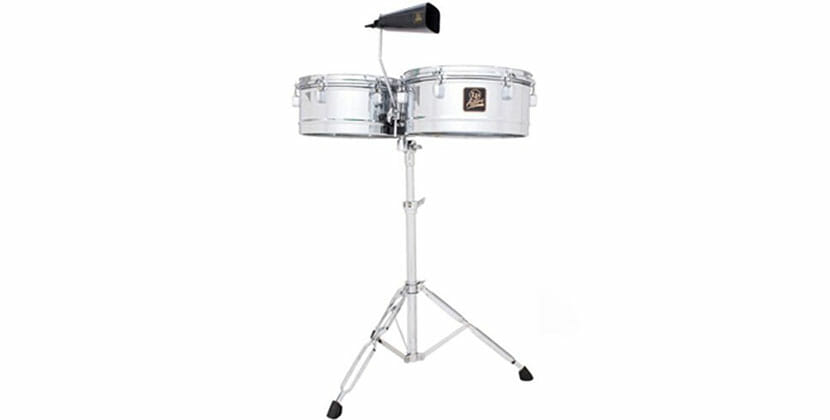 Latin Percussion LPA256 Aspire Series Timbale Set has come with a timbale set has two drums of 13 and 14 inch respectively. A cowbell also comes attached at the center. Latin Percussion is a trusted brand that has produced some stellar products and therefore you can be sure that you will get a high quality product when you buy this.
Pros
This has a reasonable cost and is a great addition to any drum kit.
The shells are about six and a half inches deep and therefore provide a deep sound tone.
The plastic head has a good resonance.
Overall, this product is a good deal for both professionals and beginners. It would definitely be a good deal as it has good features and no major problems on a whole.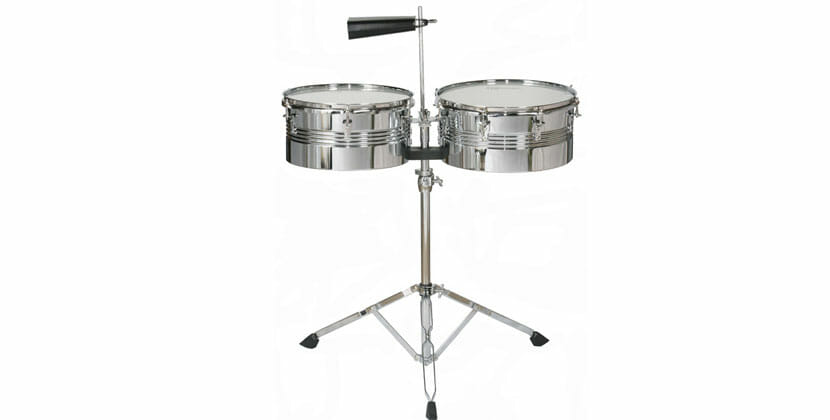 Timbales with Double Braced Stand Sticks and Cowbel has two differently sized toms of 13 and 14 inches each. The toms are plated with chrome and the set also comes with double braced stand, a pair of drumsticks and a cowbell.
Pros
This product is durable as a whole and comes with a high quality cowbell.
The cowbell comes with a holder for your ease.
The timbales come at a low cost but still have a high quality.
Cons
It does not come with an instruction manual and therefore you need to figure out the tuning and assembling on your own.
Some part of the drums like the lugs may need to be tightened manually.
Overall, the main advantage of this set is its low cost but without any major cutbacks on the quality. If you are looking for a low cost product that plays well and is still good quality wise, then do go for this one.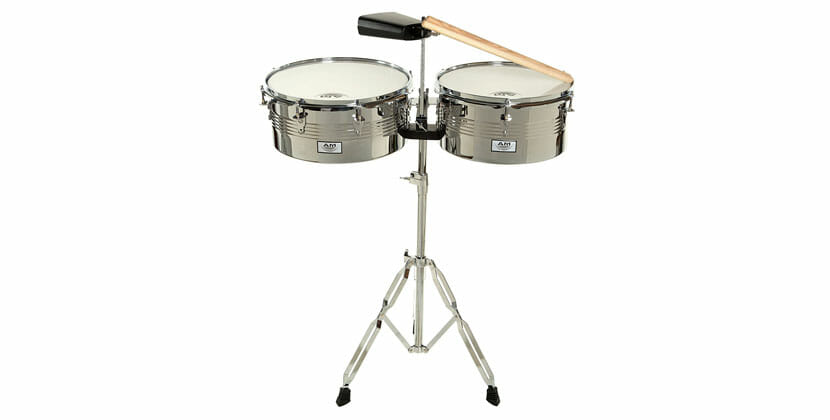 AM Percussion Libre Timbale Set is another stellar product from a well known manufacturer. The product comes with a stand made of heavy duty material and also with a cowbell. There is also a holder provided for the cowbell. A tuning key is also included with the set.
Pros
The product is from a trusted manufacturer.
It comes with many accessories.
Cons
The interiors of the timbales could have been polished a little better but apart from that, there are no major cons.
Overall, this is a good product that is priced reasonably and you won't have to spend extra on additional accessories. There might be some loose parts due to the shipping but these minor problems are easily fixable.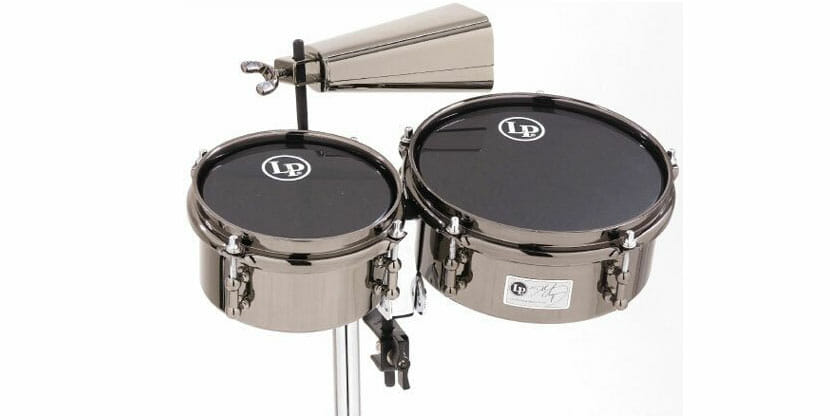 Latin Percussion brings you a set of mini Timbales that have 6 and inches each. The drums have a depth of about three and one fourth inches. This product includes a high quality cowbell that is about 5.75 inches and is completely plated with black nickel. The name of this cowbell is LP Cha Cha Cowbell and is included with this product. The drums are too plated with a black powder coat.
Pros
It has a good sound quality despite the mini size of the timbales.
The black plated timbales and cowbell have a sturdy finish because of the nickel material.
Cons
The sound quality of the cowbell is not as good as the quality offered by the timbales.
Overall, this would add a good amount of jazz to your music without taking up too much space. This product is quite good sound wise and also has a chic size. Professional musicians might not go for this as this is not the standard size but apart from that, it fares well on all accounts.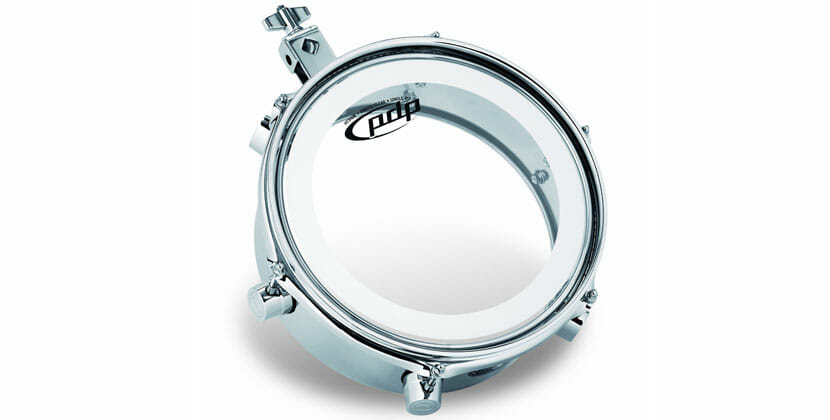 Pacific Drums by DW Mini Timbale is available in both 8 and 10 inches and is completely made of chrome plated steel. You will only get timbales and no extra accessories like cowbell or a stand.
Pros
The timbales are priced very reasonably and are perfect for beginners.
The product is very durable as the shells are made of steel.
Cons
The timbales are not the standard size that musicians generally use.
No extra accessories but this could be an advantage for people who are only looking for timbales. They won't have to pay extra for added accessories.
Overall, this is a good set as the sound quality is pretty good. It may be pitched a little higher as the diameter is less than the standard 14 inch. The cost at which it is available is probably the lowest as compared to others.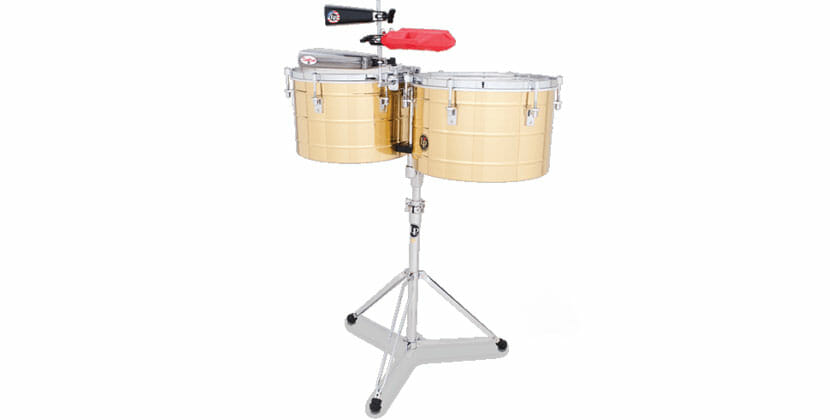 This model by Latin Percussion titled LP258SLP has diameter shells sized about 15 and 16 inches. The shells have a depth of about 10 inches and their height on the given stand can be adjusted quite easily. Apart from the tilting stand, these timbales also come with a cowbell bracket for your convenience.
Pros
A stellar product from a trusted manufacturer
A shell made of steel and that is also ribbed to produce high sound quality.
The top and bottom half of the shells are tuned in.
The shells are plated with chrome and therefore this product is highly durable.
The stand that comes with this set is made of heavy duty die cast and has an adjustable height, along with an adjustable cowbell holder.
Cons
This product has many stellar features and is therefore more expensive than others.
This set of timbales is perfect for professional musicians because it has everything designed to suit their needs. The timbales are of standard sizes and have a high quality construction wise. The high quality of construction is also extended to the stand with cowbell bracket.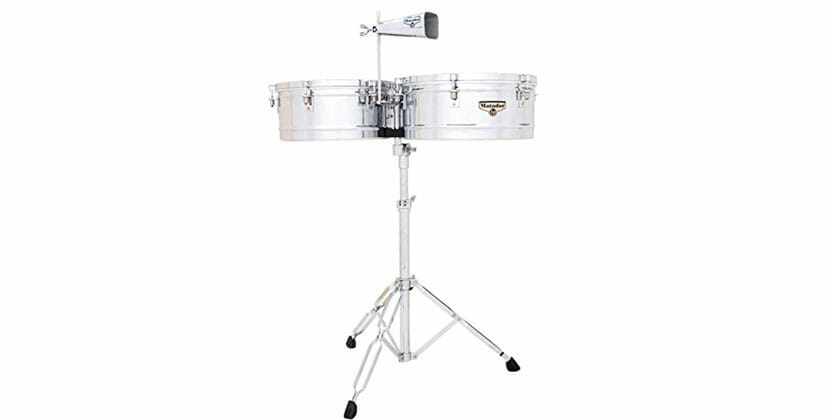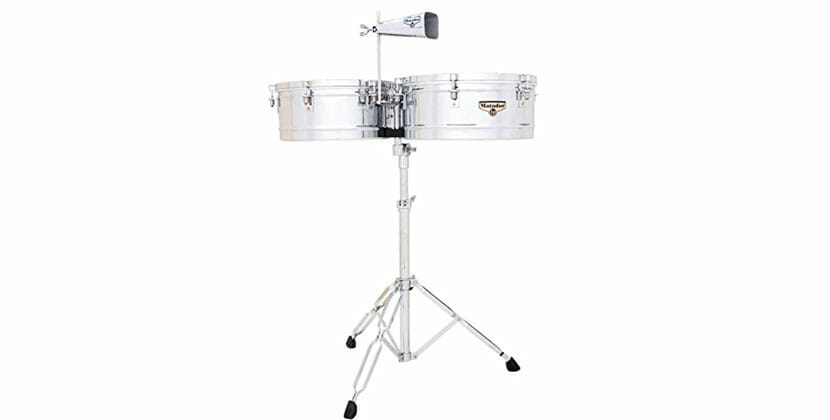 LP Matador 14 and 15 inches timbales by Latin Percussion are chrome plated and have a depth of about six and a half inches. The tuning mechanism is similar to the one that is generally used (the traditional way). The set also includes an adjustable timbale stand that is made of a heavy duty material.
Pros
The timbales have a standard size.
This product comes with a stand.
High sound quality is one of the key advantages.
Cons
The set does not include any cowbell but the stand does have a cowbell holder.
Overall, this is a high quality product that is quite reasonably priced. As these timbales are of a standard size, they would be better for professional musicians. Beginners can also use this as the cost is not much high and the cons are quite less.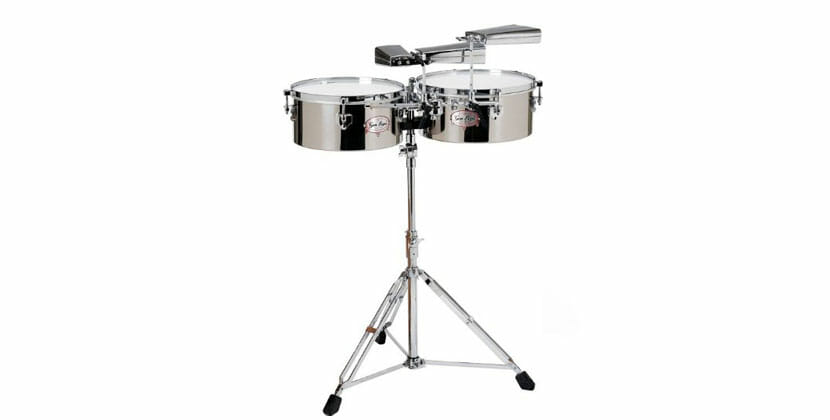 This timbales series by Gon Bops are made of steel and plated with chrome for that smooth finish and extra durability. The tuning rods are recessed and the product also comes with an innovatively designed stand. The drumheads have a smooth finish and the side plates have a low-profile.
Pros
The timbales have a standard size.
They are very durable because of a solid construction design and this is also true for the stand included with this set.
Cons
The cost might be a little on the expensive side.
Overall, this product does fulfill its cost expectations to a good extent. A solid construction of timbales is one of the main advantages of this product. The sound quality too will fulfill all your expectations. Though this does not come with a cowbell, the stand that is included has a cowbell bracket.
Frequently Asked Questions About Timbales
How Do You Select The Perfect Set Of Timbales?
There are a few steps that you need to follow while selecting the perfect set of timbales according to you needs.
Determine the size you need.
The size of the timbale will affect the sound quality and pitch. As there are many type of size dimensions available, first determine the type of size you need.
Cost.
We would recommend beginners to buy a cheaper set of timbales and not go for the high end ones. This is mainly for practical reasons.
With or Without Additional Accessories?
Timbales are available both individually and with extra accessories like a cowbell, stand. We would suggest using timbales with cowbell as the latter is absolutely a necessity while playing timbales.
How are Timbales Different from Tom Toms?
Timbales are shallower and are tuned at a higher pitch than tom-toms.
How do you Play Timbales?
Timbales are also a type of percussion instrument and therefore a skilled player will use a drum stick to play a wide variety of drum rolls, strokes and shots during solo plays. An additional instrument like a cowbell or cymbal is used to keep note of time in different sections of any particular song.
What are Some Music Genres that use Timbales?
Timbales are widely used in Cuban and Latin music like salsa, Latin jazz and rock. Cha-cha-cha, Mambo and Timba are some other music genres where timbales are traditionally used.
Where Did Timbales First Gain Prominence?
Timbales have been used in Cuba since the 19th century for a variety of purposes. At first they were used by wind orchestras but soon they began to be used by many music bands in the 1930's. This led to their popularity among the pop culture scene in Cuba. In the present times, many famous drummers use Timbales as a part of their drumsets. Some notable examples include- John Dolmayan and Dave Mackintosh.
Timbales can be classified according to their size and usage, with the most common classification being the size. If you are looking for mini timbales or a smaller sized set of timbales then go for Latin Percussion John Dolmayan Mini Timbales or Pacific Drums by DW Mini Timbale. The one by Latin Percussion is the smallest sized timbale we could find (6 inches each) while the one by pacific Drums is available in 10 and 8 inches. If you want a standard sized timbale (14-16 inches) then go for GP Percussion LT156 Timbale Drum Set or Latin Percussion LPA256 Aspire Series Timbale Drum Set. The standard sized one generally comes with a stand and a cowbell. According to usage, professional musicians can go for Latin Percussion LP258SLP Tito Puente Thunder Timbales and beginners can go for Timbales Chrome 13″ & 14″ with Double Braced Stand Sticks and Cowbell.