TreeWorks Chimes have come up with an excellent large row bar chime which features 69 different bars for professional musicians to introduce their melody. This new bar chime comes from the popular TRE35db series of handcrafted musical instruments. TreeWorks have produced some of the very best instruments and this double row chime bar is no exception.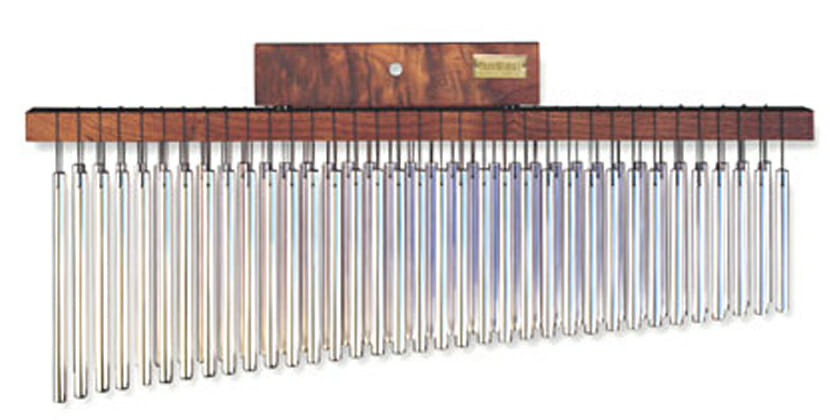 Table of Contents
Basic Construction
TreeWorks use customized T-6 tempered aluminum and titanium alloy to construct its bars. These bars are 0.375 inches in diameter and are hand tied to the body of this instrument. The overall weight of this instrument is only 3 pounds, so practically anyone can carry it easily. Its dimensions are 28 inches x 4 inches x 4 inches, as it fits 69 different bars. This instrument is handmade in Nashville, Tennessee. The chimes are placed on a Tennessee walnut mantle which gives this product a nice finish.
Attractive Features
This customized bar chime provides a unique sound due to its brilliant construction. In addition to that, it also functions very well for any kind of live performance due to its sound quality. It comes along with a unique design that makes playing the instrument much easier, in separate rows. Some of its attractive features include:
The mantle provides a booming sound which serves very well in a large or small room. It has a great resonance quality to it, along with a dramatic sound.
The bars are carefully handcrafted to provide the best essence of sound from this instrument. Each of these bars is tempered at 350 degrees for 8 hours, thus turning out a smooth and mirror-like finish which is important for a good sound output.
Its bars are polished by hand in order to minimize the friction in the instrument. It also improves the pitch and tuning of individual bars.
TreeWorks use a special trademarked chord to go along with the bars in this chime. It is named as CordLoc and the chord is tucked perfectly to the mantle. This improves the sound quality of this instrument since there is no contact between the chord and the chimes.
Even the mantle is customized extensively to bring out the best possible quality in this instrument. Prepared using a mixture of black walnut and white ash, this mantle covers the top portion of this instrument. It can handle rough use quite easily since its quality is of top notch.
Overall Impressions
TreeWorks has a huge range of bar chimes in their inventory. Its construction of different chimes has been quite good and this TRE35db 69 bars double row chime is no exception to that. The in-built resonance tuner is excellent as this instrument can sound perfect in either an open setting or in closed interiors. The symphonic arrangements of its chime bars are pretty versatile in nature and a musician can easily manipulate it to suit their playing styles.
This is one of the most brilliant aspects of TreeWorks Chimes. Their double row bar chime is made with a lot of versatile options. There is certain additional equipment that is also available with this product. You can avail a LG24 case for your bar chime. The case is handcrafted with raised silver metallic decals on either side. If you prefer a different option, then the TRE51 hard sided bag is also available for easy transportation of this instrument. An optional TRE52 mounting bracket is also available for purchase.
As far as its overall impressions are concerned, then this TRE35db large double row chime bar is an excellent product with a lot of different customization options. In addition to that, its playing diversity makes it very popular among professional musicians who do live performances. Even studio musicians will not find a better supporting instrument anywhere.
Value for Money
This instrument has a very competitive price at Amazon. Make no mistake; this is a professional instrument with excellent sound quality. However, this does not mean that amateurs would not be able to use it. What is great about TreeWorks is the fact that their instruments are quite compatible with different range of musicians. So if you are an amateur and want to invest in an instrument, then this is the best one to choose from.
Don't Like this one? Checkout the Below Mentioned Bar Chimes Instead: