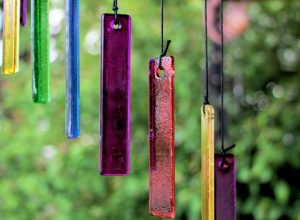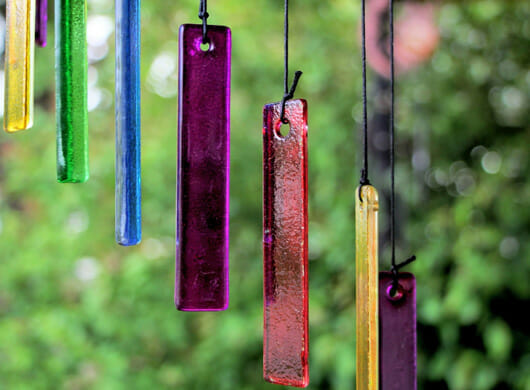 Chimes are an excellent addition as a secondary instrument. They complement all types of music instruments, be it guitar or drums. If you are confused as to which instrument will suit your primary instrument then do give chimes a chance. Their delicate sounds will definitely take your music to a whole new level. The best 9 bar chimes according to us are as follows.
Table of Contents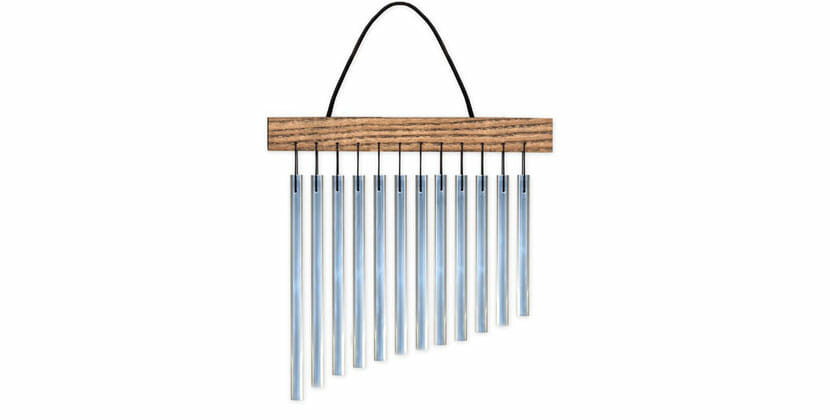 This hand-held Bar Chime From Treeworks is known for its durability.
This is due to a "CordLoc" technology that holds the chimes in its place and withstands prolong use.
This is also light in weight and therefore is easy to carry.
Pros
It is very durable.
Lightweight ensures ease of use.
A clear sound is another advantage.
Cons
There are no major cons that we could find.
This hand-held bar chime is made of thick aluminum and has a shiny finish. If you want something that will not only accompany your music but will also last longer, go for this one!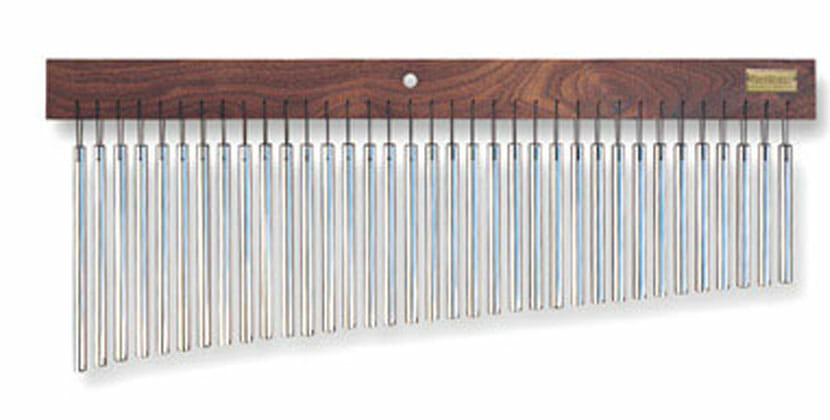 TRE35 Bar Chime by Treeworks is perfect for drummers who want to take their music to the next level.
The case design is an addition which will protect your chimes and therefore increase their durability.
Pros
Highly durable.
A crisp and clear tone that compliments drumming.
There are no plastic ties holding the chime, this ensure durability.
Cons
The case design can make holding this chime a little uncomfortable but once you figure out the best way to hold, this product becomes flawless.
This alloy based chime is perfect for drummers. It will last longer and its sound tones will not drown but will rather compliment your drumming. Another advantage is that its tuning feature compliments all genres of music.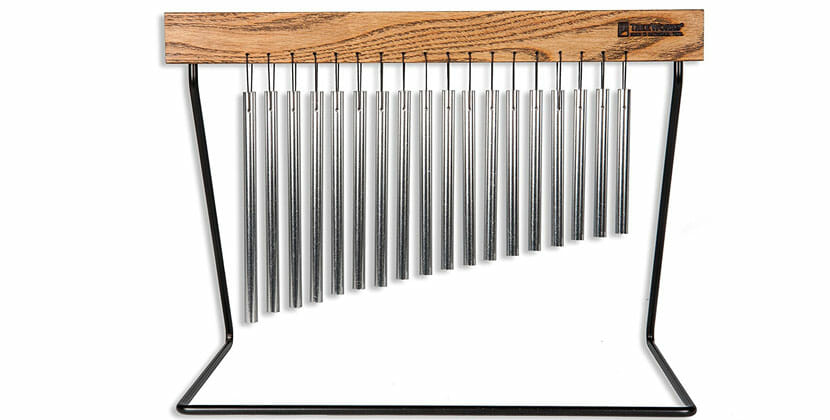 TRE421 bar chime from TreeWorks comes with a table stand.
Now you can easily place your chime on a table when you use it as a secondary instrument.
This bar chime is made of thick aluminium and has a special cording without plastic ties.
Pros
High durability.
Comes with a table stand and therefore you can hold it easily.
Cons
It is a little small in comparison to other TreeWorks Chimes.
A small size in no way means low quality. This chime by TreeWorks has a good sound quality despite its size. It will be a little reasonable in cost and therefore is perfect for beginner musicians.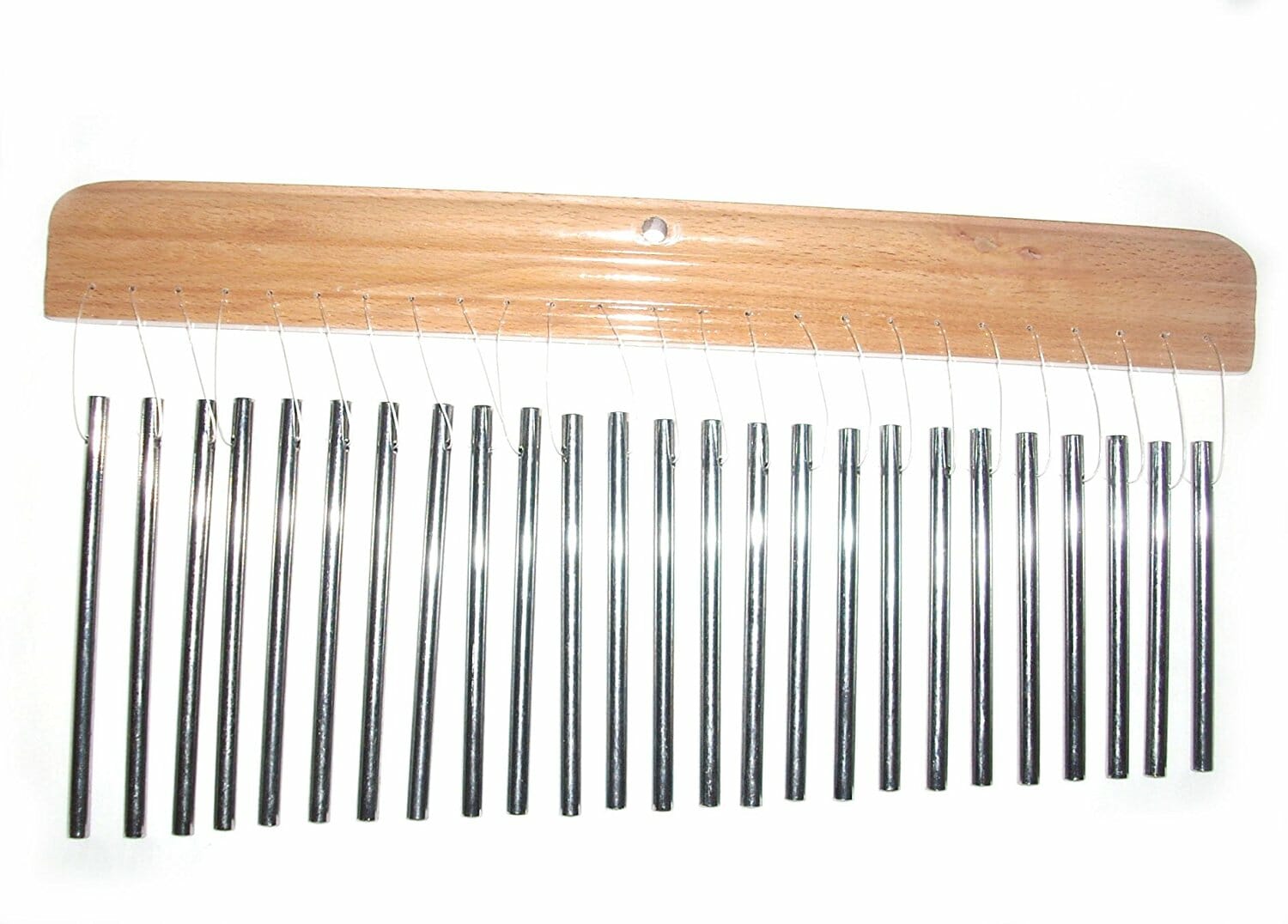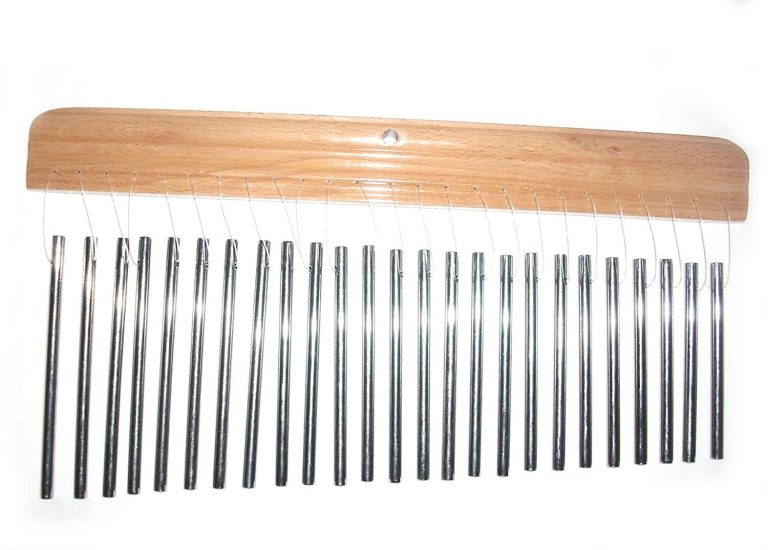 WB-01 Percussion 25 Bar Chimes set of about twenty-five bells come with a mounting stand or a tripod stand.
This is ideal for concerts and is really easy to handle.
The stand can be adjusted length wise quite easily.
Pros
A clear, sharp sound tone.
The mounting stand makes it easy to transport and use.
Reasonable cost.
Cons
May not be very durable if not handled with care.
If you are looking for a bar chime that will be easy to handle during a concert or church choirs, then go for this one. A mountable stand is the biggest advantage of this bar chime.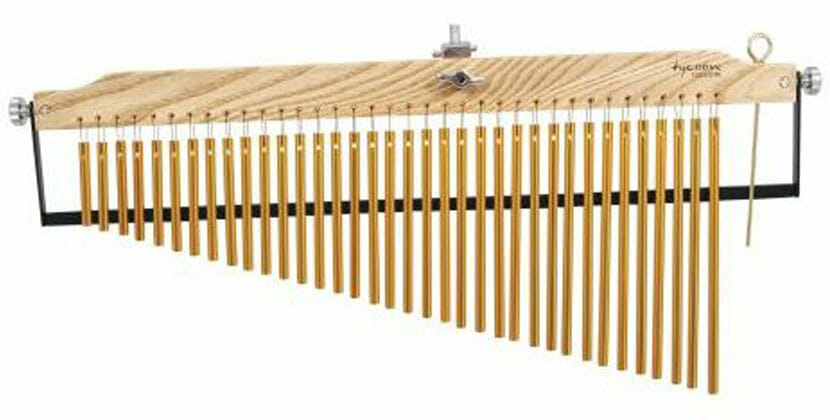 This set of 36 Bells Chimes by Tycoon Percussion is another great product for aspiring musicians.
The chimes are fixed to a wood bar with a natural finish for simplicity.
Pros
They are perfect for almost all kinds of music genres.
You can produce a variety of tones very easily.
A storage slot in the wooden bar makes it easy to store.
Cons
The cost might be a little expensive for some.
Overall, this is aluminium made set of chimes will be perfect for musicians' due to its tonal diversity. You can also store it easily with the help of the storage slot. Most Importantly, the sound produced is clear, crisp and authentic.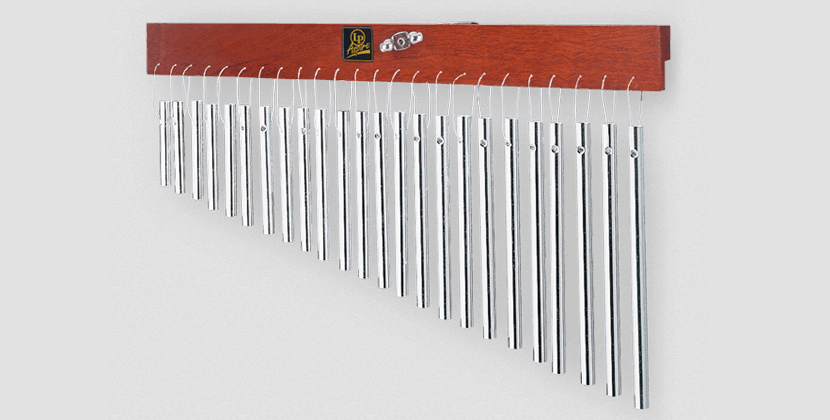 LPA280 Aspire Bar Chimes have a set of 24 chimes on a wooden bar.
These chimes are tied together with nylon threads and are made of a special alloy.
Pros
Highly durable due to its construction.
A clear and crisp sound tone.
If you want a high-quality product from a trusted manufacturer then you can't go wrong with LPA280 from Latin Percussion. It is not only durable but will also not disappoint you tone wise.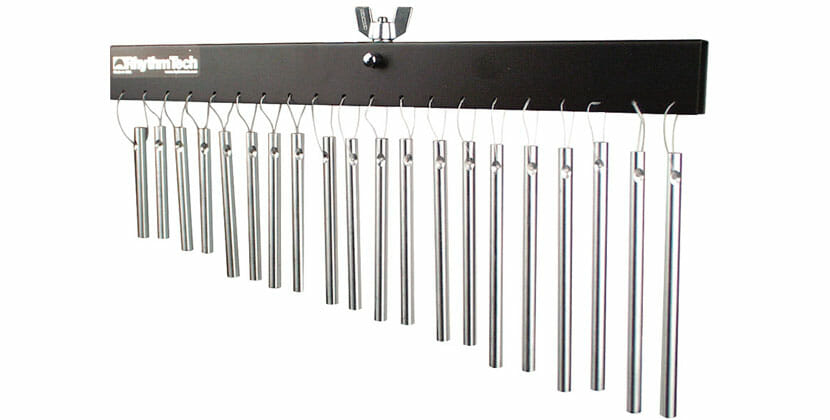 Rhythm Tech have got you a spectacular bar chime that has about 20 bars attached.
The main feature of RT8100 Bar Chimes is that it can be easily mounted with on a cymbal stand.
Pros
The bar chime is perfect for bands and choirs.
The tone has a great quality
Aluminium made chimes have a great quality.
Cons
It is very expensive cost wise.
Only for professionals
If you are a musician who makes some serious music, then this bar chime is your perfect companion. Rhythm tech has left no stone unturned to give professional musicians a high-quality product and is also easy to use.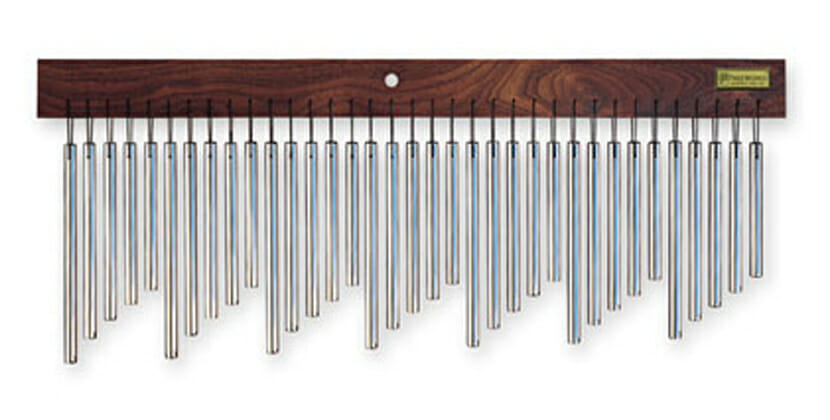 TreeWorks have the perfect chime for all drum squads. TRE35xo Bar Chimes is perfect for drum choirs' due to many reasons.
Firstly, it has a different tuning option that creates many sound tones. Secondly, almost all major drum corps use this product due to its diverse tones. Finally, it is highly durable.
Pros
A great tonal diversity and can even produce haunting tones.
Highly durable because of the way the chimes are held together.
Cons
Very expensive cost wise.
This bar chime is mainly for professional music squads that know what they are doing. Its durability, tonal diversity and an unique tuning option are some of the reasons you should buy this one. Especially, if you are in a choir because this will do wonders for your music.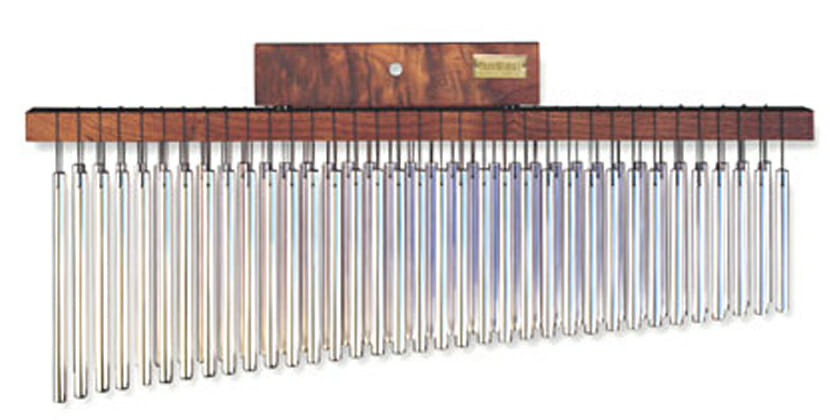 TRE35db Large Double Row Bar Chime from TreeWorks has a superior sound quality due to its size. TRE35db has a bar holding 69 chimes! The chimes are all double rowed to ensure a louder sound tone.
Therefore, this chime is perfect for live performances as it will make it tone distinctive among all other sounds.
Pros
A greater resonance makes it perfect for live concerts.
It is highly durable.
Cons
Perhaps the most expensive chime from TreeWorks.
This double row bar chime's greatest strength is its size which offers many advantages to professional musicians. Firstly, it is highly durable and secondly it has a loud sound tone that can be heard easily. The cording which holds all the chimes together is also unique and increases durability.
Frequently Asked Questions
What is a bar chime?
In this all chimes are mounted on a single bar and can be played with the help of a small mallet.
What is a hand chime?
They do not require any mallet and are rung by hand itself.
What is a wind chime?
This is a type of hanging chime where 2-3 chimes are hung together. They make sound tones due to winds.
Glossary
The chimes are held together on the bar.
A stick that is moved on the chimes to make sound tones
Conclusion
If you are looking for something cheap but with a good sound quality and durability then go for TreeWorks Chimes TRE415 Hand-Held Bar Chime. Professional musicians willing to spend a little extra for a high-quality product should go for Rhythm Tech RT8100 Bar Chimes-Single, 20 Bars or TreeWorks Chimes TRE35db Large Double Row Bar Chime. The chimes mentioned before may be a little expensive but they do give a loud and clear sound tone. If you are still not sure then do go through the pros and cons to decide what is best for your needs!