If you are looking for a cowbell that would fit perfectly with a drum-set, then Stagg CB307BK Rock Cowbell for Drumset is perfect for you. It is a versatile product, so you can use it to play all sorts of music, be it salsa, punk rock or even Latin melodies. Designed with precision and so it does justice to its purpose. It doesn't sound like a high-pitched toy and it is compact enough to fit in a small bag. It has received great customer reviews online, and so it definitely serves a good deal at a reasonable price.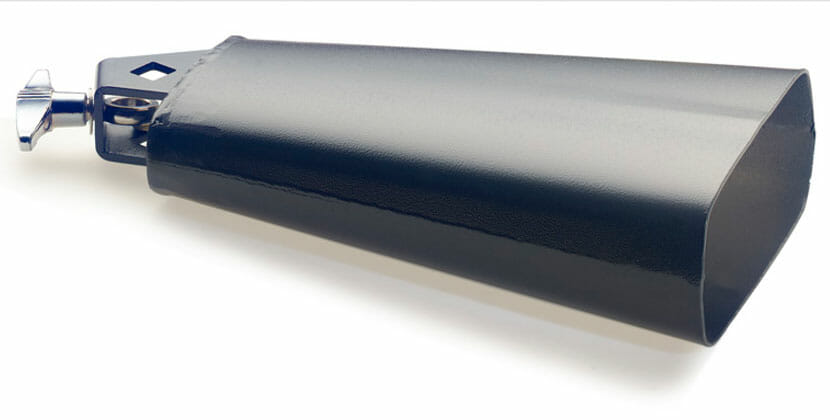 Table of Contents
Basic Construction
This Rock Cowbell is 7.5 inches in size. It is built of steel and comes with a mounting bracket and screw attached. It has a durable black finish. The Stagg CB307BK Rock Cowbell for Drumset weighs 1.6 pounds and it has a length of 9 inches, breadth of 5 inches and height of 4 inches. The mounting hardware helps in setting it up easily with your drumset.
Attractive Features
This product is known for its durable hardware and serves its purpose right. It has various prominent features that make it a tough contender in the market. Not only is it cost effective, its sound and quality make it attractive and desirable. Take a look at some of its significant features:
Flexible with the way you can use it – you can choose to either clamp it to your drum set, or use it hand-held due to its perfect size.
Sounds it can make – you can use it to play different sounds such as funk, rock or other desired rhythms.
You can easily try to paint it in a different color and give it a new look.
Since its sound is not at all unpleasant, you may even be able to use it for counting for Colorguard.
You also have the option of altering the tones by changing the stick pressure or even by exchanging stick ends.
It is a great bargain for your standard rock music playlist.
A cowbell holder would complement it greatly.
How Does It Fare?
As compared to other Rock Cowbells it fares well in the market, due to its unique and sturdy design. It can be used by drum players who are beginners, and it is perfectly suited for drum players at an advanced stage in their career. It has many attractive features and delivers the best of its quality. It is the perfect tool to help you take strides in your drumming career. Its versatility and quality make it stand out among its competitors. If you are looking for a revolutionary design at a reasonable price, Stagg CB307BK Rock Cowbell for Drumset, should be your choice. If you are not so much of a drummer yourself, this Rock Cowbell can serve as a Christmas gift for your drummer friend.
Value For Money
You can find the Stagg CB307BK Rock Cowbell for Drumset at Amazon at an affordable price. This Rock Cowbell is the best deal in the market as other Cowbells for Drum sets are usually much more expensive. You may even find smaller sizes in the same category if that is the requirement. Its superior quality and steel finish make for the best bargain in the market. It is truly every drummer's dream!
Don't Miss Out to Check the Following Cowbell Instrument: