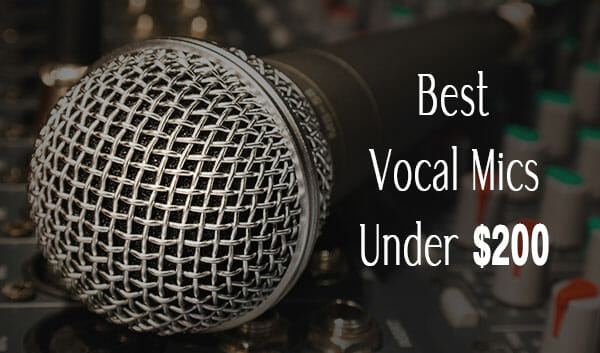 When we think of buying any professional equipment, whether it's for filming videos or music, we think that it's going to be too hard on our pockets.
I mean, think about it. For most beginners, investing in equipment is important but how do you buy anything so expensive; when you've barely started earning?
I bring the good news. There are some really affordable vocal mics available (all under $200), that are good quality.
You don't have to jump into buying the most expensive ones; just yet.
Whether it's for your first YouTube cover or your live performance, owning equipment (especially good quality vocal mics) is important.
It helps you practice at home, without the stress of finding a studio, and of course, familiarizes you with the mic.
Even for people who are currently learning sound designing should own equipment of their own. There's nothing more daunting than figuring out the settings of pro tools if you don't understand your equipment.
Now, let's check out the 9 best vocal mics under $200 of 2020.
Top Reviews of Vocal Mics Under $200 In 2020
---
---
---
---
---
---
---
---
---
Buying Guide: Vocal Mics Under 200
Buying your first mic? Here's what you need to keep in mind…
Always have a budget down. In this list, you'll find that most mics are affordable but it's always smart to have a budget in mind; or at least a ball-park figure.
Buy the mic according to its use. If you're specifically looking for a mic for vocals, then look into the mics, from the above list, to meet those needs. Same goes with instruments.
Buy the right equipment and always try to get a pouch. It's equipment that you won't throw after using 2 or 3 times. Make sure you're taking care of it like you would take care of a pet.
Buy your mic according to your surroundings. You could be recording from your room, or from a studio, or from a DIY studio. Mics like Rode NT1A could be used for DIY booths and mics like Shure SM85 can be used for untreated rooms.
Buy a mic according to your singing style. The jazz mic or the acoustic mic from the above lists are some examples; for mics suiting its specific purposes.
Difference Between Dynamic Mics And Condenser Mics
For your reference, here are some key characteristics of dynamic mics and condenser mics. Hope this helps you understand the concept better.
Dynamic Microphones
Characteristics of Dynamic Microphones:
They are very rugged
They can withstand a very high sound pressure level (SPL). Can record up to 140 dB and is used on drums.
They are very transparent in sound.
They are used in live sound also because they are cheap.
They are less sensitive to sound.
Some examples of popular Dynamic Mics:
Shure SM58: most common dynamic microphone.
Shure SM57
Telefunken M80
Telefunken M81
Beyerdynamic TGD71C
Beyerdynamic TGD35C
Sennheiser E906: more for guitars and louder instruments.
Sennheiser E609: more for guitars and louder instruments.
Sennheiser E602
Condenser Microphones
Characteristics of Condenser Microphones:
They are very sensitive to sound and cannot withstand a high sound pressure level.
They are more sensitive to high frequencies.
They are very delicate and you can tear the diaphragm very easily.
To place it, a shock mount is used because they are very sensitive to vibrations. It prevents the microphone from picking up unnecessary vibrations.
Some examples of Condenser Microphones:
Sennheiser E614: SD
Shure SM81: SD
Telefunken AK47: LD
Blue Spark: LD
Neumann U87
Neumann U47: LD
Rode NT1A: LD
Line Audio CM3: SD
FAQs About Vocal Mics Under $200
It's a very basic question but microphones need to be understood well. Microphone is a transducer, converts one form of energy to another form.   Through the microphone, it gets converted into electrical energy.
An accessory that filters air burst while pronouncing plosives.
3. What are polar patterns?
The angle or directions in which microphones pick up sound is called polar patterns.
There are four kinds of polar patterns-
Cardioid: The most common polar pattern. Picks up sound only from the front. (takes the shape of mushroom).  Example – Vocals, Footsteps etc.
HyperCardioid: Exactly like the cardioid microphone but picks up a little sound from the back. Used anywhere. That does not require one single isolated sound to be captured.
Bi-directional: Picks up sound from two opposite sides. (Front and Back or Left and Right) Is also called a figure 8 pick up pattern. Picks up sound in the shape of an infinity sign. Picks up sound from the front and the back, left or right equally. Examples – movies where two people are arguing, podcasts, radio, basic sound of a room. Can only pick up sound from opposite directions because the diaphragm is flat.
Omnidirectional: Picks up sound from all sides. (Front, back, left, right, bottom, top etc.) They're shaped differently. Used mainly in kickdrums, used inside a bass drum, used in grand pianos. Theatre performances, tap dancers, conferences. Examples – Shure Beta 91A, BeyerDynamic TGD71C, AKG C414 one of the few microphones which has all four polar patterns in one microphone. You can choose your polar pattern.
4. What are the things to keep in mind while recording or before recording?
Space has to be quiet.
Make sure you use the right microphone to record the sound source.
As few people in the room as possible.
Select your microphone carefully based on the polar pattern.
5. What is the audio frequency spectrum?
Frequency range of hearing of the human ear is 20 Hertz – 20,000 Hertz.
This is what defines the bass, mids and treble. These three make up the frequency spectrum of the human ear.
Three main frequency bands in the frequency spectrum are-

Lows – Anything below 300 Hertz
Mids – 300 – 900 Hertz
Highs – 900 Hertz – 20,000 Hertz
Further divided frequency bands-

LOW-
Lowes – 20 Hertz – 150 Hertz
Low Mids – 150 Hertz – 300 Hertz
MIDS-
Mids – 300 Hertz – 750 Hertz
High Mids – 750 Hertz – 4,000 Hertz
Lows are frequencies that you can feel, highs are annoying sounds to your ear and mids make it sound hollow or boxy.
Lows have a lesser frequency band, highs have a wider frequency bands.
6. What accessories to buy with my mic?
Shock Mounts:
These help reduce noise that are caused due to the mounting hardware. Even while your mics are kept on a wooden stage, or on a stand, there is transferable mechanical sound, which the shock mount will prevent.
Windscreens:
Controls the wind movement from interfering with your sound. Prevents the pop sound during close vocal use.
Phantom Power:
Used by condenser microphones. You need to send this power to get your microphone to work.
---
Conclusion
Found what you were looking for?
These features that I've mentioned above are some of the features you should always keep in mind; before buying equipment like mics. These sure are the cheaper options and super good for beginners and professionals as well. Don't kill your dream of becoming a singer or helping a cool band with sound designing!