If you are a newbie hoping to nurture the musician within you, or a professional trying to perfect your drumming skills, either way, the Latin Percussion Compact Quinto Drum will suit your style. It is creatively designed for you to practice at home, or even play it live or at a studio. This successful innovation was the creations of the great Latin jazz percussionist – Giovanni Hidalgo. It is also a proud winner of the 2003 MIA press award for the category of most innovative instrument.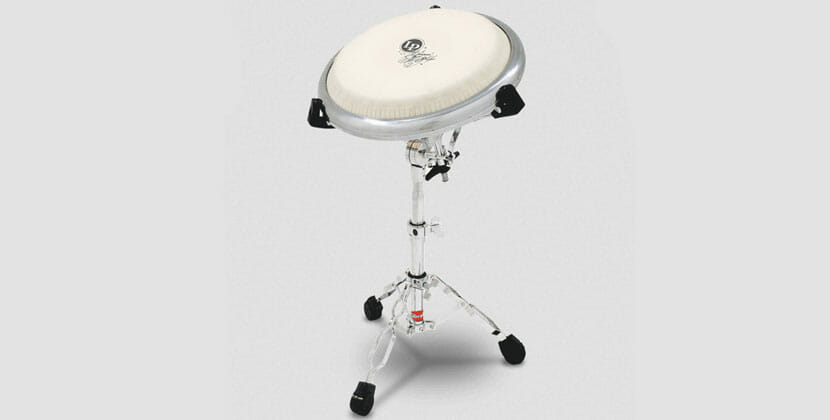 Table of Contents
Basic Construction
Latin Percussion Compact Quinto has a metal design for the exterior and works perfectly with an acoustic group or even with a good microphone kept nearby. It has a solid construction, is strong and sturdy and guarantees durability.
This Compact Quinto weighs 4.3 pounds and has a dimension of 3.8 x 14.9 x 14.8 inches. The total shipping weight, however, would come to be around 5 pounds.
Attractive Features
Apart from being an award-winning product, this Quinto manifests every musician's dream due to its world-class sound quality and durability. It has various attractive features that make it the best choice in the market:
It may weigh more than what you would imagine, however it is essential for the rim to provide support to the full tensioning of the head, thereby giving it a professional look.
If you are a drummer, hoping to switch to hand percussion, then this LP Compact Quinto is the best fit for you.
Apart from the MIA press award, it has also won the Drum, Drummies and MD reader's choice award.
With this Quinto, it is easy to get all tones present, and despite the fact that the bass tone is missing, a little bit of EQing can let you have Mic'd sessions too. It has a good volume and so it makes for a perfect choice for every drummer.
This Quinto can be easily mounted on a stand to produce the desired beats.
You can even choose to use it with your drum sets to produce an extra vibrant sound.
It is compact and you can easily carry it around in a backpack. Especially helpful for those who want to cut down the pain of carrying huge drum sets for band practices.
How Does It Fare?
Customers love the Quinto. With its wide tuning range as well as drum key tuning, it is easy to schlep. Getting another 11inch Quinto would complete your set and this would work fairly well along with a set of wooden bongos.
The price can be an issue for some, however, you can check for videos on you-tube and you are bound to declare this product cost worthy.
This LP Quinto, may have a small profile, however, it can be used to create powerful backbeats, as well as dynamic tones. It contrasts quite well with the standard toms and shall not fail to impress you.
Value For Money
Latin Percussion Compact Quinto Drum is available on Amazon. It can be shipped to most part of the U.S. This Compact Quinto is also eligible to be shipped in select countries outside of the United States. Moreover, it is eligible to be shipped via Amazon Prime. Products in the same category may come cheaper, however, their lack of quality and design make up for their low price. This Quinto however, lives up to its name and shall not disappoint you.
It's sound quality, durability and other attractive features make for it be a tough contender in the market. It is a product backed by Hidalgo, so it shall deliver satisfactory results. Use it is as a practice instrument or even as a professional one, it works both ways.
It can work for a perfectly giftable item for your drummer friend as well, so don't let go of this amazing deal, gear up and 'drum roll' your way to glory with this Cute little Quinto!
Also Checkout the Reviews of Other Quinto Drums: