If you are looking for some cool up beat music instruments then these Cuban drums should be your first choice. This product brings together the charisma of old-style Cuban drums and contemporary design, together. The product comes from Thailand and it is constructed with great consideration and little to no damage toward the environment. These Meinl Percussion LC11NT-M Luis Conte Signature Quinto Drum, are mounted very close to the shell and have traditional rims. They are known to have won the MIPA award, in the category of "Best Percussion Product".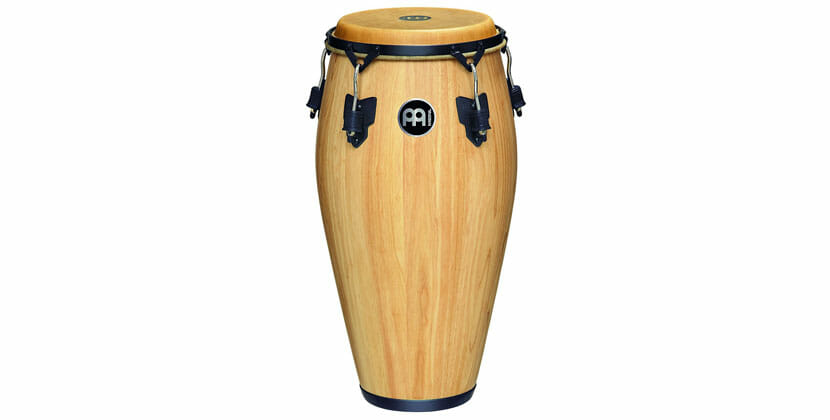 Table of Contents
Basic Construction
Meinl Percussion LC11NT-M Luis Conte Signature Quinto Drum has been constructed with great precision and care thus ensuring world class quality. The Dimensions of these luxury Cuban drums are 17.7 x 31.1 x 17.7 inches. Their weight is around 34.6 pounds. They have a stylish black powder-coated hardware, along with a natural matte finish. They are constructed from sustainable two-ply rubber wood, and they come with old-school "Cuban Style" 4 mm traditional TTR-Rims. These award-winning Luis Conte Signature Congas, are 30 inches tall. With True Skin Buffalo heads and 8 mm strong tuning lugs, they produce perfect sound and thus they fare well against their contenders in the market.
Attractive Features
The Meinl Percussion LC11NT-M Luis Conte Signature Quinto Drum won the highly prestigious award called the "Musikmesse International Press Award" which is presented by 55 music magazines, annually. They are surprisingly named after a Grammy winning Artist too. Luis Conte is known to be the master of percussion and he has collaborated with some legendary names in contemporary music.
These Congas are put together with great effort, and each of their parts are designed with immense care and technique. Some of its marvelous features include:
The Traditional Tuning Rim of these Congas are placed narrowly around the shell such that they help in enhancing and producing quality sound.
They can be used to play Latin, Jazz and many more melodies and are well suited for both acoustic and electric groups.
Their attractive shell shape and sturdy hardware make them attractive and fun to play with. They make you look professional with their classic wooden finish on the outside.
These Congas bring about the fusion of classic, traditional design along with modern upbeat construction to play extraordinary rhythms and produce revolutionary music. This product's uniqueness makes it the number one product in the market.
The Conga Saver that are placed over the conga lugs prevent any damage that the shell may incur thus keeping the conga to remain fully tunable. These MEINL innovations, come in 8 mm and 10 mm versions and ensure great protection.
Specialists select these True Skin Hides, after which they are lightly tanned by are using a special MEINL procedure. The MEINL True Skin Buffalo Heads prove to be the perfect choice for congas, it doesn't matter if the Congas are wood or fiberglass. It is due to their sonic characteristics, structure or thickness that make these True Skin hides the best fit. These skins are then mounted by hand to live up to their roles.
They are made with great consideration towards the ecosystem and the environment – In Thailand where the product is produced, it is ensured that the rubber wood plantation meets all ecological requirements. MEINL also makes sure that the American white Ash which is also used in the production meets all the CITES-regulations.
How Does It Fare?
They fare extremely well in the market for their award-winning position and excellent quality. With great customer satisfaction, this product will not disappoint you. At such a reasonable price, this is probably the best bargain available in the market that shall fulfill the musician's demands to a great extent.
Value For Money
The Meinl Percussion LC11NT-M Luis Conte Signature Quinto Drums are eligible for amazon prime shipping. They can however, be only shipped within the U.S. Amazon Prime shipping. You can also have them shipped in selected countries outside the United States. They are also eligible for gift-wrapping hence they make an ideal giftable option as well.
You may find cheaper alternatives in the market, however only new ones promise the best quinto drums. The shipment comes with MEINL Luis Conte 11-inch Quinto conga, MEINL Conga Saver, MEINL Soundpads, Accessory pouch, L-shaped tuning key and some Tune Up Oil.
So, get ready to be foot tapping, and tuning into the rhythms of these Congas, that put you on a melodious and sensuous journey as you play the sound of your choice with their help!
You Can Also Check Other Popular Quinto Drums: