Tycoon Percussion Signature Heritage Series Quinto Drum is a wooden beauty that is sure to enrich your musical experience. The exclusive Siam Oak Wood instrument has a soothing tone and is just what you require to complete your percussion set. The tuning range of this instrument is wide-ranging, making it the perfect fit at studios or for live performances. It is also easy to transport this beauty, given its sturdy and well-adjustable die-cast handles. The Tycoon Percussion Signature Heritage Series Quinto is available in four different sizes to suit your percussion needs.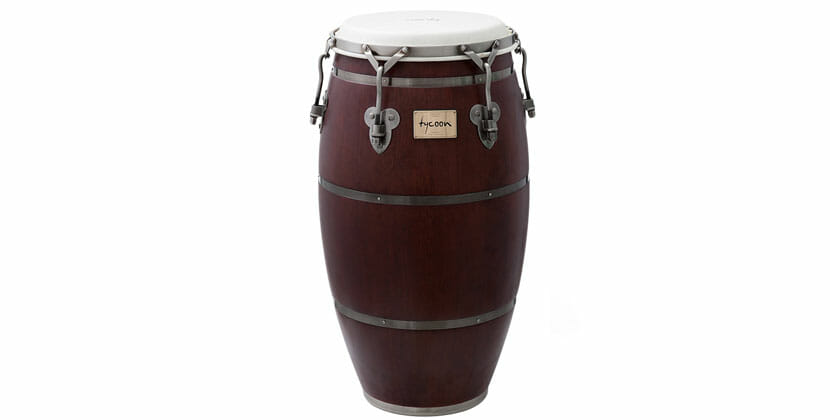 Table of Contents
Basic Construction
This 38-pound percussion drum is made of Siam Oak Wood and available is four different sizes (10", 11", 11.75" and 12.50"). It is constructed with an extensive broad belly to produce profound bass tones. The calfskin heads equip it to produce well-defined highs. The product dimensions are 17 x 17 x 31 inches. The instrument originally roots back to Thailand from where it is shipped. Its shipping weight is at 41.3 pounds. The Tycoon Percussion Signature Heritage Series Quinto is made of top-grade wood and is durable, portable, thanks to its die-cast handles and engraved with wood grain patterns. The Conga shell is circled with 3 steel bands to bring out its beauty. The Conga also has classic Pro hoops.
Attractive Features
The build is such to provide it with a well-defined broad belly that will amplify the bass tones.
This is also equipped with reinforcing side plates with 3/8″ diameter tuning lugs along with backing plates.
As the product states, this comes with a single stand and also a tuning wrench and lug lube.
Basket stands are also included with the product.
To protect your conga during transportation or from the dust bunnies, Tycoon Percussion also has bags designed especially for the product along with rubber conga protectors.
The Classic Pro Hoops give an edge to the product, making it popular among musicians.
How Does It Fare?
Tycoon Percussion's range of design has several attractive features and is guaranteed to perform better than other congas of the similar range. A signature, specially crafted design at a good price is worth buying. The best part about this quinto drum is that it is perfect for both beginners and advanced players, due to its strength, different attractive features and versatility. It is promised that once you get used to this signature, hand crafted conga, you will forget about all other congas. This also fares better in terms of the richness of sound produced and its clarity, making it conducive for both studio and live sessions.
Value For Money
So, the big question- is it worth the money? Priced at a moderate cost on Amazon, this hand-crafted wooden beauty is one of its kind and worth every penny you shell out.
Now, you if need reasons to justify its value for money, here is a quick recap. So, just like stated above, here are the reasons again, in bold, it is nothing short of amazing with its excellent sound producing qualities. It is durable, sturdy and made from the best available wood. Nothing counterfeit about any inch of this exclusive conga. Also, it comes with an adjustable strap so you can carry it about easily. Now, don't forget you can also select from the four given sizes in which the Tycoon Percussion Signature Heritage Series Quinto Drum is available. You can select the one you need and play away to glory.
Here are Some Quinto Drums To Checkout: