This very creative design of Latin Percussion LP1400-HG Udu Drum, is the contribution of ceramist Frank Giorgini and the percussionist Jamey Haddad. Taking ideas from the ancient African musical instruments, they have created a very distinctive and attention seeing instrument. Its name Udu is a derivation from Nigerian Ibo language meaning "pottery". Its special feature is that it can be played by hitting any part of it. With every touch you will realize that you get a crazy mix of very clear notes. Each Latin Percussion drum has very beautiful and unique tonal values to offer.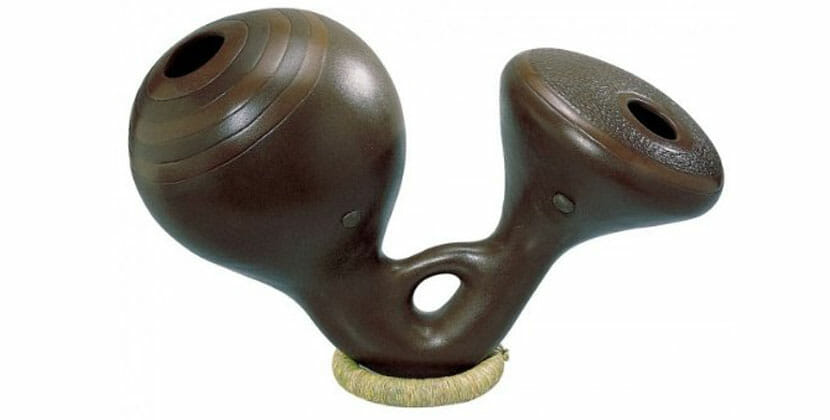 Table of Contents
Basic Construction
It is constructed out of lehm or clay, making it completely eco-friendly. The clay has been modeled to form the textured surface that produces the tones. It is a dual chambered drum. One is the bigger rounded drum and the other is triangular chamber. It has a V-shaped air channel between the two chambers.
It has a length of 23 inches and breadth of 13.8 inches. Its height is 18.6 inches. At the time of shipping it weighs around 10.5 pounds.
Attractive Features
It has one of the most exciting designs which really set it apart. The way you can produce the beautiful tones from any part is a specialty of it. There are some other features like:
The lower rounded chamber has a mellow alto range, basically more of bass tones. Whereas the triangular provides very transparent and thin tones with a ringing effect! Together they sound very much like the traditional Indian Tabla.
Its textured surfaces allow for a wide variety of tones while playing it.
It is very easy to handle, and can be played in any way you want. You can put it on your lap or you can have it on the stand that is provided along with it.
In case you think that it has a low volume, just fit in the microphones to their customized ports in the instrument. You will then stand out even in the biggest musical crowd.
How Does It Fare?
A lot of users have given it brilliant reviews after using it because of it subtle and unique sounds. They find it very exciting to use. Their only concerns are with the fragility of the instrument and lack of amplification. But with the good quality of materials, the instrument is very durable and can survive considerable rough handling. About the sound issues once the users use the external amplification, they find it irresistible and difficult to keep it aside.
It has become a favorite pass time for the beginners and amateurs. And the professionals love the acoustic quality and variance this instrument provides.
Value For Money
If you are worried about value for money, let me tell you that you have reached the right place. It is a great buy at its price. You get so much in return for the little investment you put in at one time. You will love this instrument from the day it reaches your doorsteps.
Also Checkout the Reviews of Other Udu Drums: