The Udu Drum Mbwata is a unique and distinctive creation of Frank Giorgini who is a master ceramist. This musical instrument is based upon the traditional African designs.The tonal values provided by the Udu Drum are very characteristic in sound. This drum has the special quality that it can be played by hitting any part of it. With every touch from the palm or the fingertips, the drum just springs into an acoustic radiance.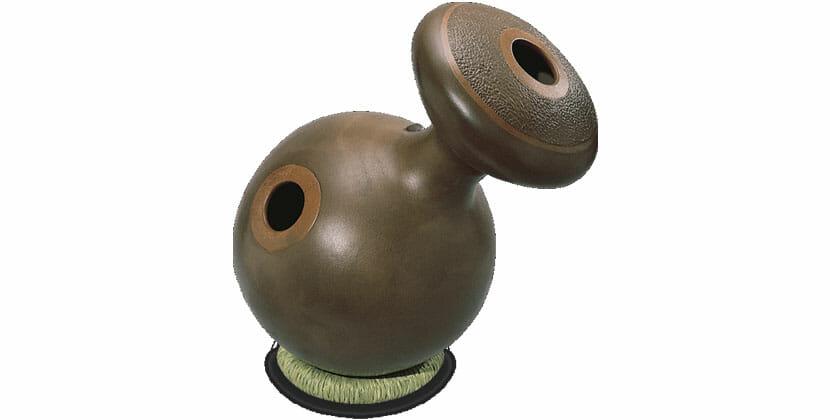 Table of Contents
Basic Construction
Made completely out of lehm or clay, it has a textured surface that creates musical notes. The LP Udu Drum Mbwata stands vertically with dual chambers. The lower rounded drum is of 12 inches and the flatter one is of 8 inches.
It is very differently shaped with a total length and breadth of 15.8 inches and a height of 20.5 inches. At the time of shipping it weighs 14 pounds.
Attractive Features
Its construction is its most exciting feature because of the variety in sounds that it produces. There are some other features that you should be aware of. They are:
The lower round chamber produces very mellow and round dry bass tones. The upper flatter chamber has a unique bright and sharp wet tone.
It has a starkly textured surface that produces varying tones by rubbing your fingers on the various parts of the drum.
Its beautiful construction allows you to play it every comfortable position. You can either put it in your lap or place it on the straw bas that comes along with it.
If you ever think it makes a little low sound then you can simply amplify it. Small mics can be placed in the microphone ports to enrapture the listeners with it beautiful sounds.
The engaging sounds of the Udu drum have been compared to those of the Indian Tabla and the Middle Eastern Dumbek.
How Does It Fare?
All of it users find its bass tones really great and believe it to have a very nice ringing sound to it. It is a great fun instrument to play with on every occasion. The only drawback is its low tone. But according to its users with the correct amplification set it can be easily managed. The good thing is that the aspiring musician can play without worrying about the irritation of the neighbors. It is a great pass time that helps soothe you internally.
Value For Money
This instrument has received appreciation from both professionals and amateurs. It is a great value for money musical instrument. You will simply fall in love with its sharp and ringing tones. You will very soon be asked to bring out your Latin Percussion LP1400-MB Udu Drum on every occasion that graces you. This is a great instrument to have and you will definitely have lots of fun playing it the whole day.
You Can Also Check Other Popular Udu Drums: