The creation of this brilliant musical instrument can be credited to the master ceramist Frank Giorgini. Its current design comes from the ancient and musical African instruments. Even though the instrument is based on designs that are centuries old, the instrument in the right hands can sway masses. Latin Percussion has done justice to the world of music by introducing the LP 1400-UT and the innovative rhythms that come with it. The unique and distinctive tonal values are a great addition.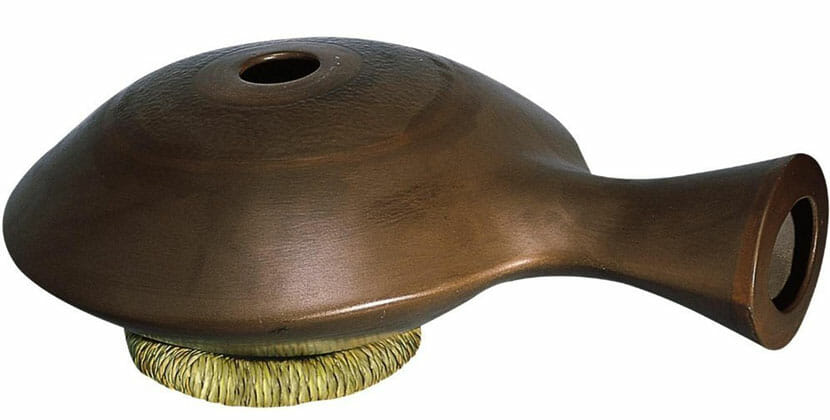 Table of Contents
Basic Construction
It has a simple structure and looks like a flat saucer or a hot water bottle. Made entirely out of clay, it has been crafted to have a textured surface. It is very compact in size.
It has a length of 19.6 inches and the breadth of 12.5 inches. It has a height of 2.54 inches. It is a brilliantly shaped instrument that can be easily played anywhere. At the time of shipping it weighs around 13.1 pounds.
Attractive Features
The most unique feature about this instrument is its shape. But here are some other of its less apparent features:
The texture of the instrument is simply great. It allows you to play it by hitting or rubbing it on any part.
Because of its small size it can be played either by keeping it on the lap or on the straw stand that comes with it.
The bell chamber of the instrument produces bright and wet sounds. And its creates a 'cowbell' type of tone.
Because of its deep base tone it has one of the lowest pitches among all the Udu drums. The sound and the way of playing can be compared to the traditional Indian Tabla.
Its magical tones can be easily amplified by placing the small mics in the microphone ports. After this you will have no issues in being heard.
Aesthetically it makes a great showpiece too. It would look great on your shelf.
How Does It Fare?
This instrument is ideally for all the conga and bongo players. But it has been used by many others and appreciated. It provides a great variety in tonal values which is a huge positive in a musical event. Its users find it well made thanks to its authentic high quality materials. They are not really bothered by its brittleness and believe with the right care the drum can survive quite some time. It is a really fun instrument to play and you will find yourself busy with it for quite a lot of time!
Value For Money
You have reached the right place when it comes to value of the product. It is quite invaluable in terms of the variety in which this drum can be used. It is a must have instrument to have as a stand-alone piece or if you are building a collection of hand drums. It is very reasonable in price given the quality of product.
Here are Some Udu Drums To Checkout: