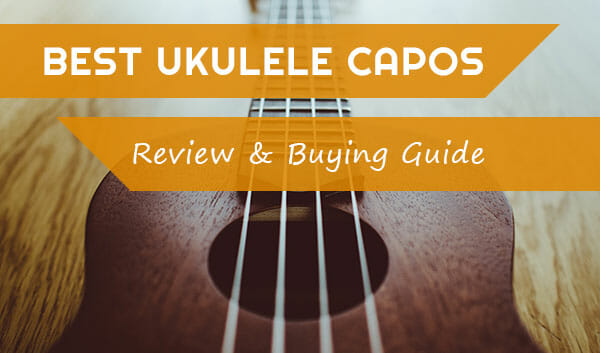 A capo is used to raise the overall pitch and change the chord structure of your string instrument (either Guitar or Ukulele).
By using a capo, you don't have to tune your ukulele to a higher key. It is useful when you try to match your ukulele's tone with the singer's vocal range.
It's a useful tool for beginners as it allows them to play a wide range of songs.
Capo is short form for Capotasto which means 'head of fret-board' in Italian.
If you are looking to buy one, check out these top ukulele capos of 2021 before buying one.
Our Best Picks
---
---
---
---
---
---
---
---
---
---
Different Types of Capos
Capos can be classified into three different categories based on their construction. Let's have a quick look:
1. Spring Loaded Capo
As the name suggests, the capo handle is controlled by a spring. This makes it easy to change the position of capo on the fret-board with one hand.
However, the pressure applied to the strings cannot be changed. Most of the capos available in the market use this mechanism.
2. C-Clamp Capo
This type of capo consists of a little screw which allows you to change the pressure on the strings. You have to lift its lever to clamp it on the fret-board of your capo.
Although a bit expensive, these capos are the reliable, precise and compact.
3. Elastic/Toggle Capo
These lightweight capos use elastic to tighten the strings. These are cheap and small in size but are low quality. They have a tendency to pull the strings out of tune and break easily.
In addition to this, there are some capos which are custom designed by different manufacturers. Also, most of the capos for guitars work well with ukulele as well. We have already covered different types of capos available on the market.
Conclusion
Selecting a capo for your ukulele can be a tough choice when you have so many options. However, finalizing a particular capo depends a lot on your priorities.
Easy to use, price, durability, performance are a few factors that you must keep in mind while buying a capo.
We have tried to include the best capos available in the market in this list. The models recommended are popular and from reputed companies.
We are not saying that the models listed are perfect for you, but it is highly likely that they will suit you.
We hope that this article was informative and helpful while buying the capo for your favourite ukulele.
Thank you for your time and we look forward for your valuable feedback!