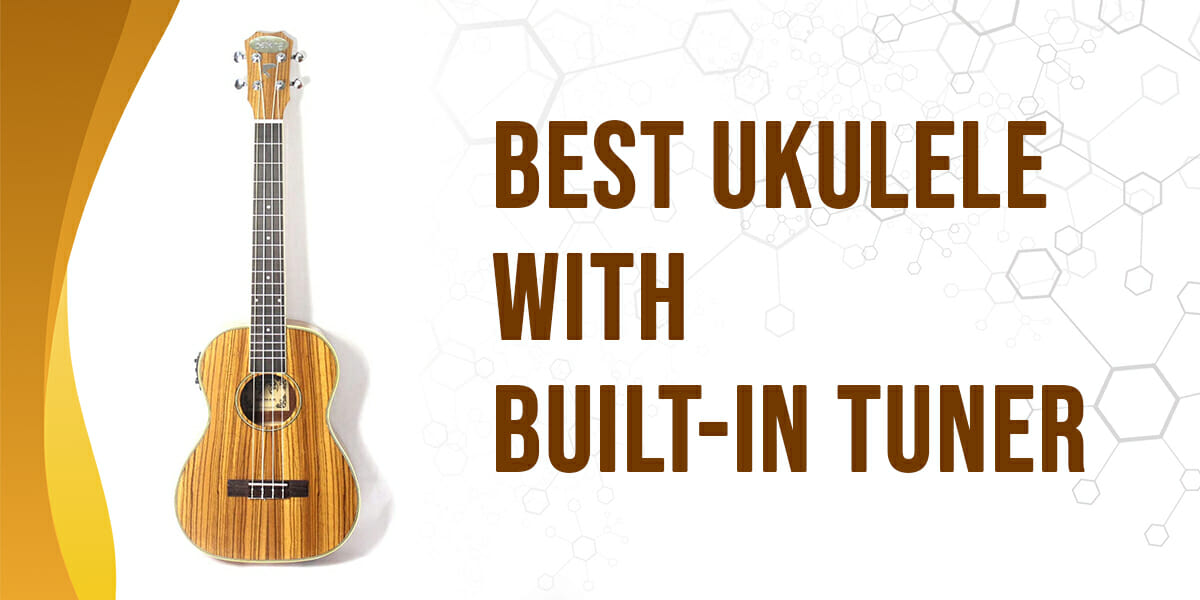 The first ukulele lesson always includes the techniques to tune your ukulele properly. And if you're a complete beginner, it's best to get a ukulele with a built-in tuner which lets you tune your ukulele fast and easily. They're also extremely useful for professionals for live performances where you have less time to tune your ukulele.
These built-in tuners provide accurate reading about how out of tune the ukulele is and how high or low the notes should be. All of these are built with high-quality wood which are highly durable. The quality strings and precise tuning is best for producing rich, warm and clear sound.
Check out these ukuleles below:
Table of Contents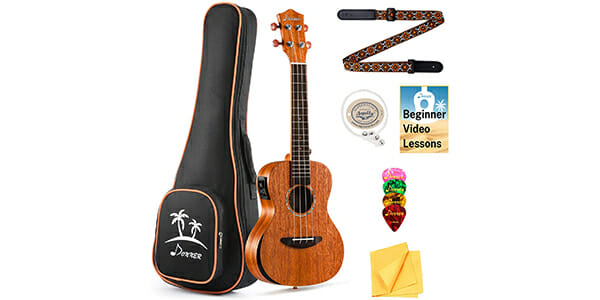 The Donner DUC-4E is a concert and tenor size ukulele that comes in two sizes of 23" and 26" respectively. It is a well-built electric acoustic ukulele with solid mahogany top with bevelled arm rest for added comfort while playing. It features an in-built 3 band chrome-plated EQ tuner which allows you to tune easily for a clear, bright and smooth sound anywhere. The 4 Japan carbon nylon strings are soft to touch which provides warmer and richer sound with greater playability. Fretboard is constructed with rosewood with 18 brass frets and the bridge is designed for an extra comfortable feel.
Pros
Two sizes
Built-in EQ
18 Brass frets
Solid Mahogany body
Nylon strings
Real bone nut and saddle
Bag, Strap and Picks included
Cons
Initial issues with tuning
It is built with strong and durable mahogany wood with added features of bevelled arm rest for longer practice sessions.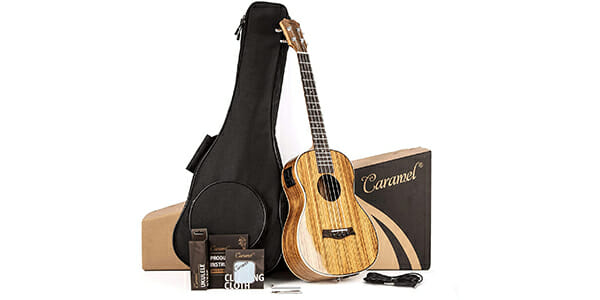 The Caramel CT103 is a 26" tenor electric ukulele which comes in 7 beautiful designs made with quality wood with smooth and gloss finish. The solid mahogany wood neck provides rich sound and sustains in every hand comfortably for excellent playing experience. The neck is also featured with adjustable truss rod which helps in adjusting the action according to your needs and carbon strings produce fuller and clearer sound. It features 3 bands EQ built in tuner with LCD colour display for perfect tuning at any place. It also comes with all necessary accessories required to start playing.
Pros
Complete starter kit
3 bands EQ tuner
Adjustable truss rod
Better sound
Wider spaced frets
Quality wood with Gloss finish
Cons
Strings might take time to adjust
It is built with all solid wood with high gloss and elegant finish and high precision tuner for fuller sound.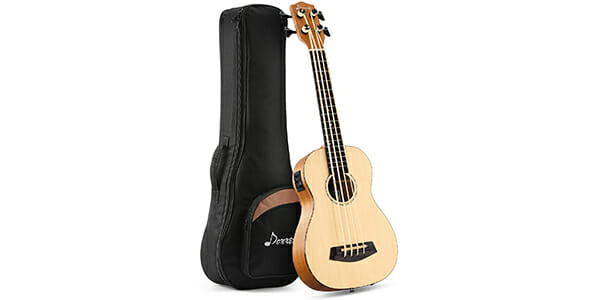 The Donner DUB-110 is an excellent quality acoustic electric bass ukulele that comes in two colour variants. It is built with spruce mahogany wood body and neck for comfortable playing experience with richer and brighter sound. It also has 3 bands EQ: Bass, mid and treble which lets you adjust the tuning according to your need. The preamp can be used for amplified volume and tuner for fast and easy tuning. It is equipped with Aquila Nylgut strings which are soft and smooth to touch and provides clear and sweet sound. The strings also ensure tuning stability with accurate fret-intonation.
Pros
30" professional bass ukulele
Spruce mahogany body and neck
Aquila nylgut strings
Built-in tuner EQ
Gig bag included
It is built with superior quality spruce mahogany wood for comfortable playing feel and richer, brighter sound.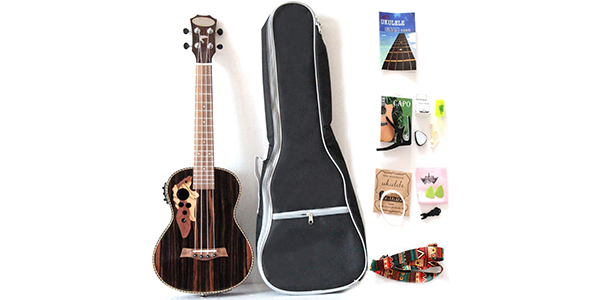 The MUSOO Tenor is a 26" 2 in 1 electric acoustic ukulele which is built with a durable solid Blackwood body. The fretboard and bridge is made with solid walnut wood which is super comfortable to hold and play. It features a built-in equalizer and tuner panel for easier and faster tuning and amazing sound. It also comes with 3 bands EQ controls: Bass, middle and treble for more smooth and clear sound. The high gloss finish looks absolutely stunning and makes the ukulele more beautiful. The kit includes every needed accessory: gig bag, strap, nylon strings, pick and shaker.
Pros
Complete playing kit
3 bands EQ controls
Solid quality wood
High gloss finish
Built-in equalizer and tuner
It is built with solid Blackwood and walnut wood design with high gloss beautiful finish and in-built equalizer and tuner for amazing sound production.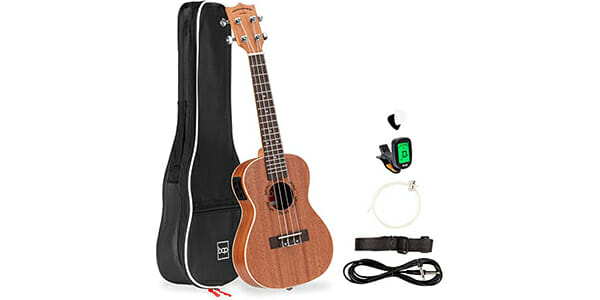 The Best Choice Products 23" Concert Ukulele is a high-quality acoustic electric ukulele. It is built with handsome sapele wood for warm, crisp and flexible sounds with additional natural shiny finish. It features an in-built 3 band EQ electric tuner with LCD colour display which keeps your ukulele tuned for every practice session. It is perfect for every music enthusiast looking to start their playing journey since the kit includes all necessary accessories. It includes a gig bag, picks, strap, an additional digital clip-on tuner, extra strings and a ¼ inch amplifier cord.
Pros
Sapele wood
Warmer clearer sound
Natural shine finish
3 band EQ electric tuner
Complete performance kit
Cons
Might be missing some accessories
It is a beautifully built ukulele which produces a rich, warm and crisp sound and also comes with an EQ electric tuner to stay in tune for every performance.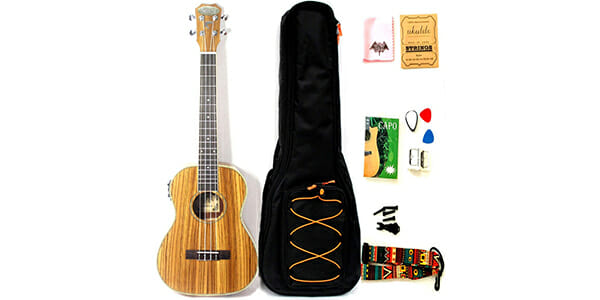 The MUSOO Baritone is a 30" 2 in 1 electric and acoustic ukulele built with solid zebrawood body and matte finish. It comes in a natural colour and solid walnut fretboard and bridge for higher durability and playability. The neck is equipped with adjustable truss rod and the fretboard and strings have low distance for smooth and easy play. It also comes with 3 band EQ controls which are bass, middle and treble for added playability. The built-in preamp and tuner also helps in achieving a richer and fuller sound. It also includes a gig bag, picks and spare nylon strings which completes your ukulele kit.
Pros
2 in 1 30" Baritone
Built-in preamp and tuner
3 band EQs
Beautiful matte finish
Solid zebrawood body
It is built with a solid zebrawood body which is highly durable and provides rich and warm sound. The built-in preamp and tuner works well for amazing tuning and sound experience.
Frequently Asked Questions
How do you use a built in tuner ukulele?
You can easily use a built in tuner ukulele. First, make sure the battery is properly set, you should check the battery gate which is typically at the sides. Now, switch on the tuner, it'll show an LCD light switched on. Choose the accurate mode, chromatic mode for standard GCEA tuning. Either tune the first G string and tune others by keeping it as reference or tune every string with the help of the built in tuner.  
Do I need a tuner for my ukulele?
If you are a beginner, getting a tuner for your ukulele might be the best option for you. Since you always need to tune your ukulele to sound good, it's important to learn to tune it properly. As a beginner you wouldn't have enough ear-practice to pick up the desired pitch and tune to the right level. This is the first lesson taught in every ukulele class, how to tune a ukulele. Getting a tuner for your ukulele will help in finding the perfect pitch and tone you need to set. A tuner will display the accurate pitch and let you know how out of tune your ukulele is, or if you need to tune higher or lower. 
Can you tune a ukulele without a tuner?
There are some simple ways to help tune a ukulele perfectly without an electronic tuner. These are: 
1. Using Reference Notes: This is a very common ukulele tuning method, you'll have to use another instrument like a piano, tuning fork or pitch pipe, or even a digital sound as a reference to get the perfectly right pitch. You need to play this note with your ukulele strings and adjust the tuning peg to match the pitch with your reference note. 
2. Using Other Ukulele Strings: This requires higher ear-practice, but you can always tune your ukulele by using your own strings as a reference note for another string. You just need to tune the G string correctly, to whatever pitch you want and then begin tuning the rest of the strings from there. Now pluck the 7th fret of the next C string and tune it up and down until it sounds exactly like the G string. For the third string, the E string, hold down the 4th fret of C string and tune it until it matches. For the last string, the A string, hold the 2nd fret of the first G string and match their pitches. 
How do I know if my ukulele is tuned?
When you play your ukulele and the tuning sounds off when they're played in chorus, then one or more of your strings are out of tune. More simply, when you notice that each string, whenever plucked, doesn't sound the same then your ukulele requires tuning. This happens when one or more of your strings are sharp or flat, or simply too tight or too loose. You'd know if your ukulele is in tune when all the strings sound the same, or have the same pitch in relation to each other.  
Do ukuleles go out of tune easily?
All the string instruments need to be regularly tuned, for them to sound good. But ukuleles are especially prone to falling out of tune easily. This is because they have extra-stretchy strings which tend to get loose when you play. And even after the strings have settled in and are tuned properly, slight changes in the temperature and humidity can also cause a ukulele to slip out of tune. If your ukulele is new or you've attached new strings, then also it's highly prone to falling out of tune. Because the strings require some time to settle in and some stretches, so you'll have to constantly tune your ukulele in the first few hours of playing. 
Conclusion
There are a lot of Ukuleles with Built-in Tuners available in the market, but we have provided the top-rated products for you. All of these are built with premium-quality wood which keeps them sturdy and comfortable with additional beautiful gloss finish for elegant design.
The in-built EQ tuner helps in accurate, easy and fast tuning. The top-notch strings are soft to touch and provide extra warm, rich and full sound. Additionally, all of these are typically affordable and can be easily used by professionals and beginners alike.