Mendini by Cecilio – Full Size 5-Piece Adult Drum Set comes with all the accessories needed to begin playing right away! This set has premium cross laminated poplar shells, which resonate deeply and give clear, soothing sounds. Made with durable PVC, the set is capable of withstanding high tension. The whole set up includes all the drums, tom toms, the pedal, stands, drum sticks and even the round throne! The shells also offer wide versatility, coming in different sounding options.
Table of Contents
Basic Construction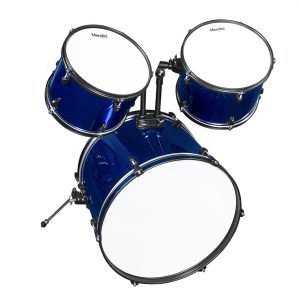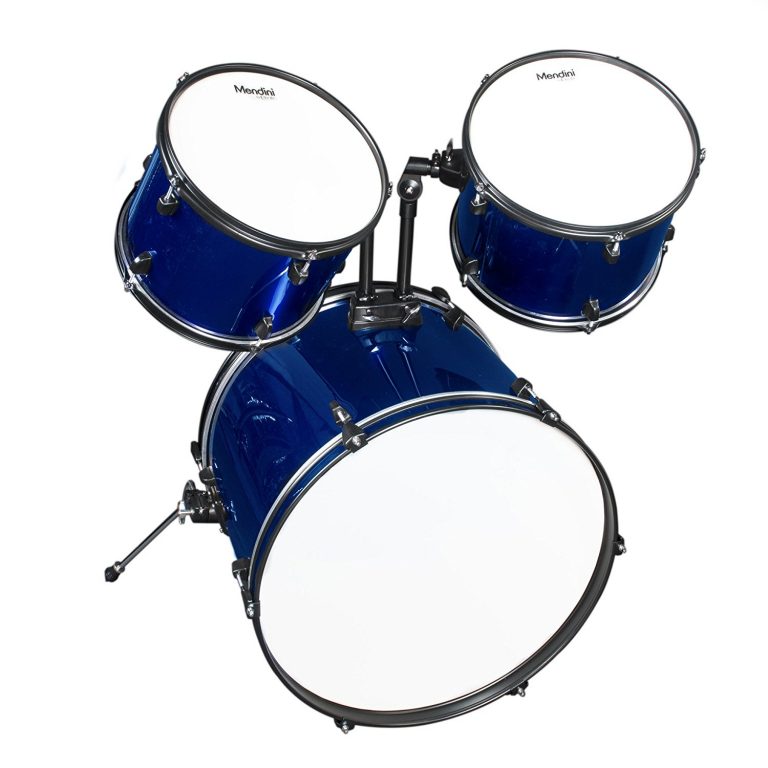 Mendini by Cecilio – Full Size 5-Piece Adult Drum Set comes with a bass drum of dimensions 22" x 16" and a 14" x 5.5" matching snare drum with 4 lugs for tuning. The two tom-toms are 12 x 8 and 13 x 9 inches, whereas the floor tom is 16 x 16 inches. The high-hat is 14.5 inches which allows it to go even more well with guitar solos owing to its diameter and the crash cymbals are 16-inch ones for the perfect tone during a heavy session. There are stands for each, that includes- the double braced snare stand, cymbal and high-hat stand. The drum pedal for the bass drum uses chain drive technology. You can get them in a variety of colors, like black, red, blue, green and silver. The whole set up weighs a good 80 pounds.
Attractive Features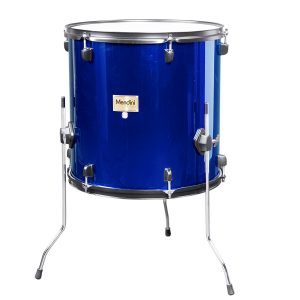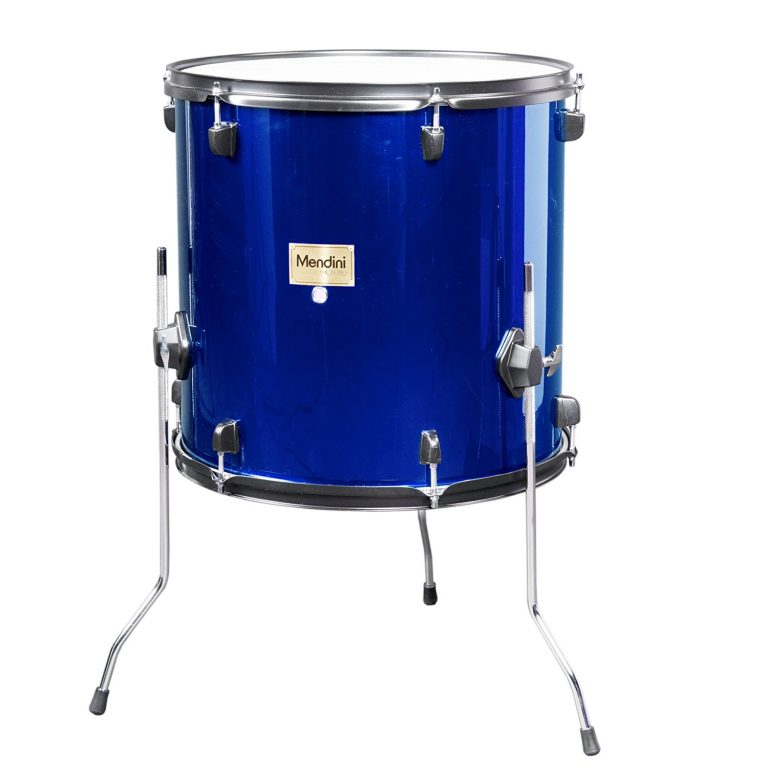 What could be more attractive than an entire drumkit which is budget friendly? The exemplary features it has to offer is like none other.
It has triple flanged lugs and hoops, black powder coated which can be used to adjust the tension rods for varied sound quality.
The chain drive pedal gives smooth, squeak free movement and is very sensitive, hence the varied amount of force applied will result in different depths of sound.
The poplar shells provide warmth in the sound and allow variance along with tweaking.
The bass drum has superfluous muffling options, just like others in its range.
Experience enhanced sound quality with all the parts of the set being made from the same Poly Vinyl Chloride material and being tuned in harmony.
The stands are movable to a higher length than other sets so it is suitable for even tall people to play.
Although crafted for adults, this set can be adjusted to suit the needs of teens and even children above the age of eight.
The drums are pre-headed for easy set up and the stands have rubber casings which hold on to the drums quite firmly.
How Does It Fare?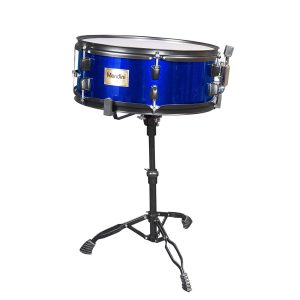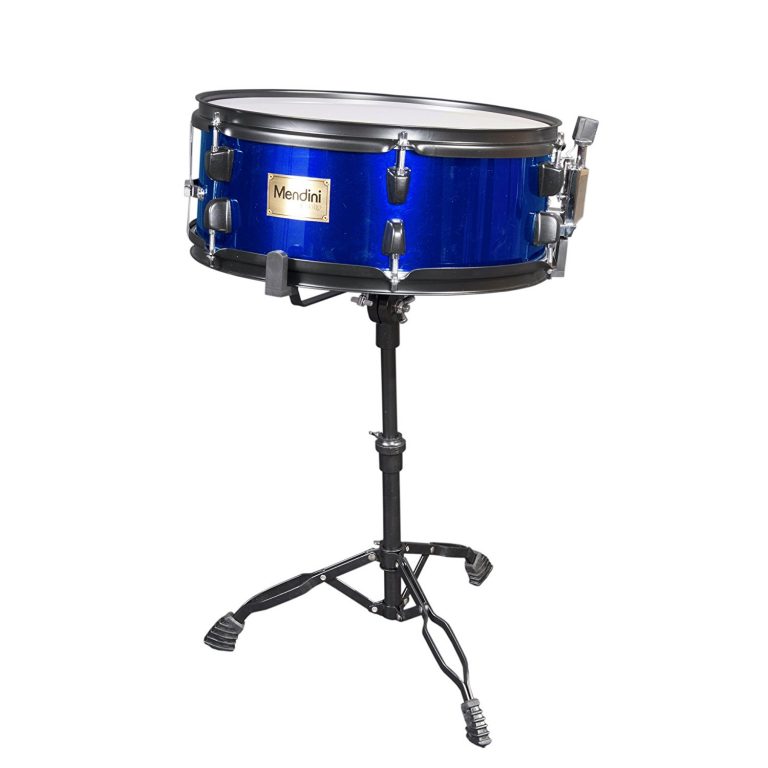 As opposed to other expensive models, the Mendini by Cecilio – Full Size 5-Piece Adult Drum Set is a much better and viable option for amateurs and novices looking out to practice and play at small gigs. The set looks rather rich with its sleek polished design and the quality of the beats are even more so. Since the Mendini is a whole set, you don't have to go around hunting for similar parts and to also check if the sounds go well together. It also comes with a one-year manufacturing defect warranty. This product by Cecilio comes with drum sticks, which are comfortable to use and a round padded drum throne which like every other part can be adjusted. The music is true to its nature, made from exquisite and strong poplar cross laminated shells. The Mendini by Cecilio – Full Size 5-Piece Adult Drum Set is your best bet if you're looking for a wallet friendly set which you can immediately play out of the box.
Value For Money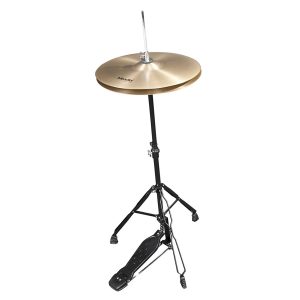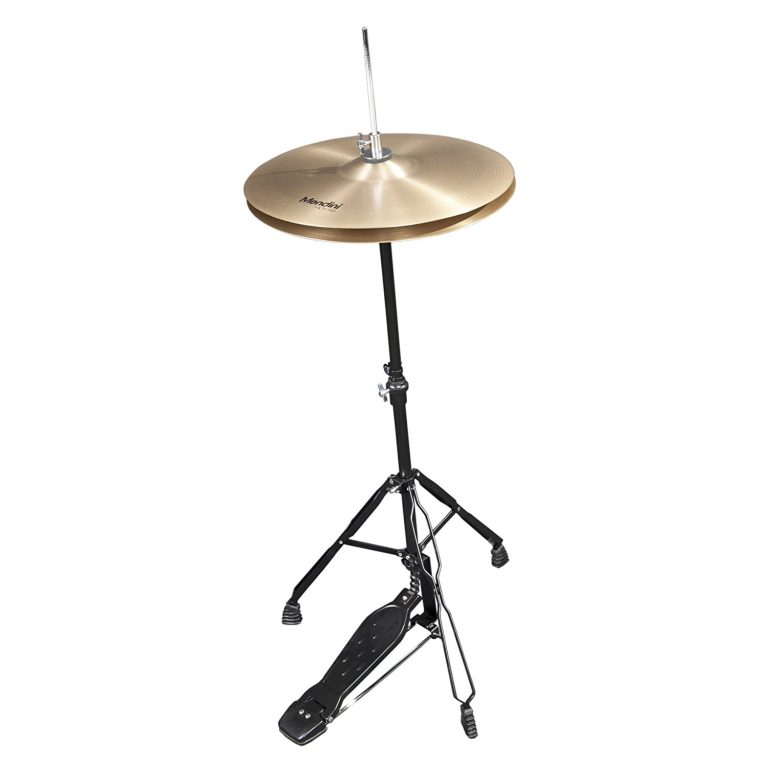 Cecilio is well known in the drum set manufacturing industry and the Mendini is sure to attract a lot of attention at small concerts or even at a gig in your nearby garage! As for what exactly comes in the set, it includes everything, including drum keys for tuning and even a set-up guide, which is easy to understand. The Mendini by Cecilio – Full Size 5-Piece Adult Drum Set certainly leaves all of its competitors lying in the dust- the quality and percussion offered is like none other, in its range!
Here are Some Acoustic Drum Sets To Checkout: