In a constant effort to deliver perfection, one of the largest drum manufacturers, Pearl, have come up with yet another masterpiece. The Pearl Roadshow RS525SC/C707 5-Piece Drum Set, which not only would help you ace your skills as a drummer but its look and design will help you feel like a real rock star. This product which contains a complete drum set that can be assembled and used effortlessly in any concert or private gathering to produce some feet tapping beats for the audience to groove on.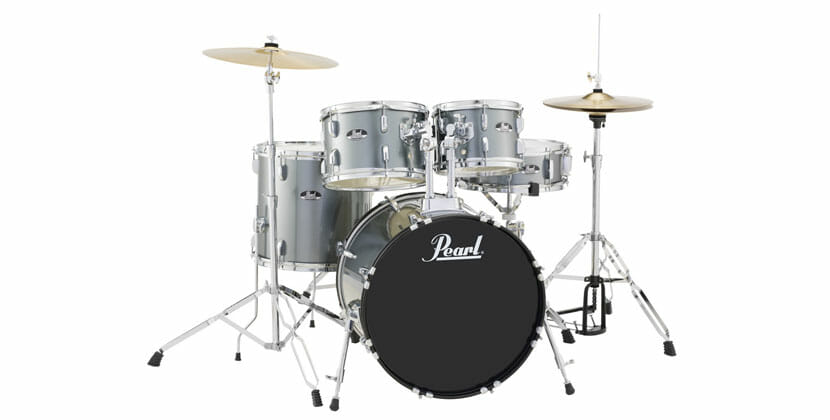 Table of Contents
Basic Construction
Pearl Roadshow RS525SC/C707 Drum Set contains 5 drums along with two cymbals which make a complete set for any drummer to practice as well as perform. The bass drum is of dimension 22" X 16" accompanied by a 16" X 16" floor tom. Then there are two toms of 12" X 9" and 10" X 8" along with a snare of 14" X 5.5". Made out of ply these drum sets do have two accompanying cymbals of 14" and 16" which complement this set perfectly.
Attractive Features
Designed to bring out the best in you, the Pearl Roadshow RS525SC/C707 5-Piece Drum Set has been designed keeping every little detail in mind. Some of the prime attractive features of this drum set include:
Made out of ply and hence lightweight, therefore easy to assemble and play on.
The drums do have a 45-degree bearing edge cut which makes it easy to tune as well as bring out the complete resonance of same, thereby producing crystal clear sounds.
The snare stand, the drum legs as well as the interlocking tilters have been subjected to rapid testing, thereby ensuring the kit remains intact even during situations of extreme pressure or force.
Drum stands are fully adjustable as well as doubly reinforced, thereby stabilizing the drum set.
Slip free feet mounting ensures your legs and drum doesn't shift as you play and can withstand the heaviest beat pressure.
It comes with maple sticks of high quality accompanied by stick pouch, so you don't misplace or damage your sticks while travelling.
How Does It Fare?
One of the finest products produced by Pearl, this drum set is everything a drummer can aspire for. Made out of ply this drum set contains 5 drums along with cymbals which when combined together are a piece of sheer beauty. The base drum can produce chest thumping frequencies, while the snare can detect even the lightest of notes, giving the required variation. Stands made of reinforced metal, as well as sticks of maple make this drum a great deal for everyone.
Value For Money
Pearl Roadshow RS525SC/C707 Drum Set is available on Amazon. Every item in this set has been designed according to the required quality standards and hence is a good buy.
Elegance in its design, a sturdy feel with breathtaking and chest thumping sounds are enough reasons to buy this drum set.
You Can Also Try These Amazing Acoustic Drum Sets: