Nino Percussion is a Thai company which produces a plethora of different musical instruments in fun shapes and colours for children to play. It is widely acclaimed as one of the best chains for manufacturing children's musical instruments. Nino Percussion NINO505 Agogo Bells are a set of two bells of different shape, made of black powder coated steel and joined by an ergonomic handle.
The agogo bells originated centuries earlier among the West African tribe of the Yoruba. They were initially invented to preserve the Yoruba style of music. It depends totally on the beats and tempo. It can be played with drums, cymbals and timbales to create artistic sounds and rhythm. In fact "agogo" in Yoruba language means bell. It was used in Yoruba and Samba music and is believed to be the oldest Samba instrument. It originally used to be carved out of wrought iron but recently only steel is being used to prevent rust from kicking in.
It makes a cowbell sort of sound and has the highest pitch among the bacteria instruments. It is played in a unique way with an even more special rhythm. Bell pattern 1 is the fundamental or archetypal pattern. It is the 4/4 form of standard pattern (as is known in ethnomusicology). Pattern 1 is mostly used in maculele and sometimes in Candomble and Macumba styles. Bell 2 is used in afoxe and can be thought of as pattern 1 in a more heightened and furnished manner with four extra strokes. Bell 3 is made use of in "batucada" and pattern 4 is again an imitation of pattern 1 with four additional strokes. The NINO Agogo bell is especially made for tiny tots above the age of four to play!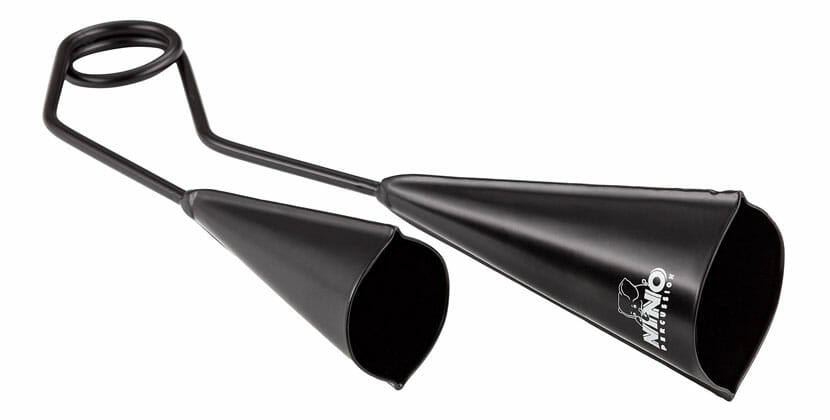 Table of Contents
Basic Construction
Material Used: Black powder coated steel
Length: 9.7 inches
Breadth: 2.4 inches
Height: 3.7 inches
Weight: 5.9 ounces
Attractive Features
The double bell facilitates the production of two tonally different sounds.
The instrument is rounded with no sharp edges and hence the perfect instrument for a child to play.
There are no small pieces in the instrument so no accident of swallowing will occur.
A wooden stick is included and by striking it various sounds of different notes and tunes will be emitted from the instrument.
It produces a nice and bright sound.
It is easy to hold and very light, with no pointy handle. A child will be totally at ease holding it.
Though it has a high pitched sound, it is not shrill and will cause no harm to the child's ears.
The character that distinguishes it from other bell musical accompaniments is its cone shape.
The bells have distinctive tonal variations.
It has another special way of producing music- you will get a clicking sound by squeezing together the two bells!
How Does It Fare?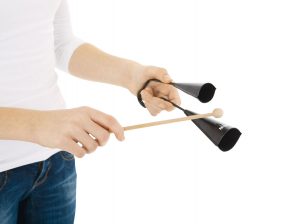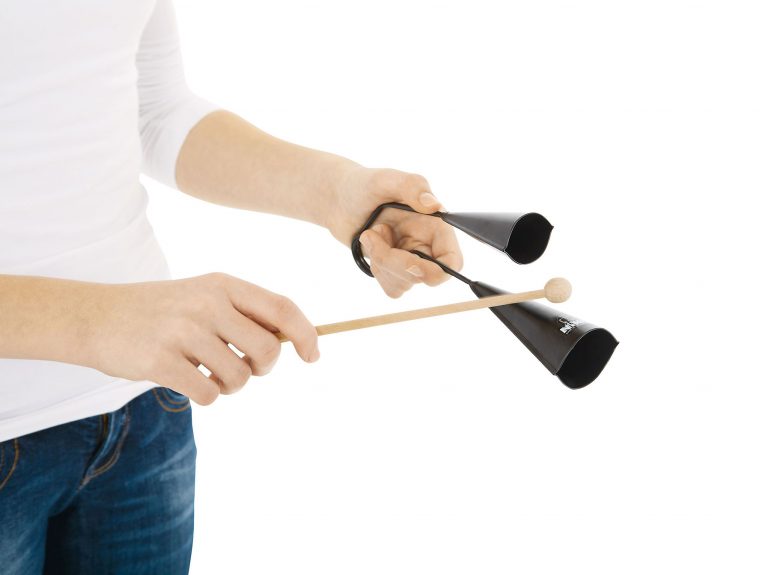 Nino Percussion NINO505 Agogo bell is a relatively unknown and very under exploited musical instrument. It needs to be brought on the global music map as quickly as possible. Nino Percussion must be applauded for trying to encourage children to use other musical instruments apart from the monotonous and over-exploited drums, keyboard and guitar. It is perfect for children's use because of its negligible weight, shape with no pointed structures or edges and definitely no small pieces for the child to swallow by mistake or because of play. Most customers are over the moon because it gives their children the desired pleasure and also makes a brilliant noise like a cowbell. The slightly high pitched sound appeals more to children's ears than soothing, low tones. Hence Nino's bells beat the others in contention when it comes to pleasing the kids.
Value For Money
No customer has till date proclaimed it to be overpriced and all are happy with the purchase. Most parents have agreed that it is absolutely the safest instrument for a child to play. You will be amazed that a good, fat majority of customers have given it 4 and 5 star ratings. And though I started out thinking very few people know about it, I was rather stunned to see only a handful remaining in stock!
Make your catch, parents! Bag the instrument and keep the little angel occupied for some time with something musical!
You Can Also Try These Amazing Agogo Bells: