Tree Works Chimes create hauntingly beautiful sounds with their Echo Tree Large Bar Chimes. These chimes have been approved and are regularly utilized by drummers and percussionists. They make for the perfect addition in any musical ensemble and can create magic with just one strike of the chords. Get ready to experience bar chimes like never before by purchasing these hand-crafted bar chimes from Tree Works Chimes.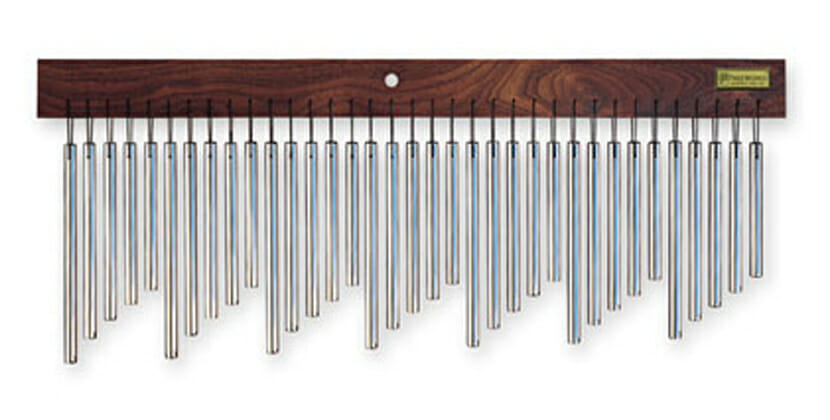 Table of Contents
Construction and Design
These bar chimes are made with top class aluminium and titanium metals that are polished for the most clear and precise tone and pitch. The wooden board that holds the bar in place is of sturdy material. Most importantly, the ties holding the bars to the board are highly durable and reliable and would keep the bars in place for years to come.
Attractive Features
The EchoTree™ chime with specialised tuning creates a haunting delay and a chorus effect
The chimes are recommended and appreciated by acclaimed drummers and percussionists who are mesmerised by the sound quality of these chimes.
3/8-inch thick solid aluminium/titanium alloy chime bars polished & T-6 tempered for a brilliant tone.
Created with hand-finished Tennessee Black Walnut Mantle.
The eerie sound that emanates from these chimes can add a unique touch to any musical ensemble. They resonate with an indescribable mystery and beauty that is very rare to find and contributes to a perfect musical melody.
The ties are very sturdy and have been equipped with the unique CordLoc™ technology that offers high durability.
How Does It Fare?
TreeWorks TRE35xo EchoTree Large Bar Chimes not only satisfy your musical needs but also make sure that you turn to no other brand but Tree Works for the perfect musical experience. On purchasing these chimes, you realise why they are the favourite of so many professionals. The haunting and unique sound that comes from the shiny metallic body is nothing like you have ever heard before. The chimes are tied to the board using the most durable technology, making this exceptional product last for many years, creating magical symphonies for you and your audiences.
Value for Money
The very best technology also comes with a price. However, it is quite extraordinary that the TreeWorks TRE35xo EchoTree Large Bar Chimes charge just the right amount for their overwhelming quality. Priced appropriately, the zigzag pattern of these beautiful chimes offers a unique and powerful sound- making it worth every penny you spend. These bar chimes offer much more than the unique touch of the hauntingly clear tone.
You Might Also Like the Following Bar Chimes: