Meinl Percussion FD14IBO Irish Bodhran brings the musical world of Celtic tones to you! Their earthy and warm tones will simply transport you to a different world altogether. This version of MEINL has a characteristic feature in which the traditional cross brace has been removed. This handy removal allows the user to transfer direct hand pressure on the head bringing contemporary pitch-bending techniques. Its extra dampening layer on the rim is another crucial feature as it helps reduce unwanted overtones. The MEINL percussion makes sure that you get the best of Bodhran with all the modern features.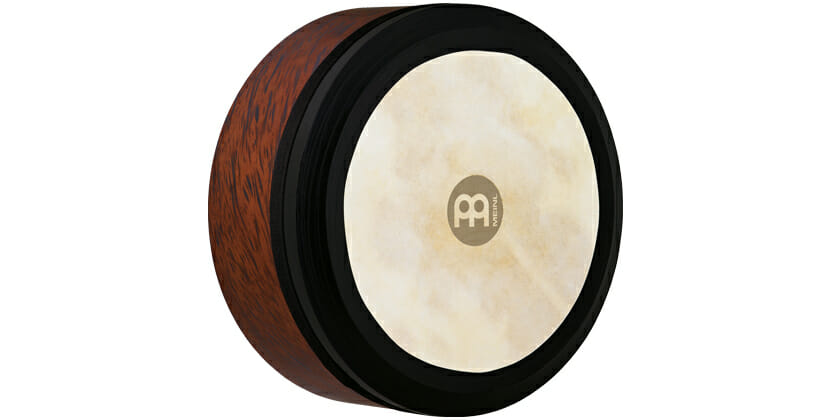 Table of Contents
Basic Construction
It is carefully constructed out of rubber wood with expertly hand selected goat heads. It is quite compact in shape with its 14 inches length and 14 inches breadth. It has a height of 6 inches. This instrument has a beautifully made extra deep resonating rim. It has an exquisite brown Burl finish. At the time of shipping it weighs 4.4 pounds.
Attractive Features
This MEINL Percussion product is an excellent musical instrument. Its prime features include the extra dampening layer and the removal of the cross brace. Here are some more of them:
It has an extra deep shell to resonate with the right frequency producing deep, rich sounds.
The hand selected goat heads produce warm tones with a really well balanced sustain to go along.
It comes along with a superb Allen wrench that makes tuning your instrument an easy task.
It has an amazing sound quality but it also has some classic looks that will appeal to your aesthetic sense also.
How Does It Fare?
It has been a tremendous success among its users. It has received accolades like "more responsive" and "great drum". Its huge user base speaks out for this great piece of instrument. Occasionally you might find the animal skin a little rough. But with normal playing and a little nets foot oil, everything will be in control. Overall it is a great instrument that you will simply enjoy playing. In terms of performance and reliability it is a great choice and you will regret not having it in the first place.
Value For Money
Now that you know how good this instrument is, let me assure you that it provides great value for money. If you would like a trusted e-commerce site then you can probably have a look at Amazon. You will find the product easily and have it brought to you by Amazon. Another option is to go for a second hand version, which is easily available on online sites at varying priced. But is best, if you get it first hand to have the best acoustic experience without any hardware troubles.
This Irish Bodhran is an experience that you will wish to have at every opportunity you get to show your musical talent!
Here are Some Bodhrans To Checkout: