Roosebeck BTN4MT Bodhran is a traditional Irish instrument. It is the main rhythmic accompaniment in Celtic and Irish music traditions. Now you can have this unique folk instrument for yourself! The Roosebeck Bodhran is the perfect choice for beginners and enthusiasts alike. It is light to carry and play. It is constructed with goatskin and mulberry wood. This product is tuneable and ready to play!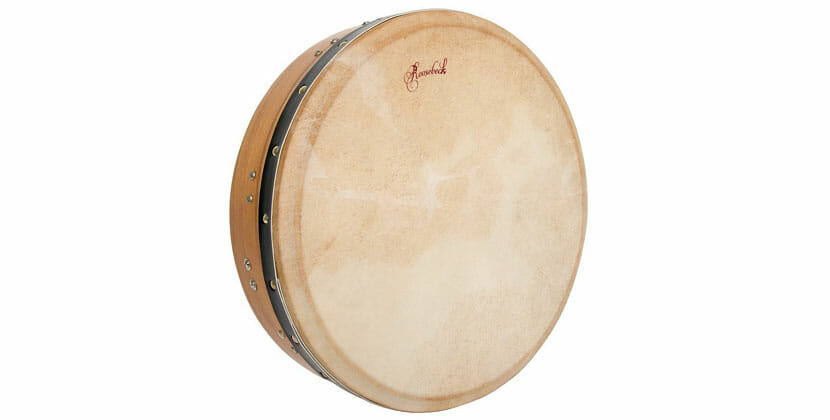 Table of Contents
Basic Construction
Its product dimensions are – 14 x 14 x 3.5 inches and it weighs about 2.9 pounds. This Bodhran is made out of excellent quality goatskin material and a mulberry wood frame which provides strength. It comes with a removable T-bar and has a natural finish.
Attractive Features
Some of its standout features are –
Compact size for easiness of playing and carrying around.
Drums' head is made out of fine quality goatskin material and the wooden frame with a strong mulberry wood.
The T-bar at the back allows hand/wrist support and is removable.
Made with keeping comfort in mind, frame cut out provides ease of playing to the player.
This Bodhran is tuneable and can be attuned according to the player's needs.
The tuning hardware is situated at the back which gives a neat look to the instrument.
It is extremely practical as it arrives ready to play and also includes a tuning wrench and a tipper.
How Does It Fare?
The instrument is made out of excellent quality materials like Mulberry wood and can last a long time. It is user friendly, it can be tuned and has a T-back support which makes it easy to play. The 14 inch size is perfect for playing and is lightweight enough to be portable. It produces crisp and clear sounds.
Value For Money
Roosebeck BTN4MT Bodhran is the perfect purchase for anyone who wants to try out this amazing instrument. It will last a long time because of its durable construction and is therefore a superb deal. Buy one now!
Also Checkout the Reviews of Other Bodhrans: