If you are looking for something different, then Bodhrans are for you! Bodhrans are a traditional Irish frame drum. They date back to 19th century. A popular Irish folk instrument, you will love playing it.
This Trinity College TB-2 Irish Bodhran has been exquisitely crafted. It has a 100% natural white goatskin head and comes with tacks, this gives it a genuine finish. It has a dark green rim with twin crossbar support which is a standard in authentic Irish music. It also comes with a polished wood tipper.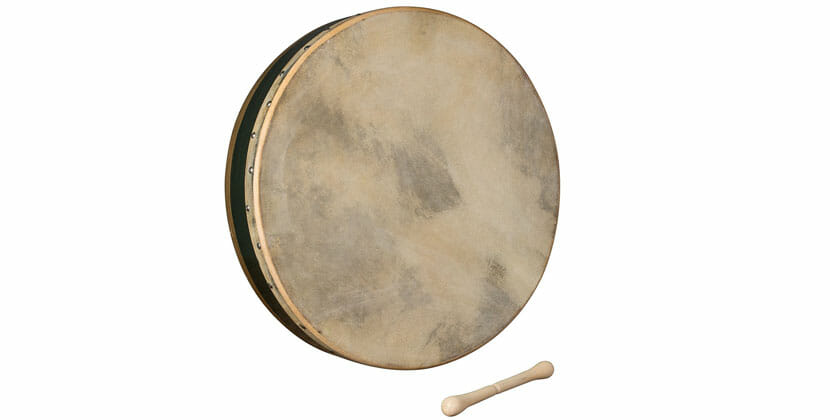 Table of Contents
Basic Construction
It weighs 2.5 pounds and is 18 inch in diameter. Its product specifications are – 19.3 x 18.9 x 3.9 inches. Materials used are multi-ply dark green hardwood rim and white goatskin head. The wooden rim is laminated. It also comes with a polished hardwood tipper.
Attractive Features
It has some attractive features which make it a great buy.
The head is made with natural goatskin material which is weather-resistant and is fastened with tacks. This gives it a traditional Irish Bodhran look and feel.
Material used for the rim is multi-ply dark green hardwood rim. This material makes it durable and sturdy. The wooden rim is also laminated.
It comes with a polished cream coloured hardwood tipper.
Comes with a twin crossbar support.
How Does It Fare?
It is made with excellent quality goatskin and traditional tacks are attached. It has a crossbar at the back for more support. It produces clear and powerful sounds. The Bodhran also comes with a tipper. Dark green plywood on the rim looks beautiful and is also sturdy.
Value For Money
If you are a pro or just starting out in the world of Irish music, then this Bodhran is the perfect instrument for you. Hurry up and buy one now!
You Can Also Check Other Popular Bodhrans: