Grooving to the conga beats has never been so easy. Now with the Latin Percussion Wb2040 Conga Drums, you can enjoy endless hours of the tropical beats without worrying about wear and tear of your conga. Made with the best in business; kiln Siam Oak, the conga is made to be durable and long lasting, apart from creating magical sounds. This product is perfect for both professionals and beginners as it caters to the needs of every musician.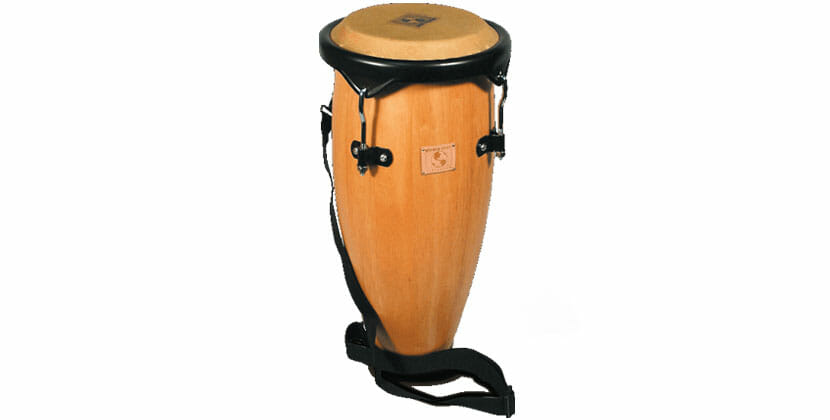 Table of Contents
Construction And Design
This conga set is 21″ tall in height and the head has a diameter of 9 inch. Crafted by kiln dried Siam Oak, the wood material is absolutely divine. It provides a rhythmic experience like no other and also ensures durability and reliability. The EZ curve rim has been tried and tested to be more comfortable that traditional rims. To make your conga experience even more heavenly, this product goes out of its way to make this particular conga the most user friendly. It comes equipped with a shoulder strap so moving around with your musical buddy is so very easy. Lastly every drummer knows how important tuning is before any performance. This conga set comes with its own tuning wrench as it understands the intricate needs of a musician very closely.
Attractive Features
The beats and rhythm that the conga produces are clear and crisp. The product is musically sound and of absolute professional quality.
The kiln Siam Oak wood body makes for a durable set up. The wood is of high quality both from a musical and a protective stand point. It prevents wear and tear and provides longevity to the congas.
The EZ curve rim makes beating down on the conga head so much more comfortable for the user.
The shoulder strap enables ease of use by helping the musician carry around their conga from one place to another without any hassle.
The height of the conga and the dimensions of the head are optimal for best performance of the conga.
How Does It Fare?
If your expectation is of beginning to master the art of playing congas using the best product possible, or if you are already a talented musician but would like an instrument that is more player friendly, then the Lp Wb2040 World Beat Caribe Conga is the perfect product for you. The World Beat Caribe Conga are of utmost quality in terms of the practicality, durability and most importantly the musicality. The congas product sounds in perfect pitch and tone and help you wow audiences with your musical skills. For beginners, this product is perfect as it helps one ease onto the instrument with its user friendly design. Even for professionals, this product enables a more comfortable play with its EZ curve rim and the shoulder straps for carrying it around. The wood used to make this product is of high quality and you would not be disappointed with its durability.
Value For Money
Latin Percussion Wb2040 Conga Drums recognises the intimate needs of a musician. It understand how important a pre performance tuning is for any musician. Thus, a tuning wrench has been included in this product. This product is the perfect buy for anyone looking to up their game in terms of conga playing.
Here are Some Conga Drum Sets To Checkout: