The house of Meinl introduces yet another superbly crafted musical instrument. These full sized Congo set which comprises an 11'' inch Quinto and a 12'' Congo produces rich and clear sounds. With features like buffalo heads, rounded rims, siam oak, original MEINL style tuning brackets, this product should definitely be your next buy.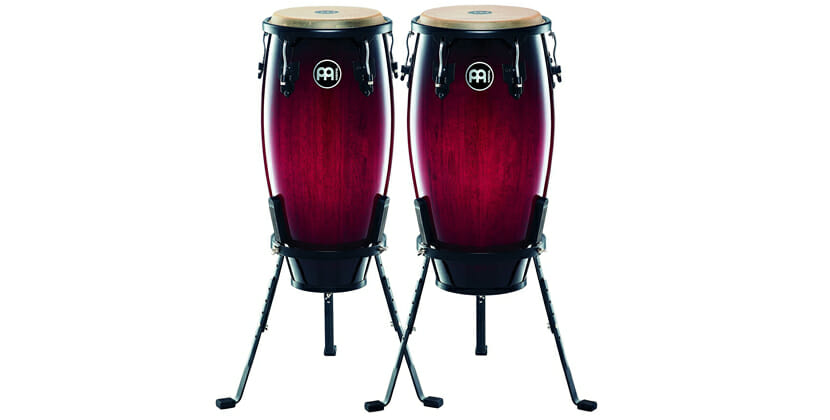 Table of Contents
Basic Construction
It is a set of two Congos – 11 and 12 inch and wine red burst in color. It is superbly crafted by using Siam Oak and hand-selected buffalo heads. It is 28 inches tall and weighs 28 pounds. Its product dimensions are – 15.6 x 16.1 x 29.9 inches.
Attractive Features
Meinl never compromises on features. It uses only the best. Here is a list of its attractive features.
Black powder coated hardware. Powder coating is much more durable than the traditional paint coating. It provides a hard finish to the product.
The material of choice is Siam Oak/Rubber wood which is eco-friendly, sustainable, and non-abrasive.
It has original MEINL style tuning brackets for better quality and feel.
Hand selected buffalo heads which provide superior quality and powerful sound.
2mm rounded rims
8mm strong tuning lugs
Attractive wine red burst colour which is also high gloss.
Height adjustable individual basket stands and tuning key come provided that provide balance and are easy to set up.
How Does It Fare?
This Congo set from Meinl will fulfil your music passions. It gives the best quality in sound and produces warm tones. It also has accurate projection. It comes with easy to set up individual stands that provide steadiness. Materials used for its making provide rich sound quality. And as you can see for yourself, this Congo set looks very attractive, even comparable to higher- priced Congo sets.
Value For Money
You will have to spend a couple of extra bucks for Meinl Percussion HC512WRB, but the quality and features are top-notch for the price. Rubber wood and Buffalo heads are extremely durable, therefore the product is superbly built and will last for a long time. It has individual basket stands and a wrench, all of which are quick to assemble. It also has positive reviews and a high rating on Amazon.
So, if you have always wanted to be a percussionist, then this Congo set is the right choice to begin with.
You Can Also Check Other Popular Conga Drum Sets: