Toca Synergy Conga Drum Set comes with an additional bongo set as well, to provide the complete package of tropical Latin memories. The conga set has been built to last and is exceptionally designed to provide the best tones and rhythms. At the hands of an experienced musician, these congas match the skills of the player; else, their sheer brilliance propels the user to master the art.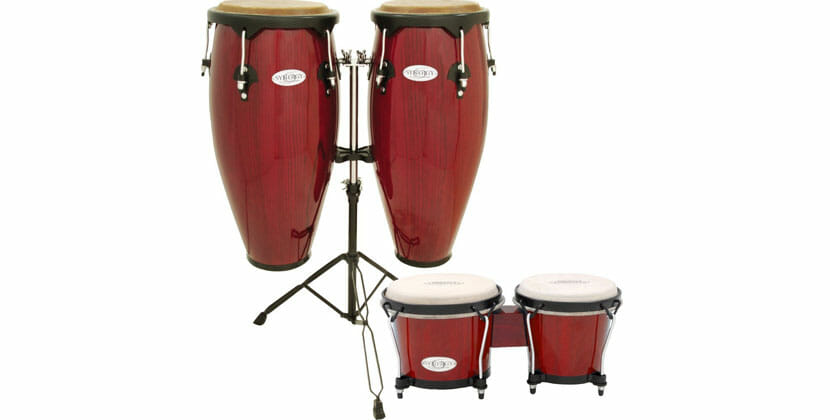 Table of Contents
Basic Construction
Product includes a conga set along with bongos as well.
Congas have been made with high quality two ply Chinese maple shells.
Hardware has been coated with black powder and the heads are made from natural sturdy rawhide.
Dimensions of the conga heads are 10″ × 11″ and they are 28″ high.
Product has a strong double stand for the congas.
Attractive Features
The congas emanate a beautiful tone which takes one back to the tropics. The sound is as authentic as it can get to a Latin percussionist's sound tracks.
The bongos work beautifully in sync with the congas when played by talented musicians. Together they are able to create musical memories like no other.
The congas with their sturdy and high-quality material are extremely resistant to wear and tear. The two-ply maple shells and black powdered coated hardware are ingenious building techniques that contribute to longevity as well as performance of the product.
The durable double stand serves wonders when it comes to ease of use and aiding in the total musical experience by keeping the congas in place for optimal performance.
The congas are easy to tune, sound beautifully and have a great aesthetic appeal.
How Does It Fare?
Toca Synergy Conga Set with Stand and Bongos (Red) is a beautiful musical addition in people's lives. It can add spark to an otherwise dull party or simply uplift your spirits when you're in the mood to hear some feet tapping music. This conga set, with its beautiful red exterior is a wonderfully made product, which has been designed with utmost professionalism and craftsmanship. It is durable, sturdy and the sound quality is crisp and melodious to hear. Together with the bongos they create an atmosphere of tropical wonder and the listeners are reminded of the most joyous Latin percussionist songs.
Cost Considerations
Toca Synergy Conga Drum Set is well worth your money. It provides a soulful and energizing musical experience with professional quality of tuning and sound. At this price, one obtains a sturdy double stand for the congas, a conga set built with Chinese maple shells, natural rawhide conga heads and hardware that is coated with black powder. All these techniques make for an incredible conga set that is durable and musically sound. Not only that, one also obtains an aesthetically appealing and equally lovely bongo set; making your night one to remember.
Also Checkout the Reviews of Other Conga Drum Sets: