Oriental Furniture Dragon Gong is an intricate piece of art that looks really aesthetic in its surroundings. The gong features several dragons that have regal significance in the Chinese culture. It also has incarnations of the Buddha on the suspended gong beater. The holder, the base, the bell and the striker are all carved and polished artistically giving it a rustic look. The sound of the gong is clear and pleasing. It is also believed to improve concentration and bring good luck and is an exquisite artifact to have in your home or workplace.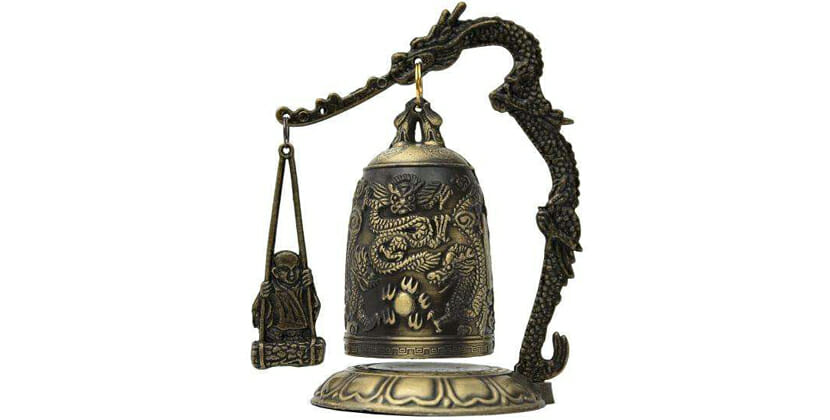 Table of Contents
Basic Construction
Oriental Furniture Dragon Gong comes with pewter finishing. The metal holder is a precisely carved dragon. It contains a single bell that rings out in a clean sound when struck. The bell's surface has incarnations of dragons etched into it giving it a really authentic look. The striker is a carefully carved incarnation of Lord Buddha that produces the sound on striking. The bell and the striker are suspended from the holder using rings. The holder is attached to a base that is designed in the form of a blooming lotus. The base gives stability to the gong and prevents it from wobbling upon being struck.
Attractive Features
These are the features of the Oriental Furniture Dragon Gong:
It has a height of 5 inches, a length of 4 inches and a breadth of 2.5 inches.
It has a weight of 11 pounds.
It is Completely made of metal.
It comes preassembled.
A pewter polishing improves the design.
Made of a sturdy material.
How Does It Fare?
This authentic Oriental Furniture Dragon Gong will be the center of attention wherever you place it. Its fine incarnations are carved skillfully to enhance the beauty of your home or workplace. It is well constructed and is of a durable quality. The metal base decorated with lotus carvings makes it really sturdy. It could sit gracefully upon your desktop or mantelpiece. You could even place it on your bedside table, or in the niche of a wall. It also serves as a great gift as it always draws curiosity from all visitors. Its charm is only increased by its sweet and peaceful sound that purifies the energy around it and improves focus.
Value for Money
Enhance the visual appeal of your home or workplace for a very low cost. With fine incarnations and a rustic finish, it looks extremely elegant in any setting. It brings peace and purification with its rich sound. This authentic gong promises a stable construction and all the parts are securely attached. All in all, it provides good value for money.
Don't Like this one? Checkout the Below Mentioned Gongs Instead: