Zildjian, one of the world most prominent leaders in symphony orchestra and instruments, introduces its new Table-Top Gong. Bringing alive a very old China into your very desks, this gong is not just another instrument, it is an antique. Despite having a fine complexity in its construction, it looks like a very comfortable and simple instrument. Its sound outperforms everything else in the business.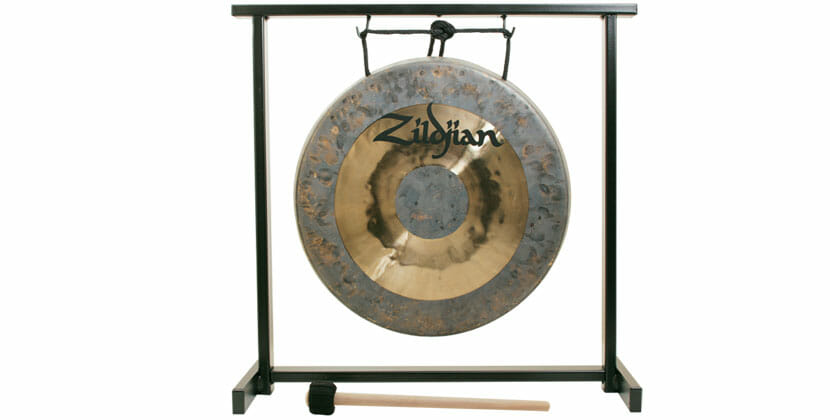 Table of Contents
Basic Construction
It has the following dimensions 16 by 7 by 16 inches and weighs 5.6 pounds. Beautifully carved in black wood and gold brass, it is an interesting amalgam of history and creativity. It has a partially lathes front and rear section, and mallet attached alongside the frame and a very convenient table top stand as the name itself suggests.
Attractive features
The Zildjian Table-Top Gong unlike many others has a stand set along with it. It is manufactured in China incorporating the traditional Chinese technique and devotion in its construction. Its sound phenomenal and sends peaceful vibes all across the room. It serves its purpose very devotedly, excelling in enlivening the environment with its calm energy.
Moreover since it is made by Zildjian you know you are putting your money into something worth it. It sounds very great and purposeful.
It is not too huge and hence can be carried and housed anywhere. However despite its small size, it works equivalent to a big gong. Considering our modernized lifestyle, it is a perfect gift of past accommodated in the current era.
You can hang it in a room or place it on a table. It has a holistic charm. May it be a classroom, yoga room, meditation centre, your work desk or even your house- Zildjian Table-Top Gong can energize any place with its sound and vibes.
How does it Fare?
Keeping in mind its attractive features and revitalizing power, it is a great deal. Moreover considering it is manufactured by Zildjian, there is no way you are getting less than a masterpiece home. It has a very natural as well as well-toned sound. Its design is simple yet stylish in the sense; it has an artistic flair to it. I promise, once you have this installed in your house, the entire environment changes. This gong takes you back to the old China, giving you a taste of its authentic traditions untouched by modernization.
Value for Money
It is Zildjian's product, that definitely says it all. There is no way you come across a glitch in the sound quality. It serves it purpose extraordinarily. Looking for an antique with a purpose in your house, it is time you invest some dollars in an gong. Moreover they do give you value for your money. Its portability, firmness, sound quality, handicraft and brand name serve the best. It is durable and has earned majorly affirmative reviews. Looking for a gong, it better be Zildjian table-top gong.
Also Checkout the Reviews of Other Gongs: