Zen Art Feng Shui Desktop Gong is a part of ancient Chinese science and art, which was constructed more than 3000 years ago. There are many Feng Shui products available today and this desktop gong is apparently the most effective of the available lot. It is a small gong made of brass and can be kept at home or in your office. It has a very soothing sound, which is neither very loud nor very dim and is just perfect. Start your day by hitting the gong to invite positive energy around you.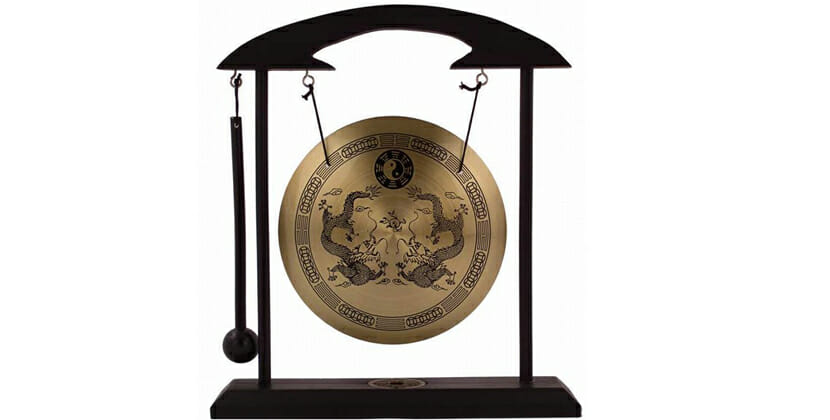 Table of Contents
Basic Construction
Zen Art Feng Shui Desktop Gong is made of brass with a wooden support. It measures 8.8 X 2 X 8 inches and is very compact. It weighs around 4 ounces and is a perfect size for table or desktop. The gong has beautifully engraved dragons and the boundary is sober. The gong reflects light to give a beautiful shine pattern and can be hung by strong black threads which are tied through small hooks. The tiny hammer is made of wood, hung at the side of the gong with the help of a black thread again. The complete set up is placed on a strong and supportive wooden platform, which provides the right balance for the apparatus to stand.
Attractive features
The complete set up is very attractive in itself and here are some of its most striking features:
The material is strong and tested for its quality and performance.
The gong is made up of brass and for a eye catching look.
The wooden frame adds to the perfection and gives a unique touch.
It is portable and easy to handle as it is small and light weight.
The gong is known to smash all evil vitalities around you, thereby gathering the energies for good health, wealth and prosperity.
The sound of the gong is very soothing and refreshing.
How Does It Fare?
This product is basically a home décor item which if believed, is good to keep around you as it kicks out the negative and evil energies with it sound and invites health, success and affluence. It looks great and is a high-quality gong made with good material. The design is also in contrast to the typical Chinese Feng Shui and basically acts as a chime for the table or your office desk. It is also a perfect item to gift your loved ones.
Value for Money
Zen Art Feng Shui Desktop Gong is a great deal for the price. What makes it the best of the lot is its durability, design and quality; plus, a daily serene experience with the sound of positivity around you.
Here are Some Gongs To Checkout: