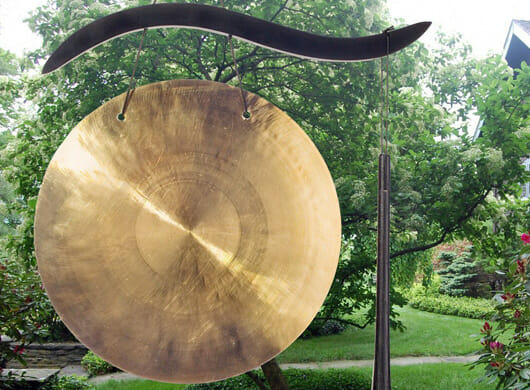 Gongs have been around the sixth century and are known for their pleasing and soothing sound tones. Their versatility of use is one of the best part about gongs. You can use gongs in many ways—as a gift, for meditation, as a decorative piece or even as a second musical instrument for your music. To help you choose the best one, we have listed the nine best gongs in the market right now.
Table of Contents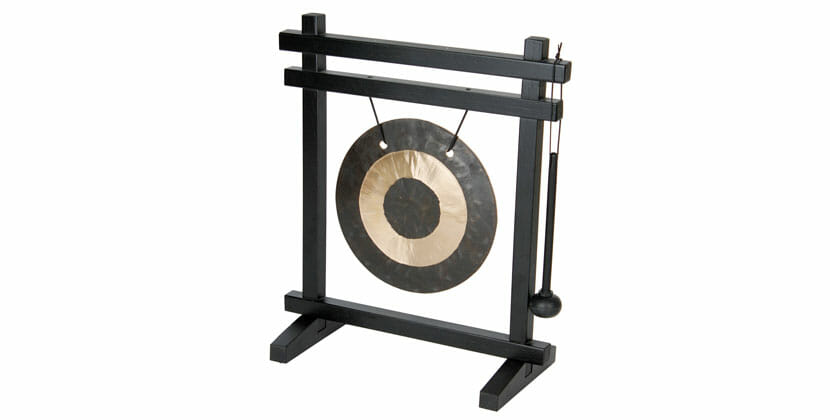 Woodstock Desk Gong is a popular and bestselling product by Woodstock.
t is made from superior raw materials and has a beautiful finish.
It works both as a décor for your home and as a musical instrument.
Pros
The sound of the gong rings loud and clear.
It comes both in a black and cherry finish.
A mallet is also included with the gong.
Cons
It is not similar in size to the big gongs used for ceremonies.
Standing about 12-inch-high and with a gong diameter of 6 inches, this gong is going to fulfill all your musical needs. The best part of this gong is that it is from a trusted manufacturer. It also has a great finish and is aesthetically pleasing. I am sure you won't be disappointed by this gong from Woodstock!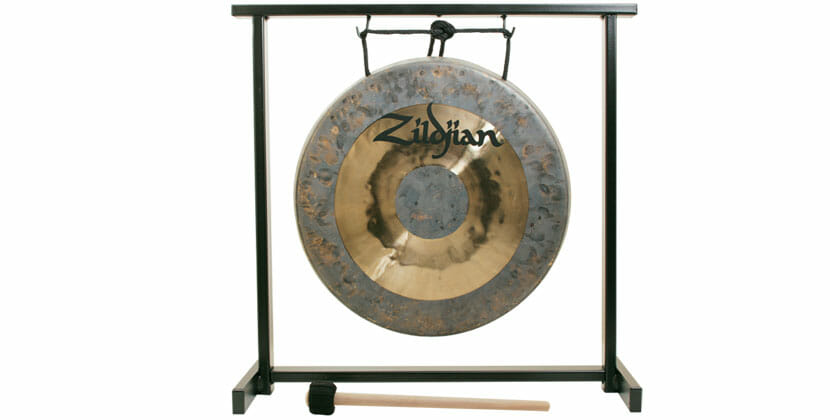 Zildjian is another name you can trust in the world of musical instruments.
Its gongs are frequently used by almost all leading musicians.
This Table Top Gong and stand by Zildjian is no exception.
It has a partly covered with a strip of wood both in the front and rear side. This helps in producing a distinctive sound.
Pros
It has a distinctive and clear sound.
This gong is from a trusted and popular manufacturer.
Comes with a table top and a mallet is also included.
Cons
It is a very expensive as compared to other gongs.
Its size is not that big
If you want something with a soothing sound for meditation then go for this 12-inch gong from Zildjian. It won't disappoint you for sure. This gong also has the distinctive gong sound that is a trademark of Zildjian. The best part of this gong is its compact size and therefore you can place this gong wherever you want.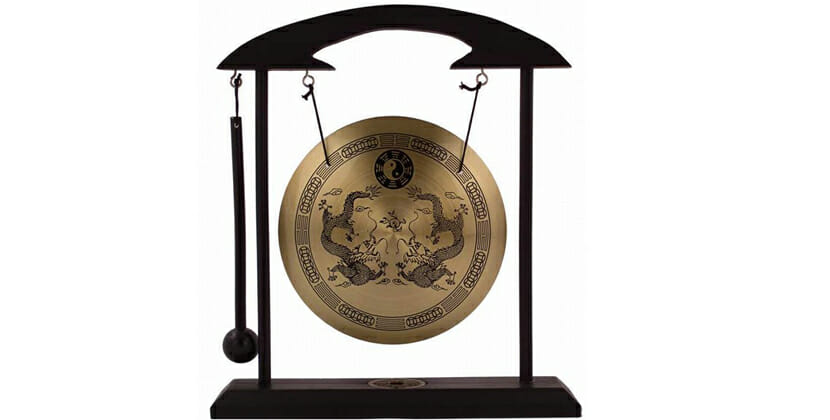 If you want to brighten up your desktop with some positive energy then go for Zen Art Feng Shui Desktop Gong.
It is decorated with a beautiful motif and its small size means you can put it wherever you want.
Pros
It comes with a small mallet.
The price is very low as compared to other gongs.
This gong can be put wherever you want because of its small size.
Cons
It is a decorative piece mostly and does not work as a musical instrument.
It is decorated with a beautiful motif and its small size means you can put it wherever you want.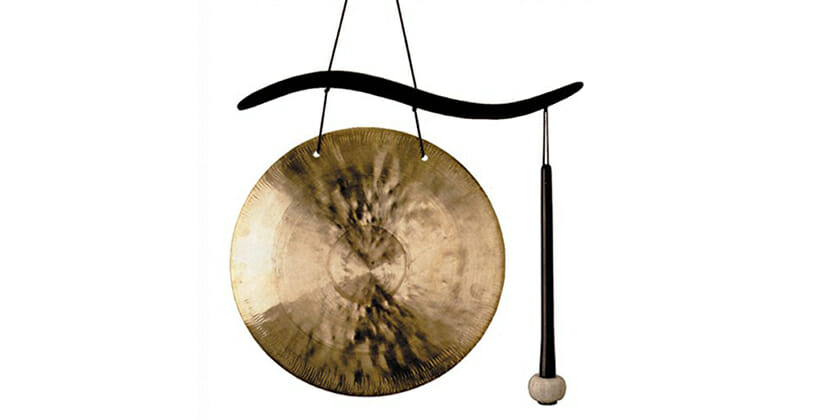 This hanging gong by Woodstock has a good size and therefore can also be used as a musical instrument.
The sound is loud, clear and authentic.
You can hang it around your home and use it during meditation or just for fun!
Pros
This gong has a very clear and authentic sound.
It comes with a hanger, a mallet and a brass gong.
This gong is hammered by hand and only good raw materials are used.
Cons
Make sure the hanging threads are tight as they can sometimes break due to the weight of brass gong.
Overall, this is a superior gong that does not disappoint in many departments. Be it look, sound or durability. You will love everything about this gong!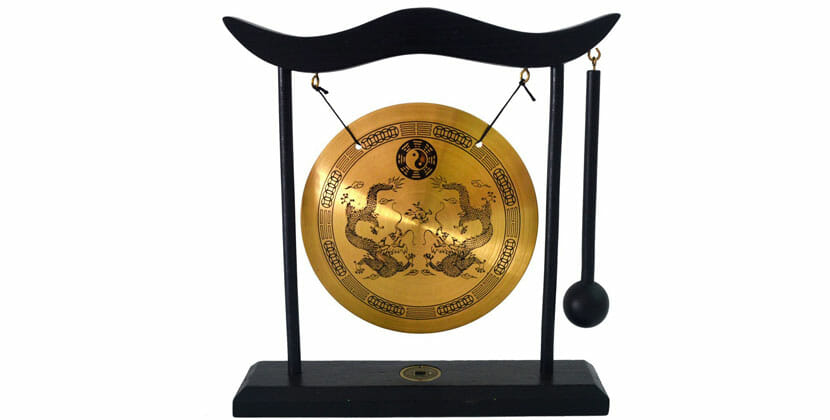 Zen Art Feng Shui Desktop Gong H1303 is the perfect gift you can give it to anyone.
It has a zen inspired art on the gong and its small size is just perfect for your desktop.
Pros
Its compact size makes a perfect gift.
This gong has a very low cost than others.
Cons
It works more as a decorative piece.
This gong will work perfectly as a decorative piece in your office. Its sound is not that high and is more on the lower tone side. This will make it perfect as a decorative piece for your workplace.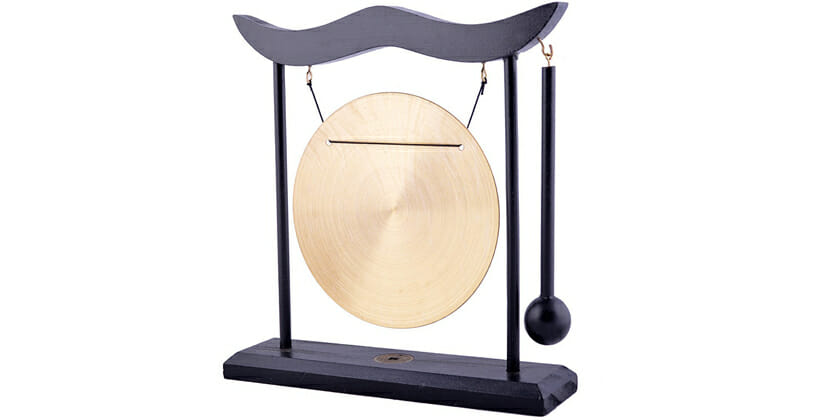 Feng Shui Brass Gong desktop zen art for Fortune also comes with a red string bracelet.
This gong will give you all the good luck you need with its distinctive and auspicious design.
Pros
Its beauty lies in its simple and soothing design
This is a table top gong that also comes with a mallet.
Cons
It is more of a decorative gong.
This brass gong from Feng Shui is a perfect gift for all occasions. Its small size will make it easier to carry and place.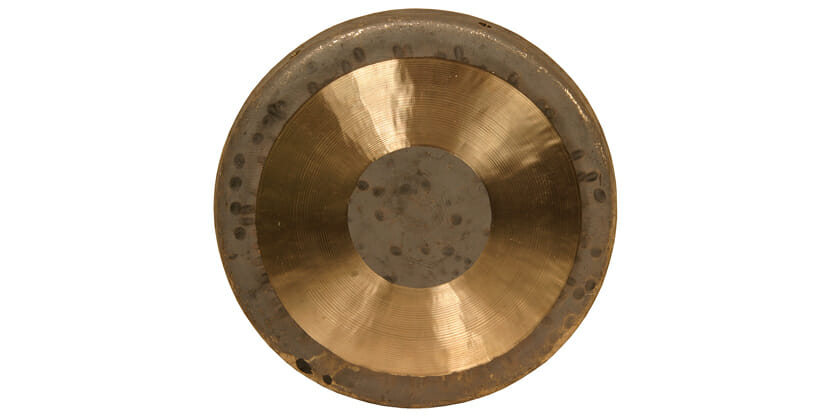 Dobani Chao Gong comes with a beater or mallet of about 7 inches.
It is hand crafted completely and gives off a distinctive gong sound.
Pros
Gives off a distinctive loud sound.
The product is handcrafted.
It also comes with a mallet.
Cheaper than similar looking gongs.
Cons
Though the sound is great, the look or finish is a little on the rough side. This however does not have any bearings on the looks or quality.
If you are looking for a gong to mediate or make a peaceful tone, then go for this one. It is perfect for beginners learning music as it is hand crafted and has a lower cost than other gongs.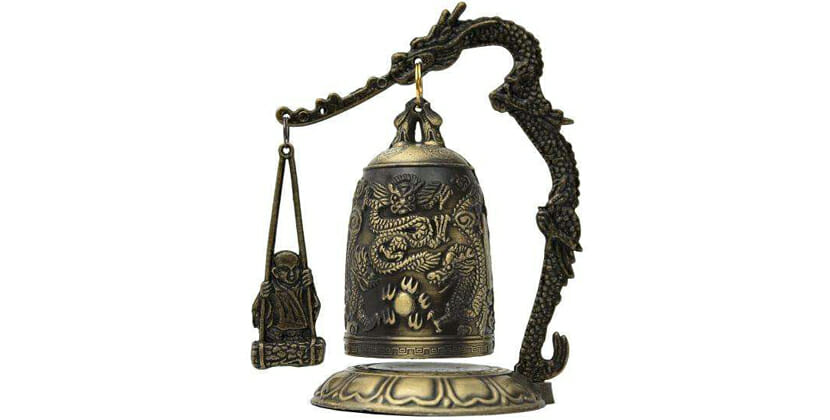 Oriental Furniture Dragon Gong comes with a distinctive design that makes it more aesthetically pleasing than other gongs.
This is a bell gong with intricate designs and comes with a small monk shaped mallet.
Pros
The dragon motif on the gong makes it even more stunning.
The mallet has a unique shape.
For a very low cost, you get a beautiful gong.
Cons
This is a decorative bell gong and not a musical instrument.
If you want a distinctive shaped gong for your table top then go for this one. The best part about this gong is that it will suit all occasions and is aesthetically very pleasing.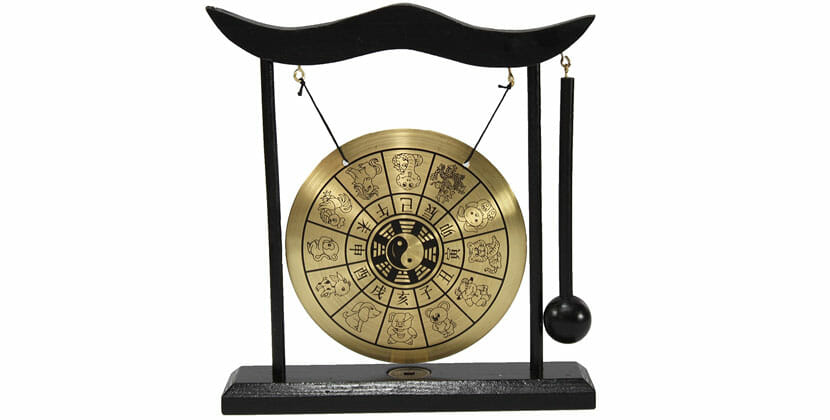 Zen 12 Chinese Zodiac Table Gong comes with a motif depicting all twelve Chinese zodiac signs.
Also, its size is perfect for your table top.
Despite its small size, its sound is loud and clear.
Therefore, you can even ring this gong when you need to make important announcements.
Pros
This gong can be both a decorative piece and a musical instrument.
It has a beautiful design.
The sound is loud and clear.
The cost is also quite low
Cons
Durability might be an issue.
This gong made of brass and wood has a stunning look. It can also be put to multiple use quite easily.
Frequently Asked Questions Gongs
What is a Gong made of?
Gongs can be made of bronze, copper, brass or even a copper based alloy. These metals are hammered continuously to get a flat distinctive shape, according to the type of gong required. The important part is that almost all gongs are completely handmade with a few exceptions.
What are the different types of gongs?
There are two types of gongs mostly:
Suspended Gongs
These are the most commonly used gongs and have a flat shape.
Bowl Gongs
As their name suggests, these are shaped like a bowl and can be played in different ways.
What are gongs used for?
Gongs can be used for many things like in sports, game shows etc. They are most commonly for:
1. Aid another musical instrument.
2. Ceremonial purpose in many Asian cultures.
3. During meditations.
4. As a time indicator in many game shows.
There are many domestic uses of gongs too. Many people use decorative gongs to beautify their desktops or even as a gift for their loved ones.
Glossary
The stick that is used to hit the gong to make sound tones. Generally, comes with the gong itself.
When you hang the suspended gong from a string, it becomes a hanging gong.
This type of gong is also called as the sitting gong. This is generally for tables or desktops.
Conclusion
Gongs can be either for a decorative purpose or to accompany your music as a secondary musical instrument. If you want a decorative gong for a lower cost then go for Oriental Furniture Dragon Gong. Musicians should go for Zildjian 12″ Table-top Gong and Stand Set as this one has got a great sound quality and is durable enough for prolong use. If you want to take a middle path and get the best of both sound and looks then go for Woodstock Desk Gong that has a good finish and also gives off a loud and authentic sound tone.
Thus, this was our selection of the best gongs available in the market currently.