Zen Art Desktop Gong for Fortune with Red String Bracelet is made of brass and wood and makes an extremely soothing sound. It also includes a gong beater and a red string bracelet that is considered to bring good luck. This brass gong by Fengshuisale is a great collectible and brings fortune and wealth in the home of its owner.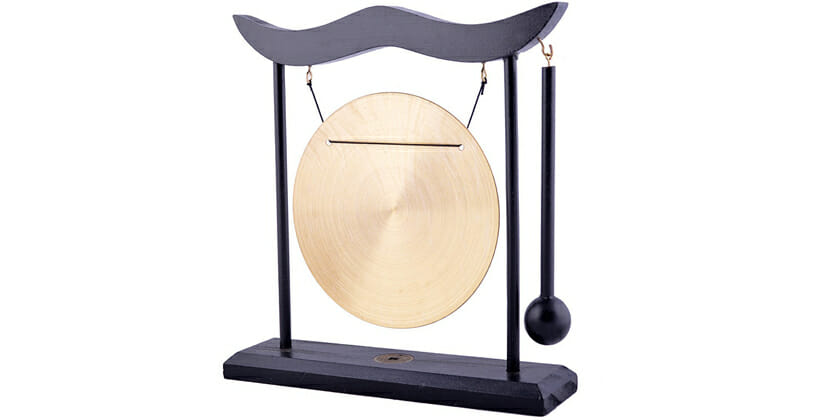 Table of Contents
Basic Construction
Zen Art Desktop Gong for Fortune with Red String Bracelet has an elegant construction of brass and wood. The wooden frame is sleek and well finished. The base of the frame is fitted with a lucky coin. A brass disk is suspended from the top of the frame. A rammer dangles from the hook, making it convenient to access. The red string bracelet, braided in a spiral, is lightweight and simple. The product dimensions are: Height- 8 inches, Length- 7.5 inches, Width- 2 inches and it weighs 260 grams.
Attractive Features
The Zen Art Desktop Gong has the following advantages and features:
The gong is made of brass and the stand is made of wood. The base of the gong frame consists of an I-ching coin of fortune, which is believed to bring good luck to its owner.
Peace resounds with this Feng Shui brass gong. The sound of the gong is ideal for home or workplace. It is neither too loud nor too soft.
This Feng Shui Desktop Gong is known to bring fortune to its owner in terms of good luck and wealth. It also shields your home or workplace from negative energy and evil spirits.
The brass desktop gong can be easily placed anywhere and is very convenient and stable. It also looks elegant and exotic, and often incites curiosity among visitors.
You can even develop traditions to hit the gong on particular occasions or occurrences to make things special and add fun to the practice.
How Does It Fare?
Zen Art Desktop Gong for Fortune with Red String Bracelet has a great sound that is pleasing to the ears. It is also steady and easy to use. The gong is made to look exotic and attracts attention immediately. Not only does it look great on your desktop but also brings peace, fortune, and positivity to its surroundings. It fights negative energy and bad vibes.
Value for Money
You can bring the exquisite Zen Art Desktop Gong home and ornament your desktop at a very nominal price. Although you cannot put a price on good luck and peace but at a price like that, this exquisite gong is a great buy. The product is of good quality with an ear-pleasing sound and provides great value for money.
Checkout The Following Gongs As Well: