The Latin Percussion has introduced its new range of drums in Matador series with Puerto Rican Wood. The series is named so for being inspired by the Puerto Rican flag. The product's key highlight is the professional sound quality production. Other than this the design and soft striking rims are unique. This feature enables the drummer to produce better notes even at lesser striking effort.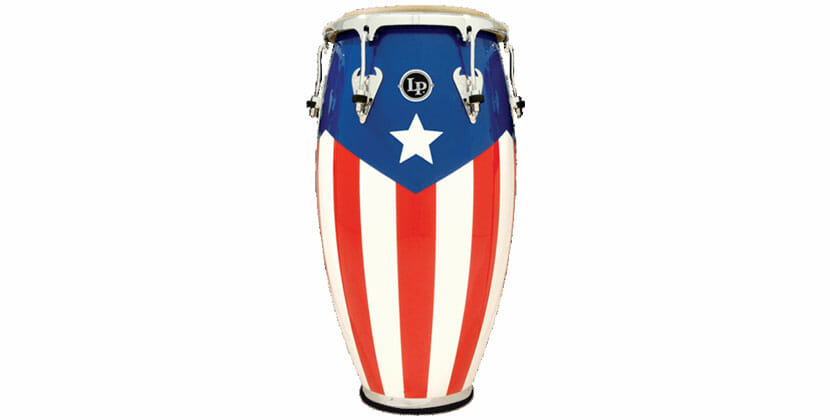 Table of Contents
Basic Construction
Latin Percussion Matador Puerto Rican Flag Motif Quinto Drum is also made up of the Siam Oak wood like other Latin Percussion's range. The design given to the wood is its major highlight. The dimension details of the product are 32 inches of height and 17 inches in length and breadth with approx. 35 pounds of weight. The design is achieved by adding 3 ply shell layers to it for better functionality and durability.
The ends are well framed with sleek finishing. Whereas the drum head is well mounted with natural rawhide head and soft striking rim. Premium quality of Chrome hardware is used. The tuning lugs are made at 5/16 inches of diameter attached with uniquely designed horn shaped side plates. The accomplishment is done with the Latin Percussion patented shell protectors. The cooler tone of hardware over the bright colors of flag gives the whole pattern a traditional style.
Attractive Features
Unlike the other professional quintos drums, this product excels due to its sound production and soft rims. However, apart from this a few other features are:
Deliver the pro quality of notes at easy tuning.
The multiple layers of shell assures durability. As, even if outer one gets damaged the performance won't be affected.
The hardware has great aging and scratch resistance.
The shell protectors cushion the drum, resists from scratching or damage when collides with its neighbor.
The protectors facilitate easy tuning without removal.
How Does It Fare?
The Latin Percussion Matador Puerto Rican Flag Motif Quinto has many good features and performance than many other quintos. The product also excels in the durability. A product with unique and traditional style at the reasonable price is worth buying. The best part is that it is easy to be used by the beginners for its versatility. In a nutshell, the Puerto Rican flag motif quinto stands out better at levels of a critical check. It is a least disappointing product for all.
Value For Money
The product is fully eligible for free shipping at most places. In the delivery package, the drum and tuning wrench is included. However, similar pattern bongos are also available for teaming up, if requested. Considering the quality, performance and durable stand of the product it is a steal deal than others in the same range.
You Might Also Like the Following Quinto Drums: