Pave your way to stardom with this new Pearl SK900C Educational Snare Kit with Rolling Case. This amazing product is a boon for all those musicians who aspire to become the next Neil Peart. Available at a totally affordable cost, this snare drum is built with high-quality steel which allows you to work and learn without putting any pressure on yours or your parent's pocket.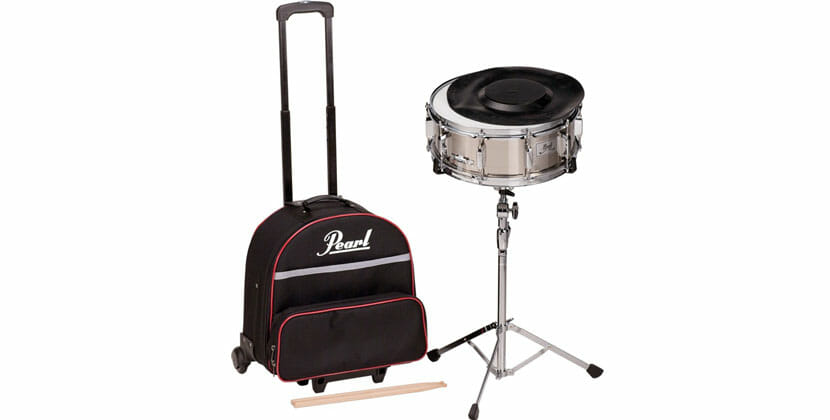 Table of Contents
Basic Construction
This product has been designed keeping quality and durability in mind. Built with high-quality steel, this educational snare kit is available in a size of 14" X 5.5" and allows you to get a real drum feel. Thereby, preparing you to play on a full-sized equipment and kit. Easy to adjust strainer allows you to tune it efficiently and thereby you can experience best of sounds without any errors or hindrances.
Attractive Features
There are plenty of reasons to get hold of this amazing piece from Pearl. Some which will prove to be convincing enough are listed below.
Built with high-quality steel, this drum offers sure durability combined with high performance. This is a crucial factor in determining the quality of your learning and practice.
Comes with an easy to adjust strainer stand, which can be raised or lowered according to your requirements and offers a firm grip on this drum.
Accompanied by a 14" practice pad, this educational snare drum kit allows you to develop your skills, without causing too many disturbances in your house.
Comes with an easy to carry case to accommodate your snare drum with ease and hence allow you portability and a great degree of relief from dragging your drum around.
Designed according to the latest trends and technology, this drum has an easily adjustable snare strainer which allows you to have a total control of your tunes.
The kit also contains snare drumsticks along with a modified carry case, which has added padding along with extra pockets for putting in any additional accessories you own or require.
How Does It Fare?
Made with high-quality steel body as well as accompanied by a strainer, this drum offers everyone a great deal of benefit in place of other expensive variants. You can use this for home practice or even play at concerts without worrying about this drum being damaged or the film being torn. Also, this drum comes with a heavy duty snare drum stand with an adjustable basket which can be adjusted according to your needs. This sure is one tough deal in the market.
Value for Money
This drum is available on Amazon which also offer this product's delivery to various parts of the world. Along with the kit, you get accessories such as the practice pads, snare drum sticks as well as a carry case which means you will have to spend no more to buy any additional accessories for your product. The sturdy design of this drum will ensure that this drum lasts long.
This product along with additional accessories is the best buy Snare Drum for anyone who aspires to become one of the greatest drummers over the course of time.
Also Checkout the Reviews of Other Snare Drums: