New Student Snare Drum Set is the perfect set up for students who have a passion for the drums and comes at a low price. It comes with all the necessary equipment to bring out the best in your children, with the addition of an ergonomic drum sticks and a stand! The offset clamping snare stand is a rather unique feature and is very easy to set up. Students don't have to worry about carrying heavy weight as the set is lightweight and comes with a nylon carry bag!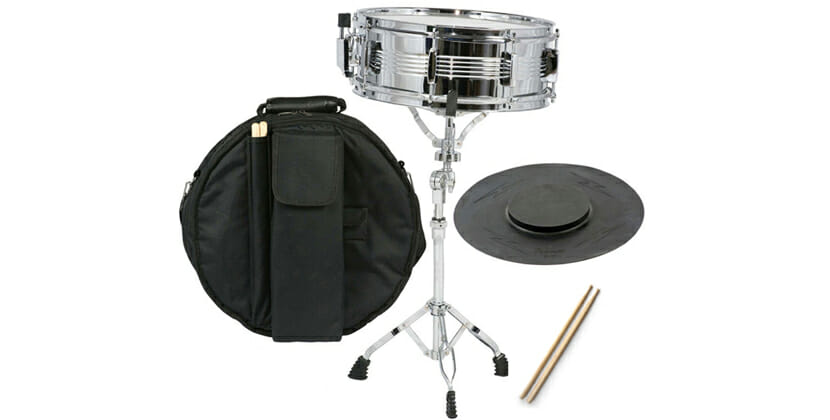 Table of Contents
Basic Construction
This budget and kid friendly Snare Drum Set from Gammon Percussions comes with a 14-inch snare drum made of complete chromium and with 8 metallic lugs on each side. It's about 5.5 inches in height and comes with a double braced clamping stand, which goes to about 3 feet in height, suited for students. The whole setup weighs about 18 pounds, the drum itself weighs around 4-5 pounds. It also comes with a practice pad, made of sturdy heavy rubber.
Attractive Features
This drum kit is suitable for kids and hence has ordinary features, concentrating more on the sturdiness and quality. There are a few reasons why the New Student Snare Drum Kit is a good choice for kids.
The snare drum's skin has been engineered to suit children's needs and can take heavy beating. This helps kids who are just starting to play and do not know how much pressure is appropriate for drums.
The adjustable stand can go up to a maximum of three feet, enough for a child to stand and play. It can also be used by adults while sitting.
There are eight lugs on each side which improve the overall quality of the resounding noises and since they are metal ones, they give top-notch sound effects!
The drum sticks are a standard set made of hard wood which are super durable and very hard to break. This is ideal for little children who are just starting out and may be clumsy with sticks.
The carry bag made of nylon and padded Cordura fits the equipment snuggly. The handle is assured to not break easily under heavy weight. There is some space to keep a few books as well! You can get wheels from elsewhere to fit onto the bag, as it may be heavy for small children.
If all this wasn't entrancing enough, there is also a pad of hard rubber for the kids to practice on!
How Does It Fare?
For the price that it comes, the New Student Snare Drum Kit is the best you can get in this range. Not only is it stylish, it is very loud and resonates at a perfect pace! Although targeted at children who are learning to play, the drum lives up to the expectations of experienced adults too! It comes with an adjustable stand, which usually only higher ranged drums offer. It also comes with a drum key to adjust the tension rods of the lugs. The whole setup is easy to carry and is great for talent shows. Considering how sturdy the sticks and the bag are, we'd recommend it to any child who is just starting out to learn! Since the lugs are adjustable, it would teach the kid how to vary the sounds like a professional. Once you play on the set, you will notice how balanced the sound is, not to mention how clear it is!
Value for Money
It comes at the highest quality and the best clarity. Granted, it may not be a professional one, but for the price, it is sure to leave your kid excited and wanting to play for hours- it is the coolest gift to give to a little drum enthusiast! The New Student Snare Drum Set is one of its kind with excellent quality set, comes at an alarmingly low price and is resistant to wear and tear!
You Can Also Try These Amazing Snare Drums: