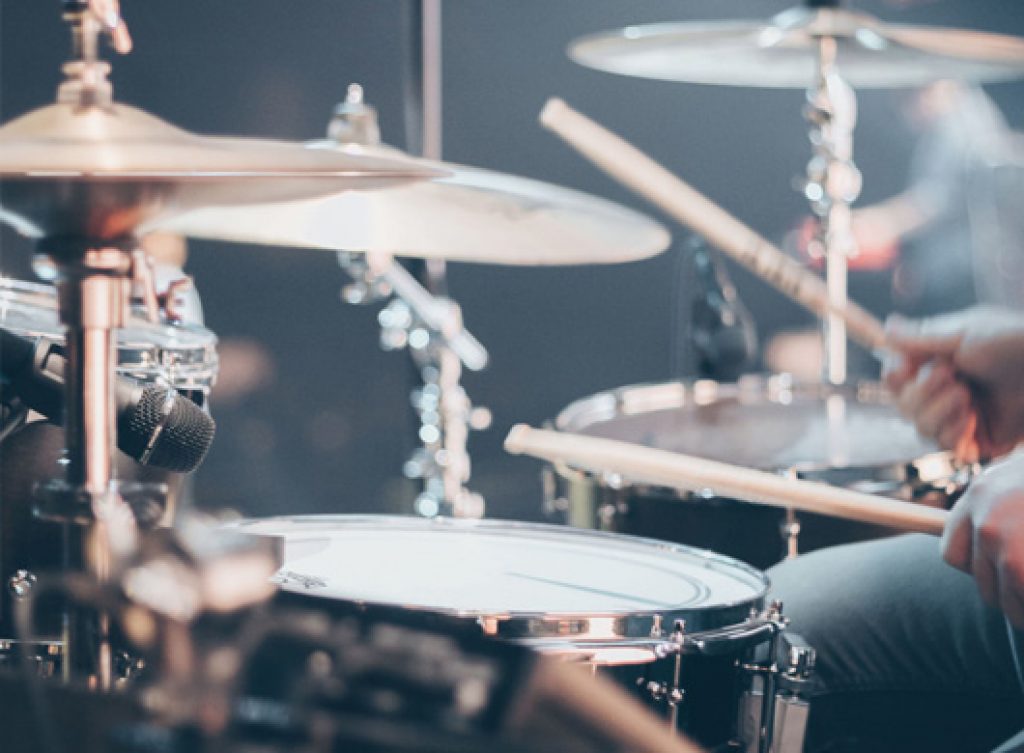 Snare drums are an integral part of any drum kit. The requirements are different for both professional musicians and novice drummers. But the one thing that everyone needs to look out for is the construction, sound quality, additional accessories and ease of play.
Based on these features we present the best snare drums of 2021. Some are for beginners while some are meant for people with some experience but all the snare drums are of high quality and will not disappoint you.
Table of Contents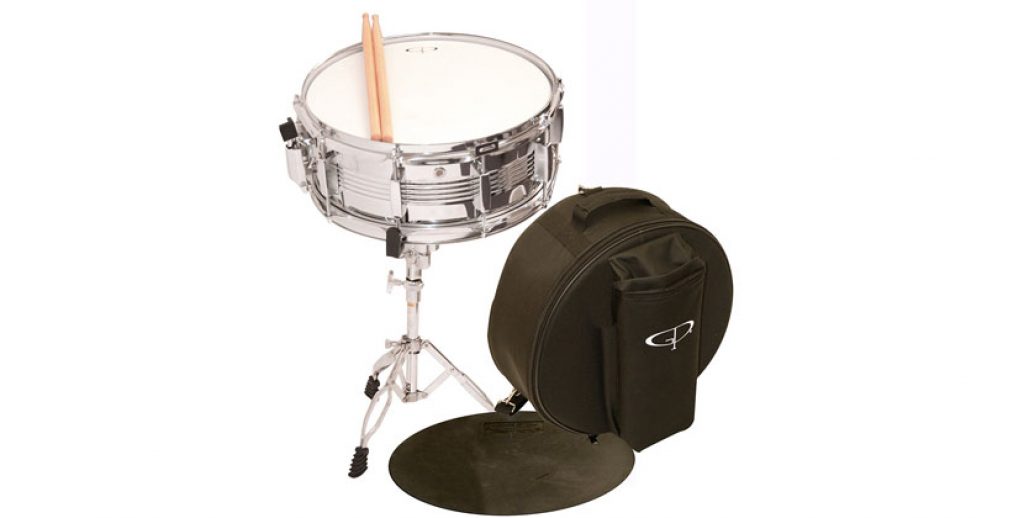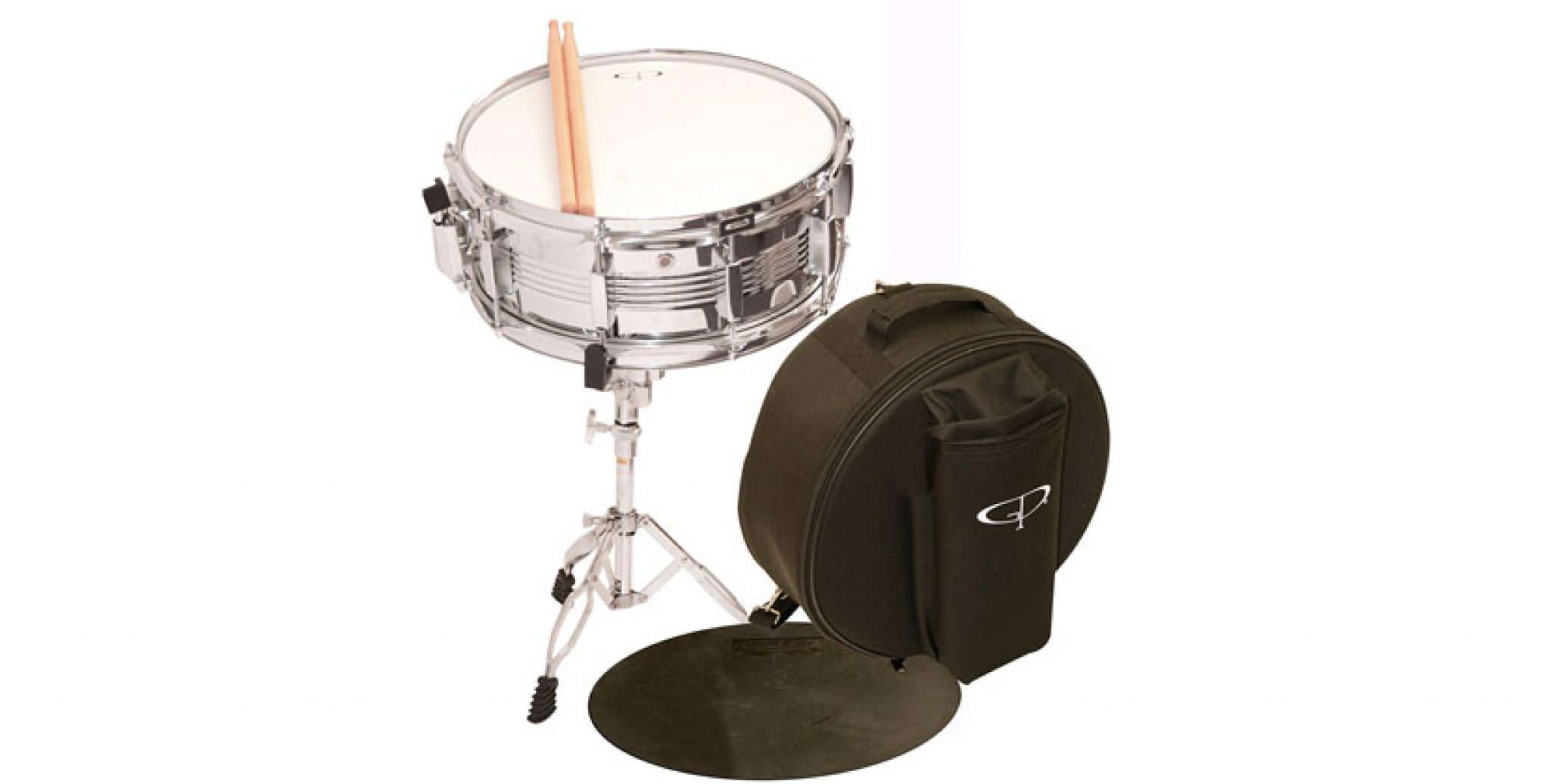 This snare drum kit from GP Percussion has a standard snare drum, a stand, a bag, drum sticks, a drum key and extra padding to cancel out all the unwanted noise. This snare drum is meant for students or novice drummers who have just started drumming.
Pros
Perfect for beginners, especially for school going students.
This snare drum kit has all the necessary elements that you will ever require.
The cost is also very reasonable.
Cons
This snare kit fares well in almost all departments and therefore we could not find any major problems.
If you are looking forward to introduce your kid to drumming, gifting them this drum kit is the perfect first step. The product is highly durable and can take all the major hits without suffering any major damage.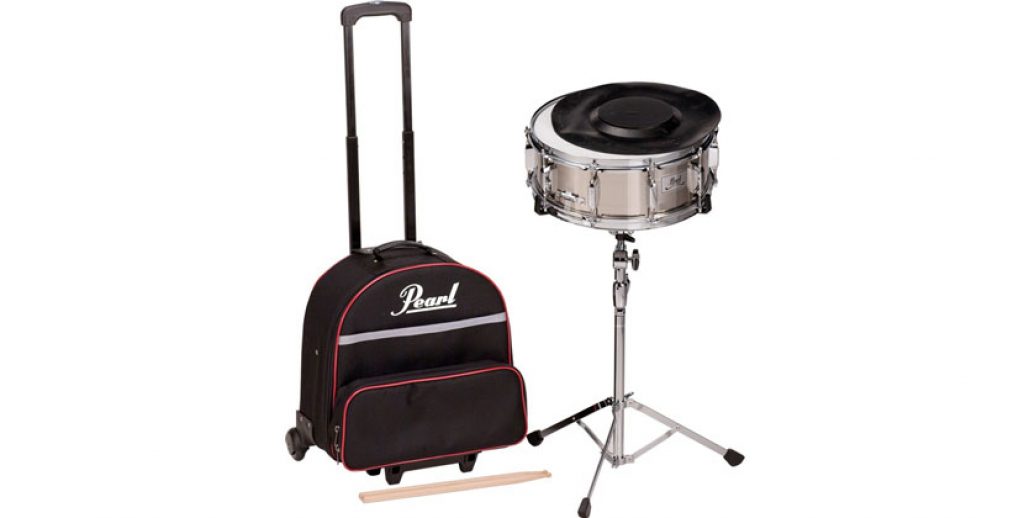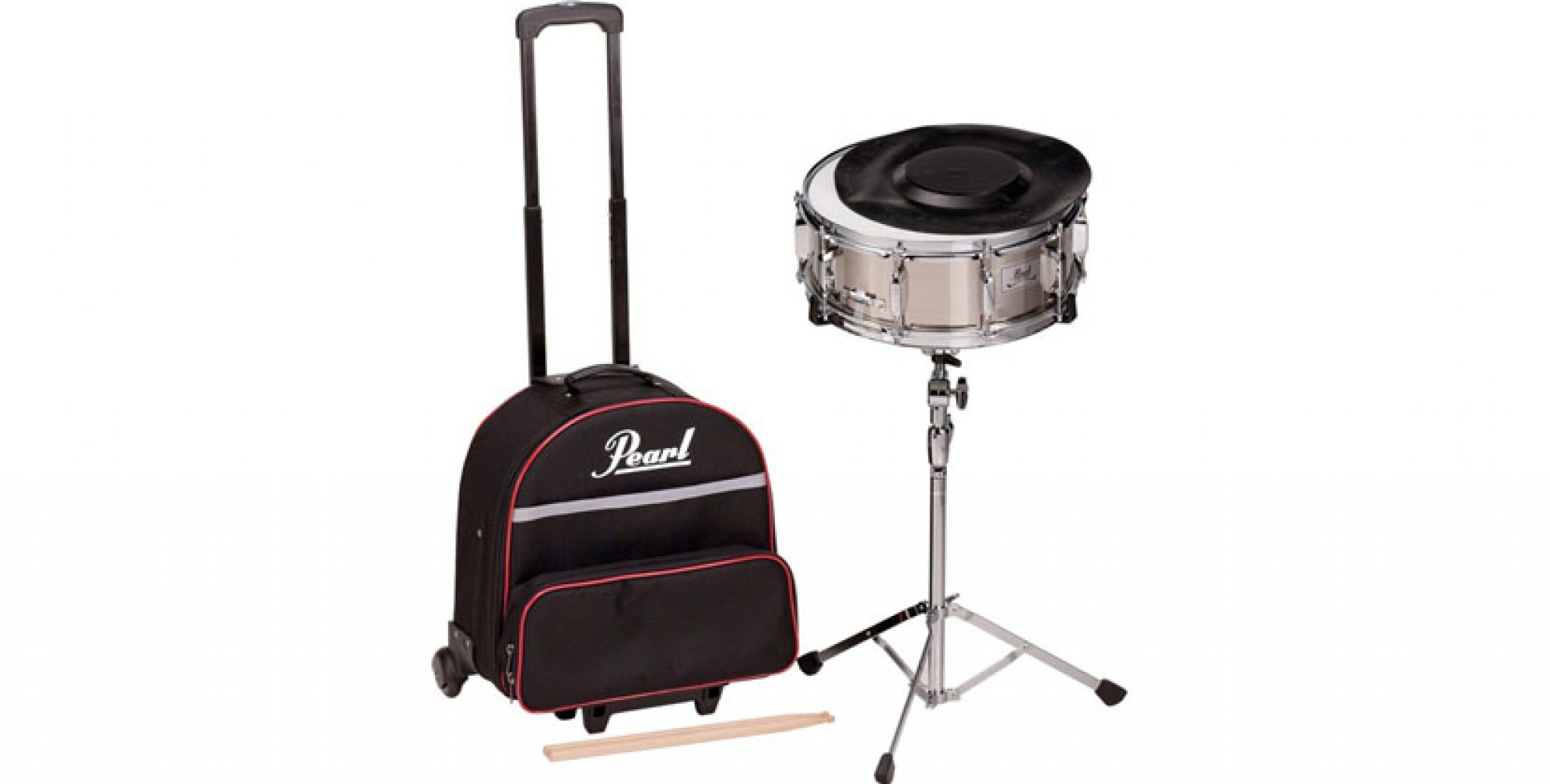 Pearl SK900C is meant for beginners who have just started to learn how to drum. This kit comes with a snare drum, a rolling case for storage and a fourteen-inch pad for practice without disturbing your neighbors. There is also a stand to keep your drum. This can be easily adjusted according to your height. Drum sticks are also given in the kit.
Pros
The rolling case makes it easier to carry around.
Snare drum is made of a steel outer body and therefore will last long.
Cons
More expensive as compared to other drum kits.
You can put your trust with Pearl while buying a snare drum kit for your kid. This one might be expensive but its superior quality sure makes the cost worthwhile. Also, this will last longer so you don't have to replace it time and again.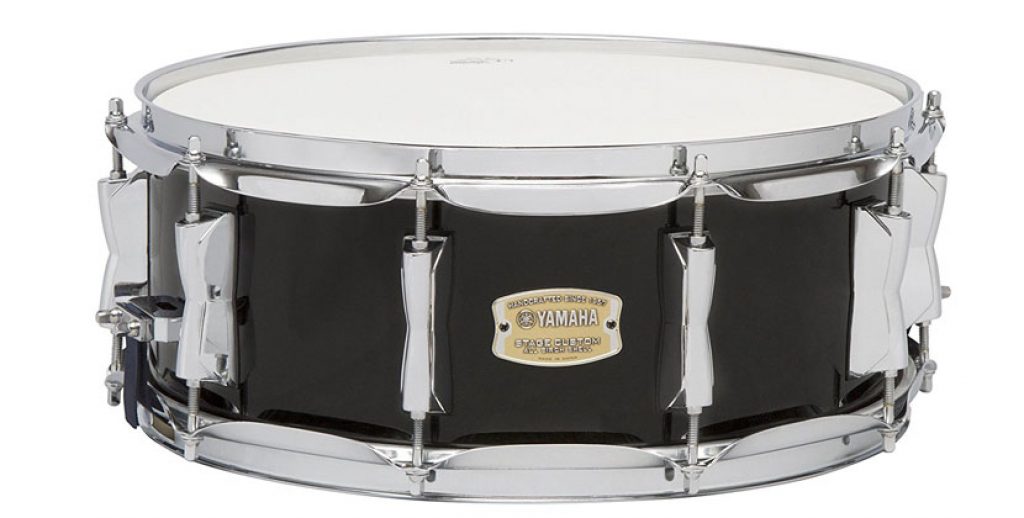 Yamaha is a well-known name in the world of musical percussion instruments. This snare drum is made from customized birch shell and therefore gives you a high-quality sound quality. The size of this drum is about 14 inches in length and 5.5 inches in width.
Pros
Made from good quality materials, giving it a sturdy construction.
It has a good resonance as the ten tuning lugs are at an angle of forty-five degrees.
It has a reasonable cost.
Cons
Does not come with additional accessories like a padding cover etc.
Overall, this drumhead has all the features that you will ever require in a superior quality snare drum. Plus, it is from a trusted manufacturer that will guarantee satisfaction in the sound quality and durability.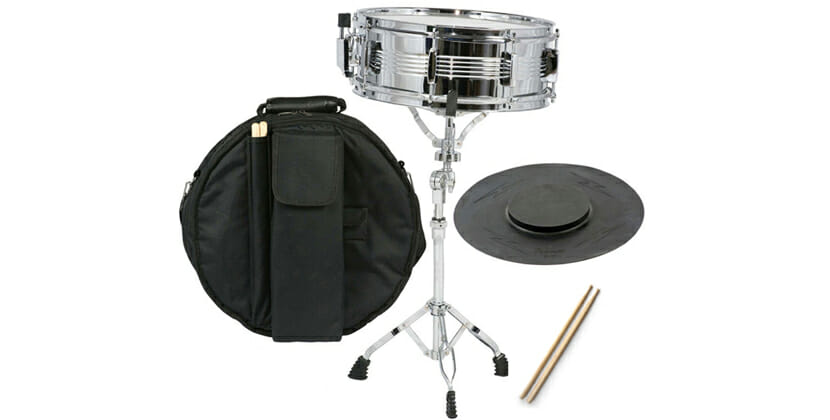 New Student Snare Drum Set comes with many additional accessories that will add excitement in a novice drummer. It has a drum case, a stand, drum sticks and padding to practice on.
Pros
The weight if the snare drum is not too heavy.
It has the ideal construction for beginners
The built is strong and therefore it can withstand extreme beatings
Cons
A little expensive than other student snare kits.
This drum kit comes has many features that make it a good buy. The construction, high sound resonance from the eight tuning lugs and additional accessories that come with the drumkit. This kit is designed keeping novice drummers in mind is perfect to kickstart their interest in drumming.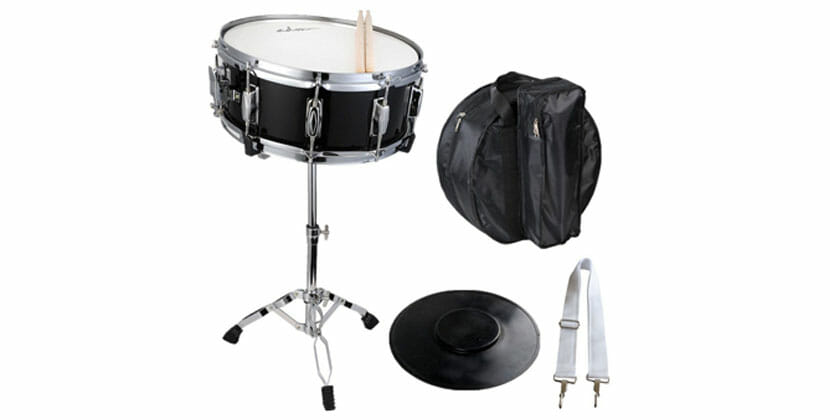 Student Snare Drum Set from ADM comes with practice padding, sticks and a storage case. This has all the standard features a beginner snare drum set should have. In addition, the drum sticks are made from Maple wood to make them sturdy.
Pros
The construction makes this drum extremely durable as it is made from a combination of chrome and nickel.
The shoulder straps are another addition that makes this snare drum super easy to carry around.
Cons
There is no major problem with this drum kit.
This is a versatile drum kit that is great for practice sessions due to the thick padding it has. The snare kit has all the features that you will require and is perfect for school choirs, bands.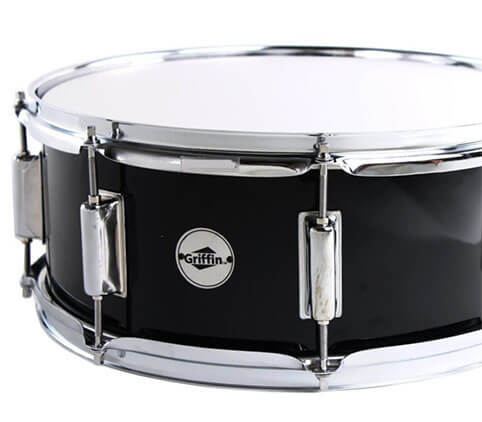 This shell snare drum is made completely of wood and has a smooth finish. There are eight tuning lugs, it carries a weight of about six pounds and the drum head is transparent. The wood used here is poplar, known for its smooth finish and high durability.
Pros
A three-ply head which gives a good sound tone.
Perfect for both beginners and professionals.
It has an affordable price.
Cons
The tuning lugs might be inadequate for professionals.
The main feature of this snare drum is its design as it is completely made of poplar wood. The sound too is on par even with low tuning lugs. Its versatility of use is also one of its strongest points.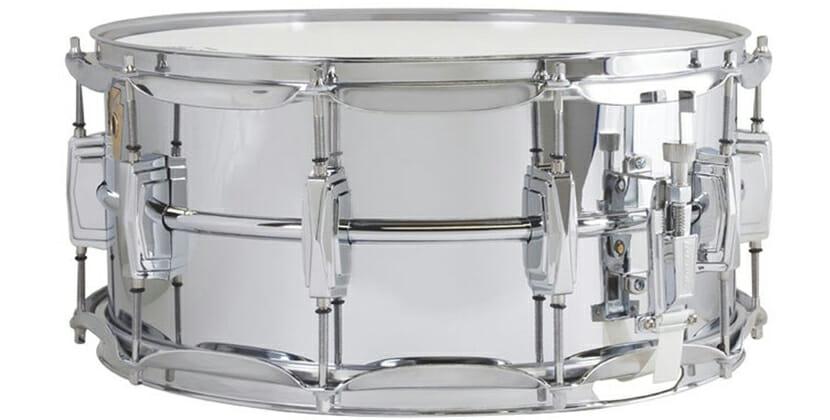 Ludwig has come with a chrome plated aluminum snare drum that has a smooth finish. In addition, this is manufactured by one of the most trusted brands – Ludwig. The snare drum has a standard size and weighs about four pounds.
Pros
A sleek design combined with a solid construction for maximum appeal.
The P35 butt plate.
A superior sound quality due to its built.
If you are a professional drummer then this is an affordable snare drum kit that you can buy. Its sleek design, strong construction and superior sound quality are some of the features to look forward to.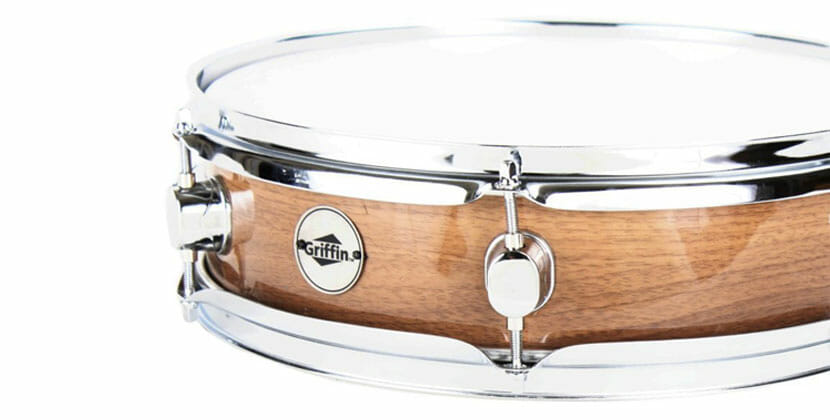 Piccolo Snare Drum is a versatile drum kit that is available at an affordable cost for professionals. It is a little smaller than other snare drums as it has a dimension of 13X3.5 inches. There are six tuning lugs in total with 20 wire strands. The snare drum is made from a combination of chrome and poplar wood.
Pros
A good quality sound tone.
Easy to carry around because of a light weight.
A low cost.
Cons
Some users might need a bigger size and more lugs.
For a low price, this snare drum has almost everything. The highlight of the drum is its sleek design and superior construction. This might not be suitable for beginners but is a good choice for a little experienced drummer.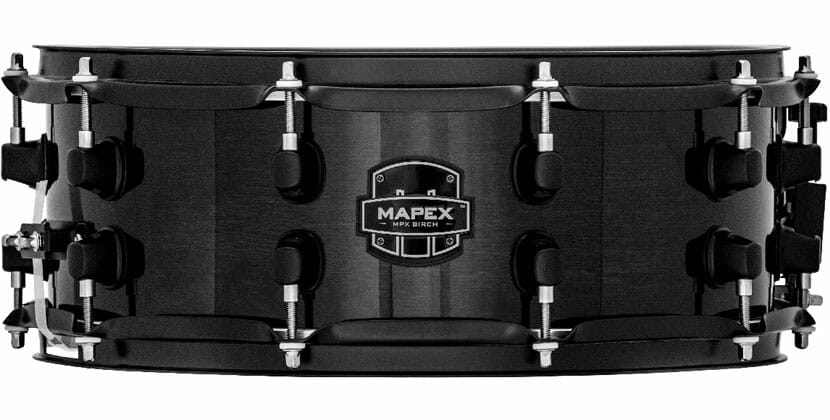 Mapex has come with a standard size snare drum that is made from maple and chrome with a natural finish. The construction is durable and weighs only 12 pounds.
Pros
A classic design with the integration of maple wood in design.
The sound quality is good and the tuning lugs are enough in total
Overall, this is a good product that will last longer without any major problems. The sound is very versatile and the tuning is very easy. This is a good choice for professional drummers.
Frequently Asked Questions
What are the components of a Snare Drum?
A snare drum has the following main elements:
Shells
This is the outer part of the snare drum on which tuning lugs, hoops, strainer wires etc are attached. They are mainly made of wood but some models also use titanium, brass and even carbon fibre at times.
Hoops or rims
The hoops are the parts that hold he drumhead to the shell.
Tuning Lugs
Tuning lugs are used to change the pitch to get the desired sound. These are attached on the shell.
Drumheads
The drumhead is the part that produces sound tones when you hit it with a drum stick. It is replaceable.
What is a Snare Drum made of?
The shell of the snare drum is made of wood, brass etc. They are generally a sturdy material. The drumheads are polymer based with Mylar being the most popular choice.
What is the difference between Birch and Maple finish?
Maple and Birch are both different types of woods that are used in snare drums. A maple finish means more sustained sound tones and therefore longer resonance. Birch shells have a shorter sustain period and therefore are used to attack more.
What are the different types of snare drums?
There are mainly two different types of snare drums:
Marching Snare drums
They are wider and have a deeper sound tone. This makes them effective for marching bands
Piccolo Snare
They have a higher pitch and have a smaller width or diameter than marching snare drums.
Are Snare Drums heavy to carry around?
Snare drums come in standard sizes and weigh anywhere around 16 to 45 lb. Most marching bands have drummers carrying snare drums as they play them. Therefore, they are easier to carry around than other kinds of drums.
How does a Snare drum work?
When the drumstick hits the membrane or drumhead, it produces a sound tone. By manipulating the tuning lugs, the direction we hit the membrane and the force applied, different sound tones can be produced.
Glossary
The outer part of the snare drum that holds the drumhead.
The membrane that the drumstick hits to produce sound.
They are present on the shell and are used to change the pitch. The more number of lugs, the more you can manipulate the pitch.
The two parts of the shell that holds the drumhead to the shell.
They are used to hold the snare wires to the shell.
They are on the bottom head and are used to attack and produce different sound tones.
Conclusion
Snare drum kits can be divided into two broad groups – for beginners and for adults. If you are a beginner, then you need to buy a kit that is durable, has a padding for practice among other accessories like a storage bag etc. It is better to spend a little more to buy a high-quality product as this will be beneficial in the long run. Some good options are GP Percussion SK22 Complete Student Snare Drum Kit, New Student Snare Drum Set and Pearl SK900C Educational Snare Kit with Rolling Case.
For adults, the main thing to look out for is the sound quality and construction. Your snare drum should last longer and also be drum out some good beats. You can look forward to Ludwig LM402 Smooth Chrome Plated Aluminium, Piccolo Snare Drum and Yamaha Stage Custom Birch 14×5.5 Snare Drum.