Carrying on its legacy of delivering high-quality instruments, Yamaha once again has proved its worth by producing this world-class Stage Custom Birch Snare Drum, which is a suitable and durable addition to your drum kit. Consisting of an all-birch shell, this snare drum offers you a superior level of tuning.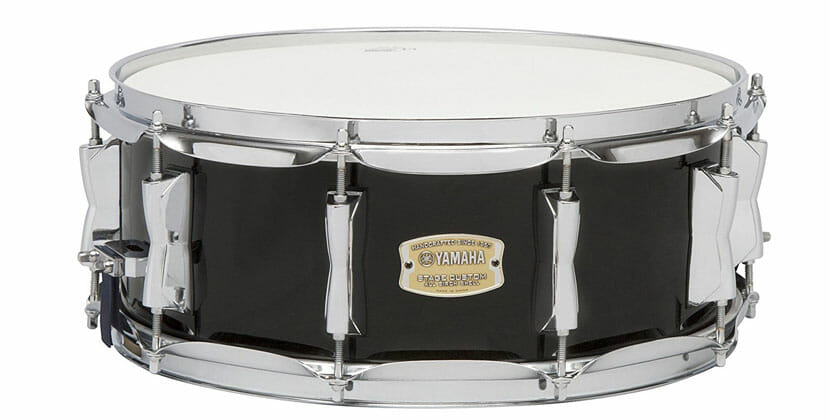 Table of Contents
Basic Construction
Birch has long been known as a trusted partner of music instruments and keeping this in mind this drum has been designed with an all birch shell, which produces quality sounds which not only please the audiences but allows you to hear clearly what you play. Sized 14" X 5.5", it is extremely easy to carry as well as operate and comes loaded with 1.5mm steel hoops and a B-type side throws off.
Attractive Features
This amazing product from Yamaha does have plenty of features which make it distinguishable from its competitors, some of which include:
An all birch shell, which has been designed and shaped to fit in the quality standards set by 'A' class musicians. An all-black glossy finish gives it a killer look.
Comes fitted with 10 lugs which is for a great degree of versatility and hence you can tune and vary your sounds according to your requirements with ease.
Loaded with steel hoops which help you produce great rim shots while at the same time giving a quality and efficient finish to this product you own.
Contains a bearing edge inclined at 45 degrees and hence your snare drum can resonate without any hindrances and thereby give the best outputs you can possibly imagine.
Fitted with 20 strands, this snare by Yamaha sure does produce a crackling sound which is bliss for the audience to hear and appreciate.
Compact size which makes it easy to carry around and operate thereby offering easy use and portability.
How Does It Fare?
Made completely out of birch wood, this product definitely fares quite above its counterparts as birch shell has been known to increase as well as produce sounds which are bliss for ears. Then comes the size as well as design which again has been kept according to international standards and thus making this drum easy to carry along. The gloss black finish does give it an aesthetic appeal. This drum also does rank well as far as the hardware associated is concerned, it has 10 lugs for fine tuning along with 45 degrees bearing edge for increased resonance.
Value for Money
The Yamaha Stage Custom Birch Snare Drum is one best deal for anyone to bank upon. Made completely out of birch you are sure to get one quality sound, as well as the fine molding of its bearing edge does offer greater resonance. The design is also great and so is the size, giving users no reason to question it performance.
It has been designed keeping in mind long lasting use as well as a quality performance which sure can be expected out of the product. However, if you think that this product might break or be damaged in a while, then insure it against any accident for 2 to 3 years by purchasing an additional warranty.
Quality black design, sturdy hardware, fine tuning options combined with best of sounds do make it a perfect value for anyone who plans on buying this product.
Here are Some Snare Drums To Checkout: