LPA280 Aspire Bar Chimes is from the esteemed brand Latin Percussion or LP. They have been in the market for more than a decade and still prove to be the aces in the music instrument market. The Latin Percussion LPA280 Aspire Bar Chimes has a nice wood bar with 24 Chimes attached to it. The quality is remarkable and, the tones it produces are clear and sound great.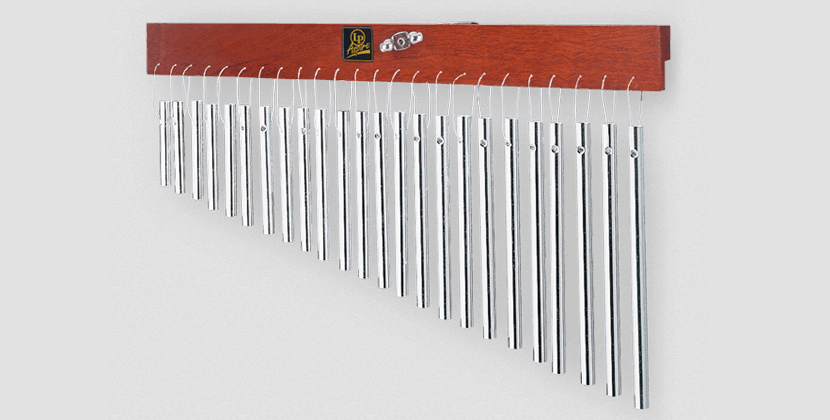 Table of Contents
Basic Construction
The Percussion instrument is made up of hard wood bar and alloy chimes that are attached with Nylon strings. The Product dimensions are as follows: length of 4.7 inches, breadth of 20.1 inches, height of 3.5 inches and the overall Item Weight is 2.3 pounds. The product originates from Thailand, where most of the percussion instruments are made. You have to purchase the striker separately or work with an existing one as no striker is provided with the purchase.
Attractive Features
The Hard wood bar is a polished wood bar with a classy feel.
It is rich in color and seems to shine in dark musical settings.
The alloys chimes are also nicely arranged in an ascending shape and look good with wood. The sounds play out beautifully even with the slightest of touch.
It can be played with any type of musical style.
The chimes are strung with sturdy nylon strings, thereby ensuring great durability.
How Does It Fare?
It fares well in all aspects required in a perfect product. It is a percussionist's dream come true and a worthy addition for any drummer. The product is durable and will last long if treated with care. Unlike others, it is not so fragile and stands the test of time. From a beginner to a skilled pro, the instrument is a great choice for any music lover.
Value for Money
The price of Latin Percussion LPA280 Aspire Bar Chimes is very reasonable and less when compared to the many other costly pieces out there with similar design. The product works perfectly and doesn't give a chance to complain. The durability factor plays a major role in its value for money. To conclude, the product is worth the price and also is a definite buy for its quality.
Don't Miss Out to Check the Following Bar Chimes: