Chimes make soothing sounds and help to maintain a balance in a musical setting. The famous musical instrument's company 'Tycoon' has been with us for more than 30 years. Therefore, its long standing makes it a top player in the music instrument's market. Tycoon Percussion 36 Chrome Chimes is an excellent product as its tonal diversity provides various options for the player, making it a must have in any musical band.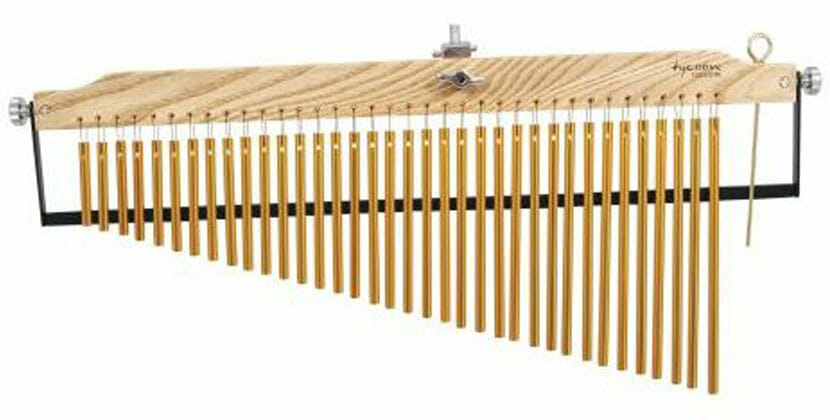 Table of Contents
Basic Construction
It has a long strip wooden bar made of Siam Oak. This particular Oak is used in making most of the musical instruments. The Percussion chime has a dimension of 27" x 9" x 2". The proportions are correctly defined to make the instruments a perfect fit. It weighs about 3.6 pounds. There are 36 chime bars with a color chrome set. It comes with a striker to play the instrument and there is also a storage slot for the chime striker. There is also a mounting holder present on the top to hold the instrument during play. But you will also need a stand holder for this. A good tripod can also work. The product originates from Thailand and is purposefully designed and crafted to fit any musician's set up.
Attractive Features
The colours of this instrument are rich and attractive.
The bar is made of posh wood and the whole assembly looks classy with its natural wooden brown colour.
The 36 chimes that are attached in an ascending order produce warm and nice tones.
Experience a superior sound compared to other chimes with its crystal-clear shimmering tones.
It comes with a striker.
The striker sits well in the piece, giving it a totally uncluttered look.
How Does It Fare?
The percussion instrument has very attractive features and you get hooked to it easily. It produces are high and distinct tones which makes it a unique player in any band. There are others versions in the same Tycoon percussion brand with 25 or 27 chimes, but this model with 36 chimes is a much bigger piece with longer and more pronounced tones. The product is durable and lasts a long time if handled properly. When compared with other brands in the same category, it delivers superbly on quality, performance and aesthetics.
Value for Money
The Tycoon Percussion 36 Chrome Chimes with Natural Finish Wood Bar is worth every penny. It comes with free delivery in the United States and some other selected countries. Then there is the Tycoon Percussion 36 Gold Chimes with Brown Finish Wood Bar which sits at a massive price with the same basic purpose. Go for the reviewed one if you want to save up on some money. The brand delivers on its promise and the instrument works well. Plus, the durability factor plays a major role in its USP.
Compared to other brands this has a superior quality and a better brand value. If you want something from a consistent brand then this is the product for you.
You Can Also Try These Amazing Bar Chimes: