Evans EMAD Bass Drum Head is a member of the famed Evans EMAD design chain and the USP of this chain is hidden in the name itself – EMAD or Externally Mounted Adjustable Damping System. This allows the drummer to freely experiment with drum tones and different tone styles. It is a boon for drummers as the muffling rings allow them to try out different muffling options.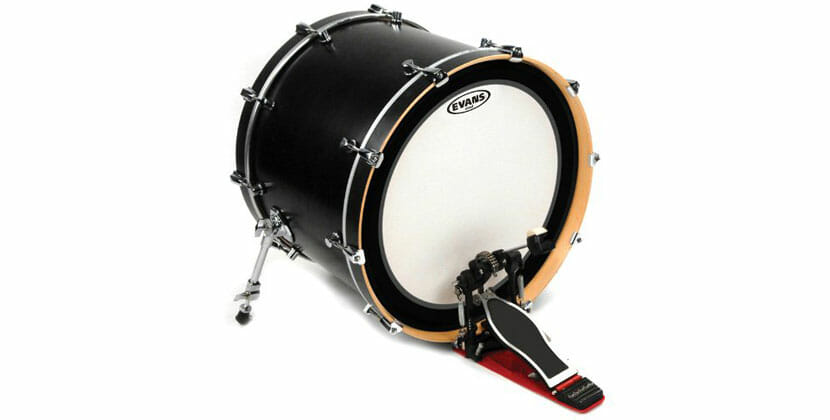 Table of Contents
It is child's play to control the resonance as you don't need to change drum heads every time you need a new rocking tone.Check On Amazon
Basic Construction
This 22-inch drum head comes with a solo ply measured at 10 mil-inches. The length is measured at 23.5 inches, breadth at 1.5 inches and height at 23.2 inches. It weighs a mere 2.2 pounds.
Attractive Features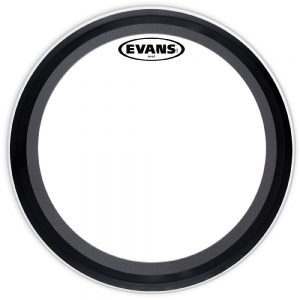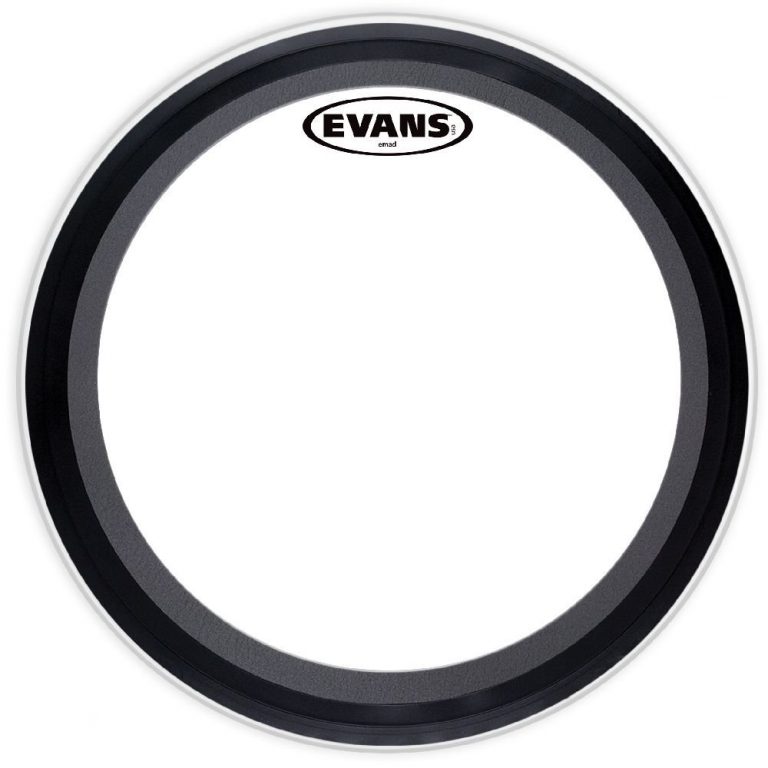 The external damping system allows the player to regulate, attack and concentrate.
The coating adds to the focus, depth and offers an unparalleled translucence to the sound.
The foam muffling rings offer a plethora of muffling options and this is a huge plus point for advanced drummers.
The quality of sound is undoubtedly superior compared to other widely used drum heads. Users, including beginners and professional drummers have hailed it as a phenomenal breakthrough in the less adventurous domain of drums.
Similar to other drum heads in Evans EMAD design line this has countless number of tuning options which makes it amalgamate beautifully with different genres of music.
The pedal patch protects the drumhead from wear and tear and thus contributes to the durability of the instrument.
It has the perfect scale of dampening; hence it is not too slappy or loud. It provides an accurate sound with a soothing tone and nice resonance.
Evans has used the revolutionary Level 360 technology in this which gives the product a wider tonal range and makes tuning uncomplicated.


How Does it Fare
Evans EMAD design line has alluring features and performs better than other commonly used drum heads. The fact that such a radical and out-of-the-box design is available for a reasonable price is surprising, given the fact that most high range musical instruments cost a bomb. But what takes the cake is the fact it is the perfect drum head for everyone- novices, advanced players and professionals. The strength, the durability, the irresistible features and the vast range of versatility are its big four selling points.
Value for Money
Evans EMAD Bass Drum Head is priced very reasonably on Amazon and is shipped free of cost to most states. Though the Evans drum heads costs a little more than other companies, you will get your money's worth! The durability and supreme sound quality leaves no room for complaint.
Checkout The Following Bass Drum Heads As Well: