Made in USA, the brand-new Evans EMAD Heavyweight Bass Drum Head is here to exceed all your expectations. The characteristic feature of this model is EMAD which means that its drum head has two foam damping rings that are removable. Each ring is suited for a particular style; the removal and application of the rings is very easy. It will allow you to adjust, attack and focus which will give you a very smooth drumming experience. You can change the style and tone of your music with the least amount of hassles and its sound quality will remain top notch across the board. It's perfect for all types of bass tones.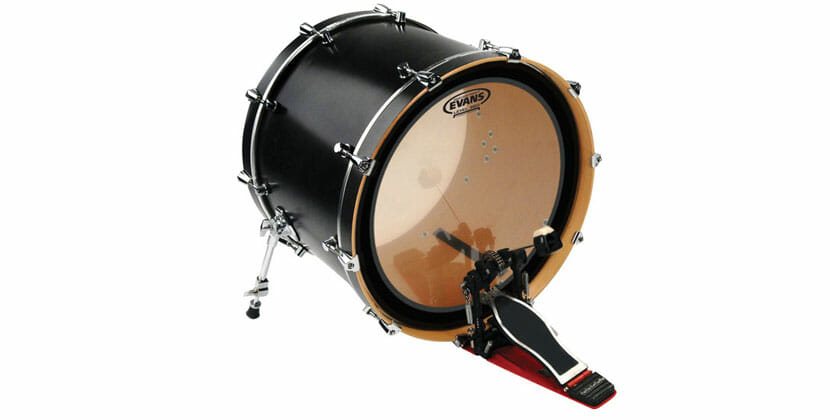 Table of Contents
Construction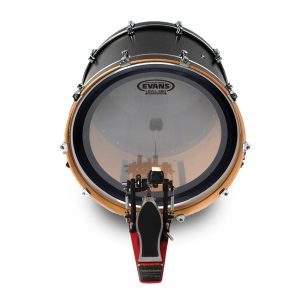 This drum head weighs a mere 200 grams. It has a dimension of 59.7 x 3.8 x 57.8 cm and a lovely sleek design that adds not only great functional value to your drum set but also makes it more aesthetically pleasing. It comes with two foam damping rings available in various sizes, girth and coatings.
The EMAD system can be one or two-ply depending on your needs. This heavyweight drum head is designed to withstand large amounts of pressure from the drumsticks and is truly a product, you can make the most of. Evans has also incorporated its innovative Level 360 technology into this product. This increases the number of tones you can get, all the while making it easier to tune your drums; lessening both time and effort. You can finally bid farewell to the frustration that accompanies every drummer when they're trying to get the perfect tone they need!
Attractive Features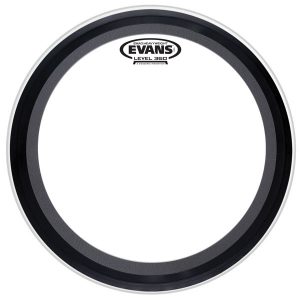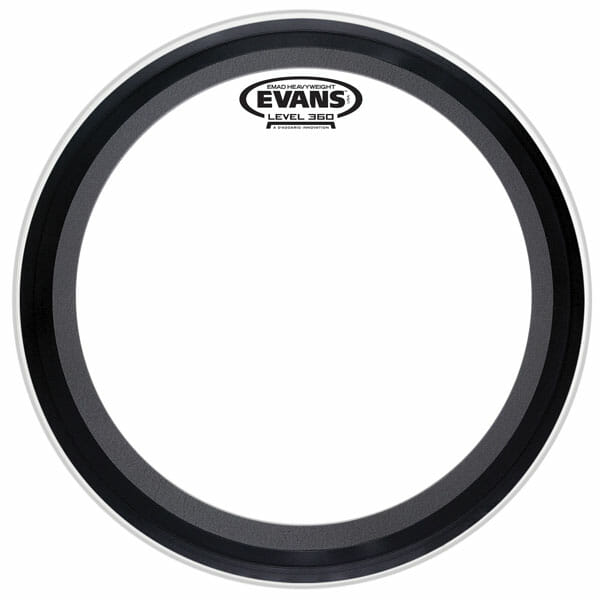 This bass drum head has lots of features that make it a quality product for every drummer and some of them are as follows:
Beautiful and modern design: With a hint of minimalism, this bass drum head looks as great as it works.
The EMAD system makes it super easy to work with and gives you freedom from worrying about the technical aspects of fixing equipment.
Level 360 technology – It provides you an opportunity to experiment with a wide tonal range to get the sound you're striving for.
Variety of options: Depending on your preferences, you can choose which size, thickness and coating is best suited for you.
A good choice for any kind of drummer as this product adapts to your style and needs.
Its high-quality design ensures that you get the best possible sound on all tuning levels.
Great durability: This product will take heavy hits with no damage and difference in sound quality.
How does it fare?
The Evans EMAD Heavyweight Bass Drum Head helps you concentrate on your music, with its superior sound quality. It is a must-have for all drummers as the sound quality of this drum head is simply unparalleled. It gives you that rich bass with no hassles. The best part is that it will last longer – the drum head is able to take heavy hits with no problem, and you can really jam out to your heart's content without worrying about damaging it in the slightest.
Value for money
This high grade drum head is priced at an affordable rate. It's a great investment – paying for a good quality bass drum head is better than continuously replacing bass drum heads that rip easily or don't give you the sound you need. You can also opt for secondhand ones, which will be somewhat cheaper. However, for the best experience possible, it's always recommended to purchase a fresh piece. Every penny spent on this bass drum head will be worth it.
You Can Also Try These Amazing Bass Drum Heads: