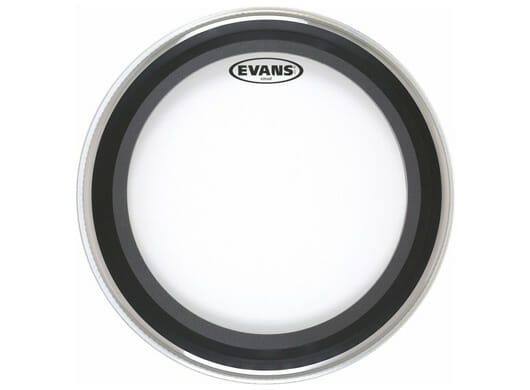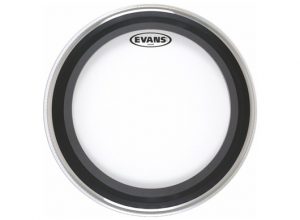 Bass Drum Heads are the single most important feature of all bass drums. It is important to check out the features of these drum heads before choosing the one you would like to buy. Some of the features that a good bass drum head should have are durability, damping options, reasonable cost & muffling options among others.
For your convenience, we have listed down the nine best bass drum heads that will give you the best deal.
Quick Summary - Our Top 9 Picks
---
---
---
---
---
---
---
---
---
Frequently Asked Questions About Bass Drum Heads
1. How Often Should I Change My Drum head?
A drumhead's durability depends on a lot of things and there is no set time period for its longevity. The general opinion is that you need to change your drumhead when the tones start getting flat. If you play more often then you need to replace your drumheads more frequently than others.
The other thing to note is the physical appearance of your drumhead. If you start seeing any dents, or when the coating begins to wear off, then you should be replacing your drumheads with a newer one.
2. What is the difference between Batter and Resonant Drumheads?
The batter head is also called the top head and is the part where you actually hit your drumstick. On the other hand, resonant head or the bottom head is the part that gives a sound when you hit the top head.
While fixing your drumhead to your drum, take care to put the batter head on the top and the resonant head should come in the bottom. One way to ensure this is to make sure the logo is on the top of the drum and is in an upright position. In case, the logo is missing, look for the mounting system.
3. What are the different types of Drumheads?
Drumheads can be classified in many ways but they are commonly classified as follows:
As the name suggests, these drumheads are made of a single ply and are generally available in 7, 10 and 12 inches. They are not meant for heavy playing styles and are more suited for music genres like light jazz. One good example is Evans EMAD Onyx Bass Drum Head.
They are made of double plies and these plies are generally of the same thickness (in most cases 7 mil each). However, manufacturers are offering double plies in different inches for a more distinct tone. They are the best for heavy playing as users can attack more easily. Examples are Aquarian Drumheads SKII22 Super-Kick II and Evans Hydraulic Blue Bass Drum Head.
A coating is applied to drumheads to produce a damping effect. Without a coating, tones will be less more pronounced. A coating gives you more deeper tones and helps you produce a more controlled sound. Evans EMAD Coated White Bass Drum is an example.
Pre-Muffled drum heads come with an in built muffling system. They are perfect for avoiding unwanted overtones. Examples are Evans Hydraulic Blue Bass Drum Head and Aquarian Drumheads SKII22 Super-Kick II Double Ply.
4. What is a Drumhead made out of?
Drumheads initially were made of animal skins but were soon replaced by polymers in the 1950's. The development of Mylar revolutionized the drumhead industry and this polymer is still used in majority of drumheads. Another polymer that is used is Kevlar, which gives a tight sound tone and therefore is generally preferred for marching bands.
5. How to Tune Your Drumhead?
The first step is to get an idea of the current pitch and to do that you need to hit the drum continuously with each tuning. Start with the smallest tom which is the closest to your desired pitch. It is better to start with the resonant head (bottom head) when you are trying to get the top and bottom in sync. Tuning is done experimentally and you need to keep hitting the drum to as you tune.
6. What features must you look for when buying drumheads?
Many manufacturers offer different features on drumheads and the most important ones that you need to look out for are:
The thickness of the drumhead affects many things—durability, sound tones, attack and focus. Single ply is suited for light play and have brighter sound tones. They are ideal for lighter music genres that don't require too much attack and focus. Double plied are perfect for heavy music genres and give a large booming tone. They also last longer than single ply.
A damping system on the top head produces a more controlled sound. It is better if your drumhead has a damping system as it gives you more freedom to explore and experiment with different sound tones.
Many drumheads come with a coating to give a deeper or dampened sound tone. They have shorter tone sustainability and have a translucent appearance. Clear drumheads have a clear appearance and give a brighter, longer sustained tone than coated. They have more overtones than the former.
Drumheads with an in built muffling system eliminate any unwanted overtones to give you a more controlled sound.
7. What are the well-known manufacturers of drumheads?
These are the three brands that people generally prefer:
Evans is a name every drummer will be familiar with. They are undoubtedly the world's leading drumheads manufacturers. Their trademark is a level 360 technology that ensures better coverage, extended durability, greater tonal range and a steeped collar system that ensures a better fit. Drumheads from Evan's EMAD line is highly popular.
Remo is one of the oldest drumhead manufacturers and were the first one to use Mylar as a drumhead material. Mylar is now used in wide majority in almost all drumheads. They also supply drumheads for a majority of drum companies like Yamaha. Look out for their Powerstroke drumhead series.
Aquarian drums are perfect for drummers who are just beginning their journey. Their Bass Drumheads come in four lines—Regulator, Ported Bass, Super Kick, Impact Series and Full Force Series.
---
Glossary
Batter head or the top head is where you hit your drumstick. They can be coated, clear, single ply or double ply.
Resonant head is not meant to be hit and is also called the bottom head. When you hit the batter head, resonant head is the one which produces resonance.
The drumhead sits on the bearing edge of the drum.
Ply can be single or double. This is basically the layer of the drumhead and is make of either Kevlar or Mylar.
Lugs are the place where tension bolts are screwed. They are present on the outer drum shell and bolted from inside.
These are also called tension bolts and help in holding the drumhead on the shell. Tuning is done by manipulating tuning rods.
This is a bolt that helps you fix a specific position of your drum. They are most commonly on cymbal stands.
Conclusion
To narrow down your choices, there are three drumheads that fare favorably over the rest. These are Evans EMAD2 Clear Bass, Aquarian Drumheads SKII22 and Evans Heads BD22EMADHW.
The first one has an externally mounted damping system which gives more scope for tonal experimentation. It has a double ply which further improves sound quality and improves durability. The only con we could find was it is a little expensive than rest but is still a good deal because of its many cost benefits.
The second one has an in built muffling system and comes with two plies. It has good durability and is perfect for professionals who use drums excessively.
Finally, the last one also has an externally mounted damping system and therefore gives you a wide tonal range. It has a more deeper tone due to double plies and also has increased durability.