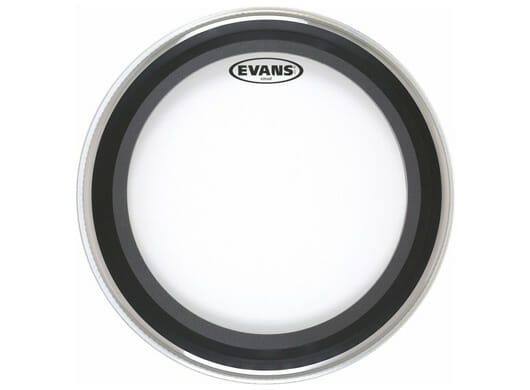 Bass Drum Heads are the single most important feature of all bass drums. It is important to check out the features of these drum heads before choosing the one you would like to buy. Some of the features that a good bass drum head should have are durability, damping options, reasonable cost & muffling options among others.
For your convenience, we have listed down the nine best bass drum heads that will give you the best deal.
Table of Contents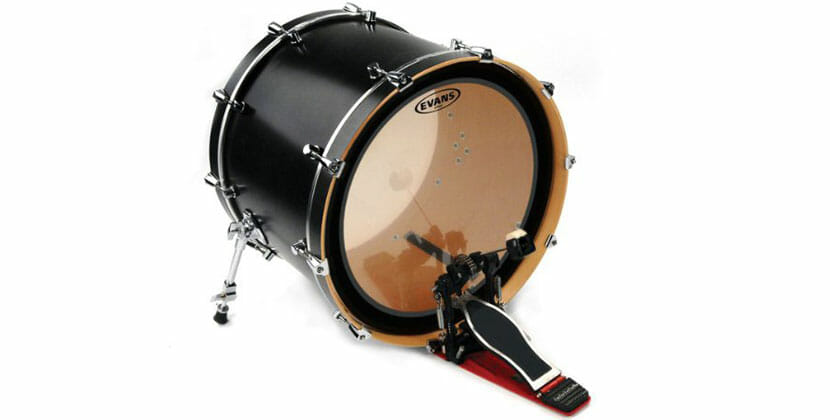 Evans EMAD2 comes with a damping system that is externally mounted and is adjustable. This feature is unique to Evans and is not found in any other drum heads from different manufacturers. This feature of EMAD is the main reason why you need to buy this product. It eliminates the damping problems, drummers usually face by giving them the freedom to choose their own sound tones. This is done by two removable foam damping rings.
Pros
An EMAD feature which allows flexibility in sound tones.
The inclusion of collar shape that gives you a wide tonal range.
Availability of a hassle free tuning option.
Durability as it is made of two plies (6.5mil and 10mil).
Cons
You will have to spend a little more on this drum head as compared to others.
You should definitely go for this drum-head if you are willing to spend a few extra bucks to get a stellar product. The reason being, its mounted adjustable damping system in the exterior part or EMAD. This feature will give you many bass tones to experiment but will also keep it durable for a long time. It is definitely a great deal for both beginners and professional musicians.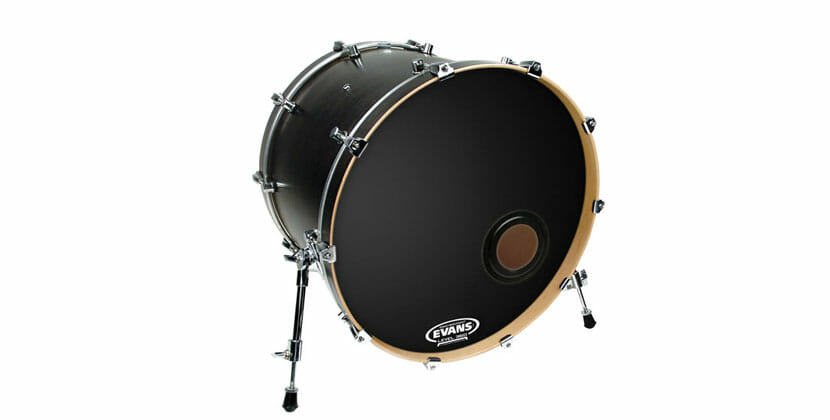 Evans REMAD Resonant is yet another bestselling drum from Evan's EMAD line. The main feature here is ofcourse, an adjustable damping system mounted externally with 2 differently sized foam rings. What makes it different from its counterparts in the same line is its sleek design and that it consists of a single ply black film of about 7.5mil.
Pros
An inclusion of a microphone port of about four inches.
An EMAD feature which gives it a wide tonal range.
A sleek design with the inclusion of a craven collar for better fit.
Cons
It won't last longer if used extensively.
Is not suitable for professional players.
The presence of a microphone port, an externally mounted damping adjustable system and a sleek design makes it perfect for aspiring musicians. It is also a little bit on the cheaper side as compared to other Evan drumheads. Another benefit is that it uses a 360-revolutionary technology ensuring a good fit and an availability of a wide tonal range. Also, it will be perfect for studio use.
As the name suggests, Aquarian Drumheads SKII22 Super-Kick II has the advantage of being highly durable from wear and tear due to its double plies (both of 7mil each). It is manufactured by one of the leading names and that ensures its quality.
Pros
It is perfect for professional drum players.
Its increased durability due to two plies.
No extra muffling required.
Cons
It does not come with a wide tonal range.
Not suitable for too much experimentation.
You need to go for this if you want a good drumhead with a reasonable cost. Its durability is another plus factor that makes this drum head attractive. Another advantage is that no extra muffling due to a built in floating muffle ring is required and therefore professional drummers will love this drum-head!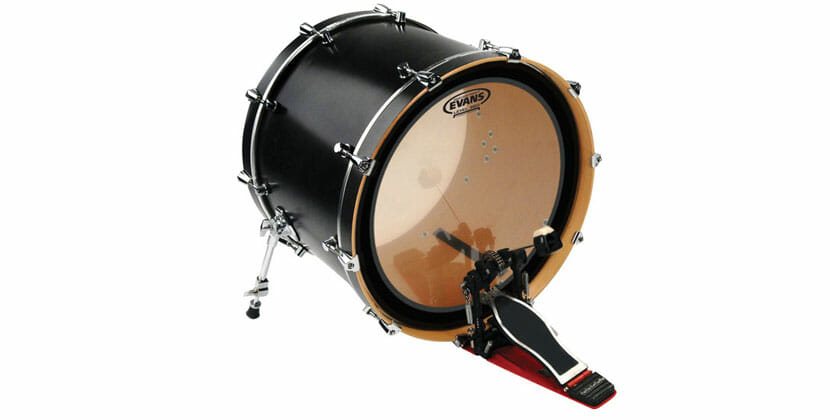 Yet another amazing product from Evan, BD22EMADHW EMAD Twenty-Two Inch Heavyweight Clear comes with two plies of 10 inch each to ensure improved durability and sound quality. It is similar to other drumheads in EMAD line in many ways: a damping system that is adjustable and mounted externally, two differently sized foam rings, an availability of a wide tonal range, easy tuning and versatility to experiment with different sound tones.
Pros
Two differently sized foam rings to give a wide tonal range.
An inclusion of level 360o technology from EVANS.
Increased Durability as compared to other drum heads.
Cons
Expensive as compared to other drum heads.
You should go for this if you want a highly durable product that will last you quite some years without significant wear and tear. The one thing that sets it apart from other drum-heads in the same line is its high durability.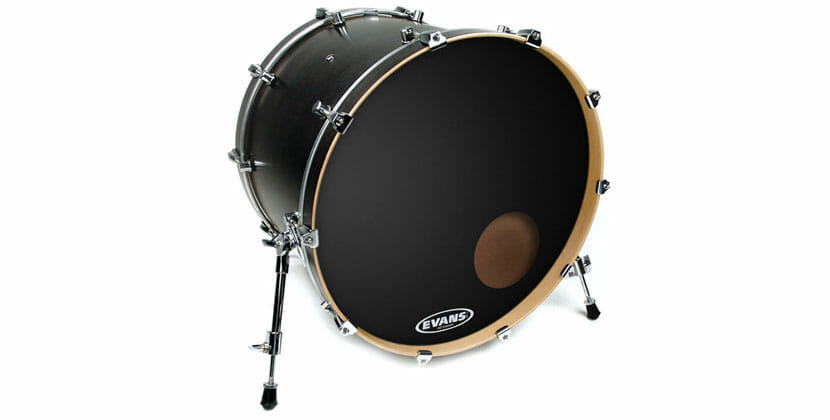 Experience the brilliance of resonance through Evans EQ3 Resonant Black. An addition of a microphone port is the best part about this drum head as this feature makes it perfect for studio use. You can buy this drum head in both black and white colors.
Pros
An inclusion of a 5-inch microphone port.
Perfect for studio use.
Cheaper as compared to other drum heads.
Cons
Will not last long if used continuously.
Not suitable for live plays.
This drumhead is perfect for beginners and is more suited for a studio use. The mic port is the main advantage this drumhead has over others. It is a single ply film of 7 inch and therefore durability might be an issue but other than that, this drumhead does not cut any corners. It keeps its focus on giving you the right pitch and a wide range of tones.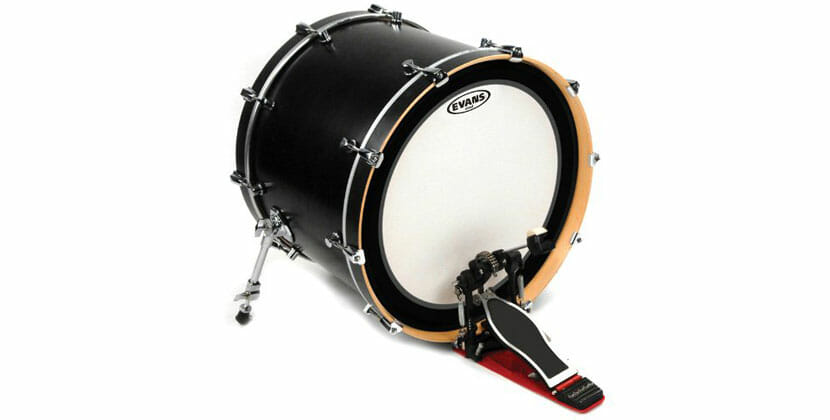 Evans EMAD Coated White Bass Drum Head falls under Evan's highly popular EMAD line. The only difference in this drum head from others in the same line is the presence of a coating over the single 10-inch ply. This coating ensures a better sound tone and allows the player to focus better.
Pros
Improved sound quality due to the coating layer.
A damping system that is externally mounted and is also adjustable gives you more versatility.
Cons
Not much scope for tonal exploitation.
Sustain is low.
Drummers who need deeper tones should go for this product. The presence of two differently sized foam rings and a muffling system further makes it an attractive product. You might have to shell a couple of extra bucks for almost all drums in Evans line but believe me it is worth it!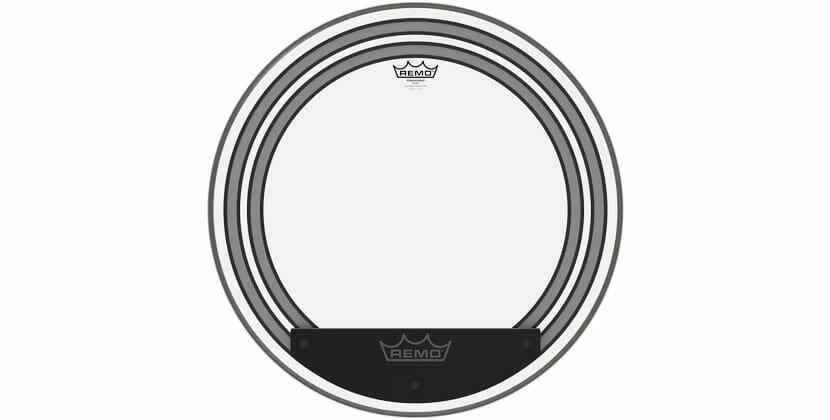 Remo Powersonic Clear Bass Drumhead has a slap on overtone control pad on its exterior. The two damping rings (3 and 4 inch) are placed internally. This drum head has two piles of 7 millimeter each and this is not only responsible for an increased sound quality but also for improved durability.
Pros
An external snap on damping system.
It will solve all your muffling problems and you won't need any extra muffling system.
Increased sound quality due to two internally mounted subsonic rings for damping.
Cons
The built-in muffling might stifle the sound too much at times.
More continuous tuning required than other drumheads.
A built-in muffling system is the key feature of this drum head. If you are having any problem with muffling, then this product is perfect for you. On the top of that, the sound quality is great too because of two internal foaming rings.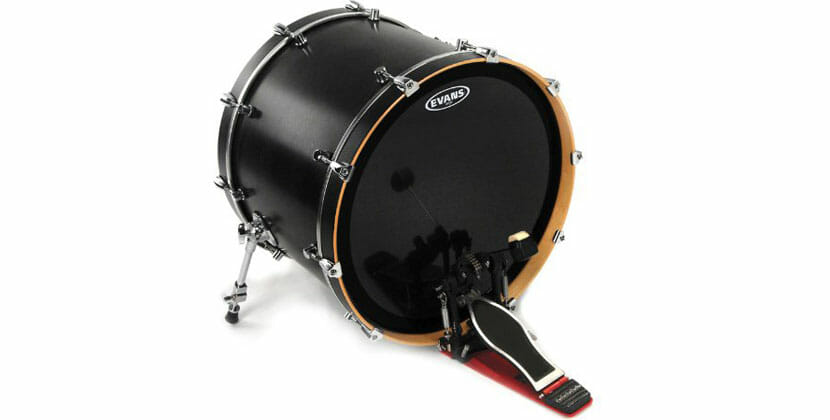 Evans EMAD Onyx is a drumhead from Evans's much famous EMAD line. The main feature is ofcourse an externally mounted damping system which gives the user a more versatile sound range. This one comes in onyx and has a very sleek design.
Pros
Improved attack and focus due to an external damping system.
It can be used for all music genres.
A sleek design.
Cons
Continuous use not preferred as it may decrease durability.
With Evans EMAD Onyx Bass Drum Head, you can attack and focus in a much better way than before. This single ply of 10 mil also has a very sleek design and is aesthetically pleasing. Now experiment a wide range of tonal ranges with this stunning drumhead.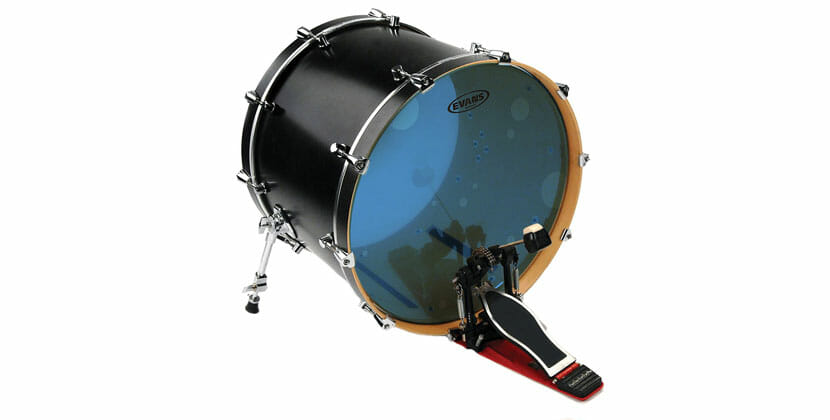 Evans Hydraulic Blue Bass Drum Head is a one of its kind drumhead present in market right now. It has a double layer ply and these layers are held together with a very thin layer of oil in between. This feature helps in prolonging the life of this drumhead and also eliminates any unwanted overtones that might affect the sound quality.
Pros
Improved resonance and a nice tight sound tone.
Maximum durability ensured.
Easy tuning.
Cons
You will need to put some force if you need your desired tonal range.
This drum head is perfect for beginners or anyone who is just learning for various reasons. Firstly, it is very durable and therefore will last longer. Secondly, it has a very easy tuning function that makes it perfect for beginners. Finally, it reduces any unwanted overtones to help you practice better. So if you are novice, you need to buy this drumhead!