Since the past 40 years, Evans has been a pioneer of drum head manufacturing and design. It is renowned for the unique and distinct designs such as EMAD, EC2S, and the Hydraulic series. Evans drum heads are made in the USA in a state of the art manufacturing facility.
They always strive for excellence in all the products that they produce. It was acquired in 1996 by D'Addario and Company, the global leader in musical instrument accessories, the Evans brand is equated with robust quality and consistency.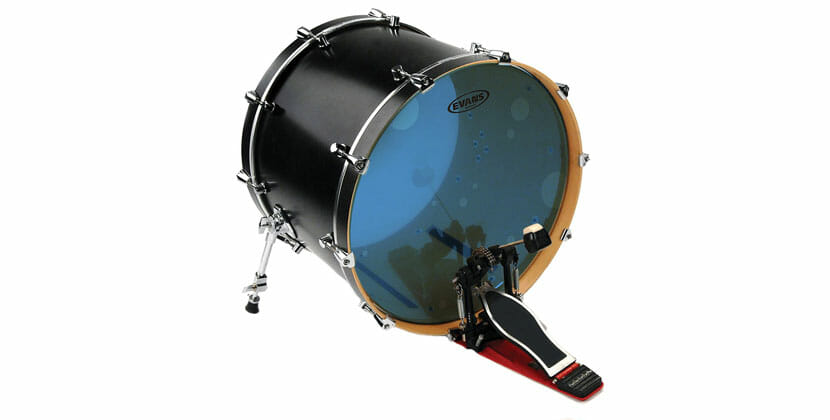 Table of Contents
Evans Hydraulic Blue Bass Drum Head is a part of Evans Hydraulic series, and the main feature of this line is that Hydraulics are acclaimed for ease of tuning, making them an exemplary fit for amateur drum players with modest tuning experience. The drums are available in 3 colors: glass, black and blue. Evans Hydraulic series consists of two plies that have a thin film which offers durability and ideal sound production for rock and roll music of the early 70's.
Evans 22″ Blue Hydraulic two-ply bass head has a thin film of oil between the plies that prevents undesirable tunes that may be created otherwise. An elegant sound is produced and sustains for a shorter period.
Basic Construction
This 22-inch drum head has a length of 23 inches, breadth of 0.9 inches and a height of 23.2 inches and weighs about 1.8 pounds. It is available in different colours as mentioned in the product description.
It consists of a thin layer of oil between the two plies for clarity of voice while playing the instrument, eliminating sources of unnecessary over tunes.
All Evans head are built from scratch in the United States of America and hence stands for high quality of products.
Attractive Features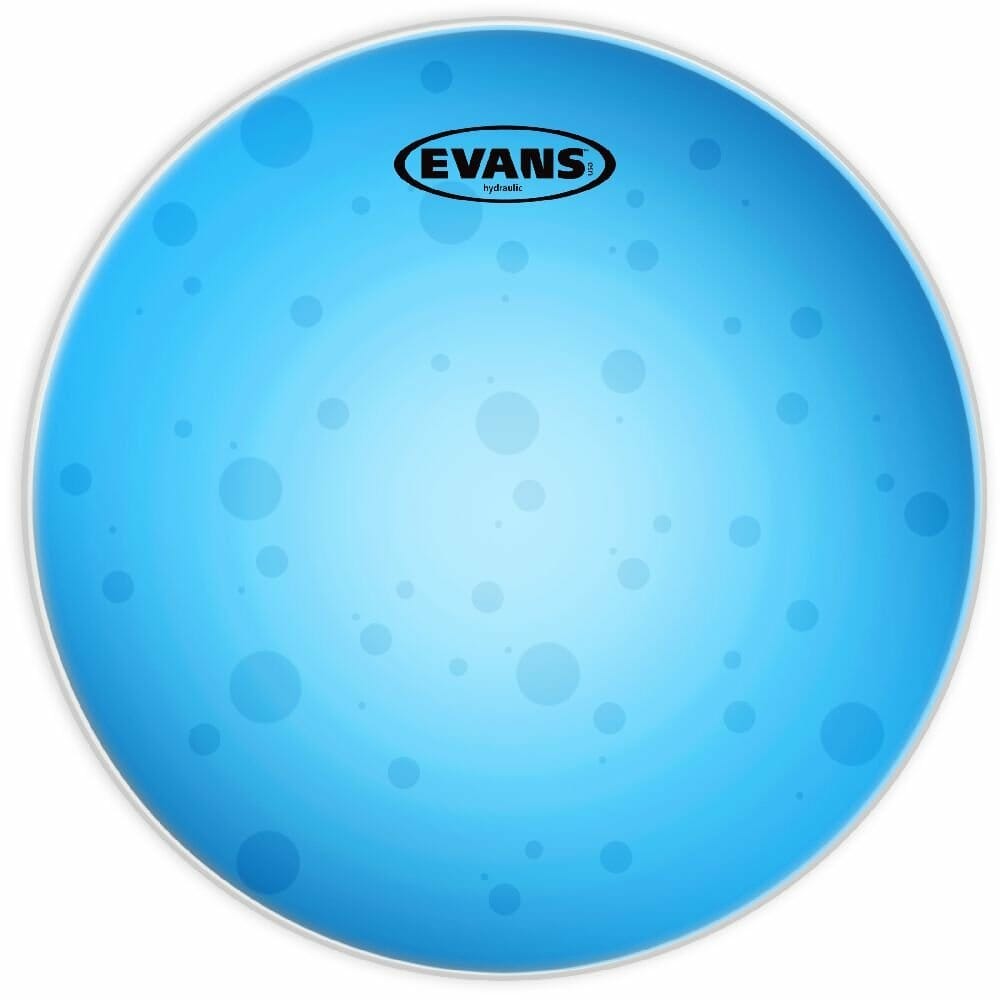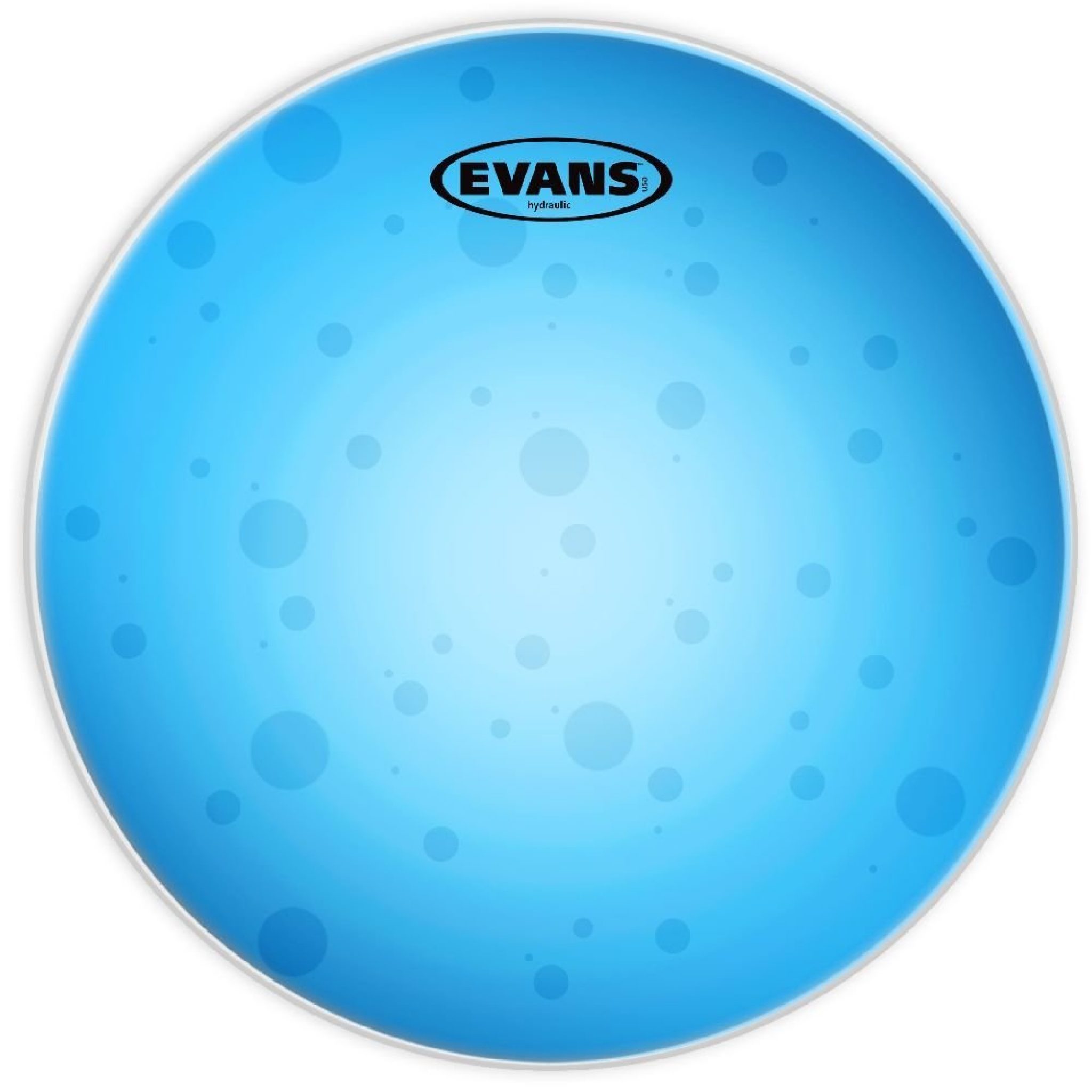 Though the key advantage of this drum head is the easy tuning and clarity of voice, here are some other significant features:
Highly durable product as it has two plies on the drum head.
Easy to use tune product that does not lose any sound while playing 70s rock and roll music. It has a unique sound clarity.
Experience a superior quality of sound as compared to other drum heads.
It provides great consistency in tuning and playing music for a longer duration because of the oil between the two plies of the drum.
The Evans Hydraulic Blue Bass Drum Head, 22 Inch is the only oil-filled drum head available in the market providing unique sound production options.
The kick of the drum looks great, and makes a superb deep and taut sound. The blue head in the front and clear head in the back, the audiences will be able to see through the drum when on stage, hence ensuring great compliments for the whole look of the drum head.
The hydraulics used in the drum head are great for a quick strike and deep sound.
How Does It Fare?
Evans Hydraulic Blue Bass Drum Head, 22 Inch has multiple unique features and performs unlike any other drum set. It is one of the cheaper alternatives in the market but provides just as great a sound quality for players. The best part is that this is made for amateurs or people who only know the basics of tuning.
At this price when compared to other head drums, Evans Hydraulic Blue Bass Drum Head, 22 Inch fares better at all levels, quality and performance wise. It is a very durable, lucrative and high performing piece to buy in the market with unheard technology using oil to produce superior sounds.
Value for Money
Evans Hydraulic Blue Bass Drum Head, 22 Inch by Evans is priced reasonably on Amazon and qualifies for free shipping at most states. Not a lot of options are available to purchase a used version of this drum set. When compared to other drum heads in the market, this version is cheaper than all of them and hence convenient for people who are on a tight budget.
Here are Some Bass Drum Heads To Checkout: