Remo Powersonic Clear Bass Drum Head is a part of the Remo Powersonic design line. The main features of this line are the external slap-on overtone control pad on the head and the specifically placed internal dampening rings. These features make sure no external muffling is required and offers a deep baritone to the instrument.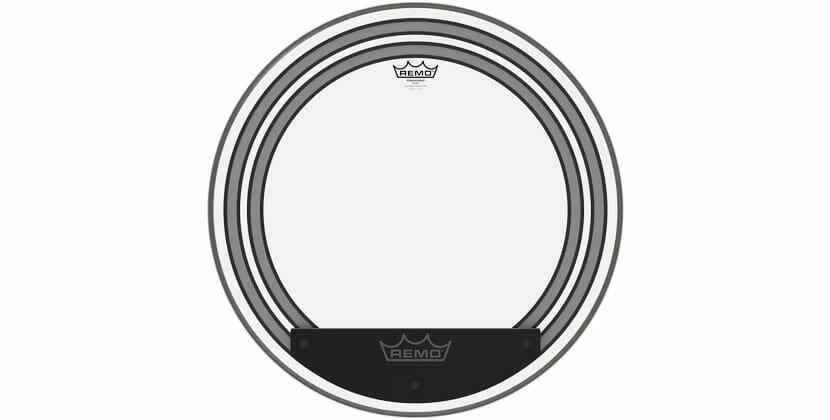 Table of Contents
Basic Construction
This 22 inch drum head comes with a 2 ply, 7 mm Mylar with two internal subsonic rings for dampening with External Snap-On Dampening System technology. The two mounted ¾ inch internal rings increase low end sound without fixating trays or rough, hard dampening materials to the drum head. It is 14 inches in length, 1.5 inches in breadth and 8 inches in height. It weighs a mere 0.8 ounces, though the shipping weight is 2.4 pounds.
Attractive Features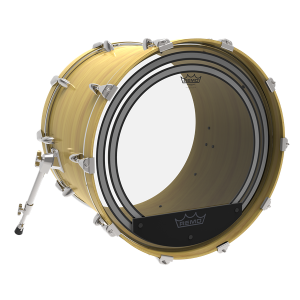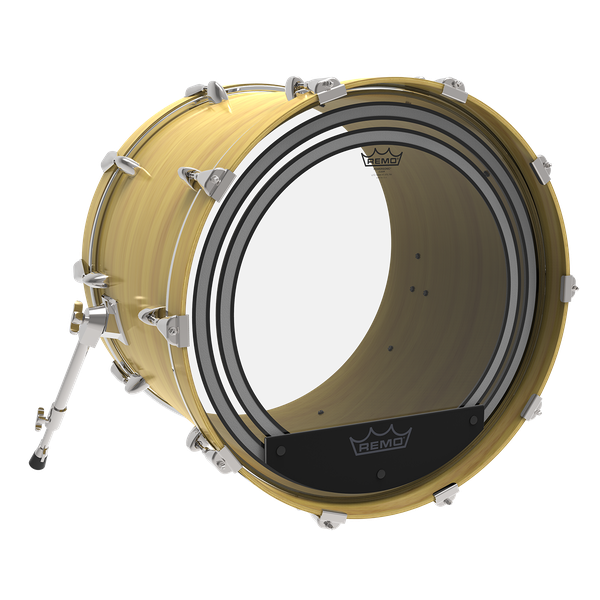 The key advantage of the drum head is that no pillows or towels are required inside the drum courtesy of ESDS or the external slap-on overtone control pad on the head. However there are many more compelling features:
It has a remarkable and striking design which improves the style quotient in the musical world.
It has negligible weight and thus it is child's play to move it around or transport it in a vehicle.
It provides smooth sound and a nice, deep resonance.
It has great pedal response.
It is highly durable because of ESDS.
The installation is very easy and you need not be a professional to ace it.
The clip pad sounds better close up while playing the kit.
There is a foam ring on the inside which will come off easily if you do not feel the need to use it.
It is great when played on a mic.
Because of the external slap-on overtone control pad, no internal drum muffling is needed. It sounds great with double bass or single pedal.
The 7 ply provides a deep tone.
The ESDS eliminates all possibility of vibration and helps customise the muffling. Hence you will get no unwanted overtones.
How does it Fare
The Remo Powersonic design line is time tested. Since when it was launched in the mid 2000s it has been flying off the racks from all the leading stores which sell state of the art and funky musical instruments.
Its USP lies in the fact that that it prevents the occurrence of any unwanted overtones and provides a deep, professional punch. The controlled mid range and low end sound right out of the box. It is simple and uncomplicated to use. There is no pillow required inside the drum!
Value for money
Remo Powersonic Clear Bass Drum Head is available at a reasonable price on Amazon and is eligible for free shipping in most states. This is quite a reasonable price for an instrument that provides so many edges to the baritone of the drum. However the price is a few dollars more than the other regular drum heads used but the superior sound quality and the customized muffling totally justifies it.
Most people who have bought it have great reviews and most customers on Amazon have given it full score of five. It is equally useful for both laymen and the professionals or people who play on a regular basis. Most users are floored by the deep seated and profound sound it provides. It works best for metal rock and provides sass to it which few other bass drum heads can give. Added to it, the fact that no internal muffling is needed makes it less cumbersome to use.
So musicians (both budding and professional), if you do not have this Remo created masterpiece, make a run for it! It will up your style game, make you look fashionable and at the same time do what it was bought to do- win the hearts of those listening with its splendid sound!
You Might Also Like the Following Bass Drum Heads: