Basic Beat Hand Bongo Drum is a wooden finish hand bongo that is a trademark Basic Beat product. This beauty provides a better and more 'real' alternative to plastic finish bongos. This is not only durable but elegant and conveniently portable. The calf skin and heads on each side are also of superior quality when compared to similarly priced counterparts. It is specially crafted to bring forth the joy of playing bongos, specifically to suit the needs of children of any age group. So, if you have a musically inclined young adult in your family, you have the perfect gift. Also, children love the strap attached to it.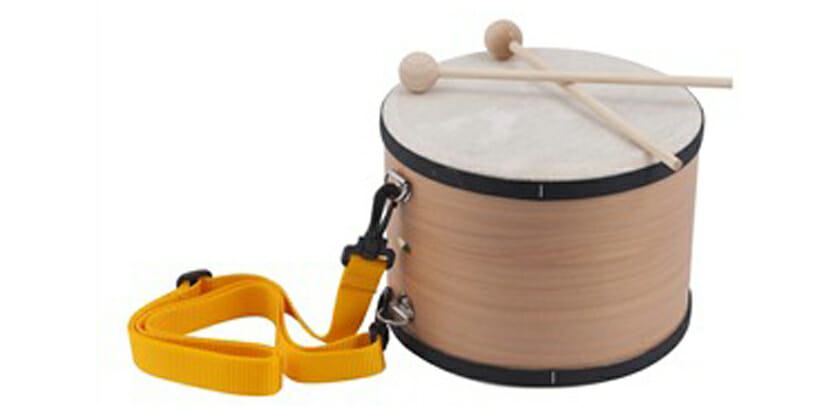 Table of Contents
Basic Construction
This originally 1.6 pounds percussion instrument is made of high-quality, hand-select wood and is a double head calf-skin drum. Its shipping weight is 2 pounds. The product dimensions range at 1.5 x 8.5 x 9 inches.  It is non-tunable but the clarity of the sound produced is satisfying. This product is built of select hand-picked wood to make it light-weight and easily portable. It is built like a professional Bongo and when compared, the looks and sound quality does not disappoint. The shoulder strap is made of stretchy fabric which allows the user optimum control over its length. The Basic Beat 8″ Single Hand Bongo comes with two wooden mallets that only enhance the user experience.
Attractive Features
The Basic Beat 8″ Single Hand Bongo is built like a professional bongo despite being meant especially for children. It also has other significant features which are as follows:
The calf skin drum gives it an edge over its cheap counterparts and also its flawless wooden finish is something to look forward to.
The product is long-lasting and light, just what your kids need.
The natural skin head guarantees a rich, profound sound-quality. It does not sound just like any toy drum.
The included wooden mallets make it convenient to play the instrument and they are of good quality to prevent easy wear.
How Does It Fare?
The Basic Beat Hand Bongo is absolutely safe for children aged between 2 to 10. You can encourage them to play by hand or with the help of the provided wooden sticks. Eitherway, it's guaranteed to be super fun! The lucrative wooden finishing of the instrument makes it an even worthy buy. The natural skin and heads on the surrounding are also of excellent quality to avoid any compromise with the tonal quality of the percussion instrument. The product works equally well for adults looking to let off some steam and revisit their childhood.
Value For Money
Priced at a moderate cost on Amazon and similar e-commerce sites, this exclusive wooden percussion instrument is guaranteed to leave no room for complaints from buyers.
Checkout The Following Bongo Drums As Well: