Hip Bongo Drums Set is a perfect gift for children and adults alike! It produces rich sounds and has a whole lot of features to make it the best in market. These drums are made of natural hide which is stretched with precision over the wooden shell. It is made out of premium quality hickory wood and nickel metal which makes it a resilient product. It can handle some rough usage by both beginners and enthusiasts.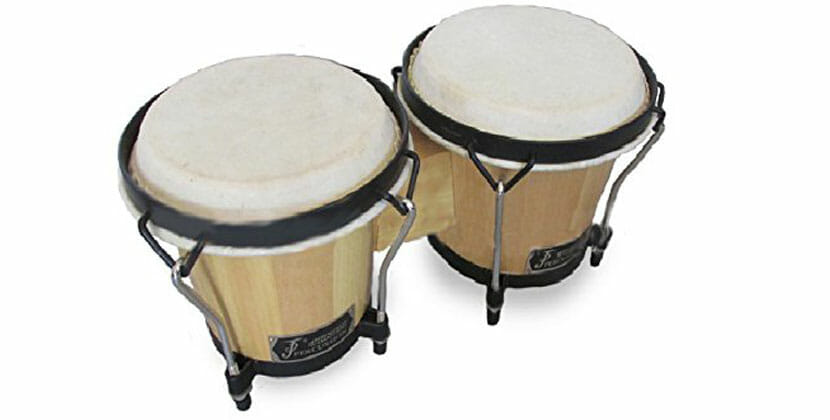 Table of Contents
Basic Construction
The Hip Bongo Drum set consists of 2 Bongos. It is of sizes 6 and 7 inches each and weighs 5.2 pounds with following dimentions; length = 13.2 inches, breadth = 8.2 inches and height = 6.5 inches. It is made out of the finest animal hide and the best quality wood shells with nickel-plated and cast base rim. The bongo drums are extremely lightweight and easy to use.
Attractive Features
This bongo set has been thoughtfully made for children. Its attractive features are –
These drums feature Hickory shells and the best quality natural hide heads.
Shells are made of hickory wood which is a high quality, durable wood.
It has 4 tuneable lugs per drum and comes with a tuning wrench
Natural hide heads are perfectly stretched over the wooden shells which also contribute to producing high quality sounds.
Bongo skin is tightly attached to the shells which does not allow dirt to settle in. This helps produce perfect sounds all-year round.
Wood shells, metals and animal hide skin are the carefully chosen materials for this drum. All this makes it extremely durable and weatherproof. It can easily withstand some rough and tough use.
Made especially for children, this bongo set is safe to use. It does not have any sharp edges, they have been rounded off with protective rubber feet.
Has rounded rims which means you can hold the drum anyway you want.
It is extremely light and portable, which makes it the perfect accompaniment in whichever setting you take it to.
How Does It Fare?
The shells and heads are made with excellent quality hickory wood and animal hide respectively. This no doubt produces powerful and clear sounds. The choice of materials also makes it a durable and long-lasting product. It can be enjoyed by both beginners and amateurs. It is also designed keeping children in mind and is therefore well-built and safe to use.
Value For Money
Hip Bongo Drums is available on Amazon and includes free shipping. With all the aforementioned features, you cannot let go of this deal! So don't wait any further, the winning combination of high quality and affordability can't be resisted. Surprise your kid with one now!
Here are Some Bongo Drums To Checkout: