Bongos are a very interesting equipment, when it comes to playing instruments. These hail from Afro-Cuban community and come in many different dimensions. These drums are hollow at the bottom and are played in a set of two. Like the instrument itself, the names of individual drums are also very interesting, as per Spanish language. The smaller drum is known as macho (is the male) and the larger one is called hembra (is the female). They represent music genres like salsa. GP percussion offers you Bongos, which are sure to make you fall in love with them at first sight by its looks and even more once you start playing them. These bongos are tunable and have a very delightful sound.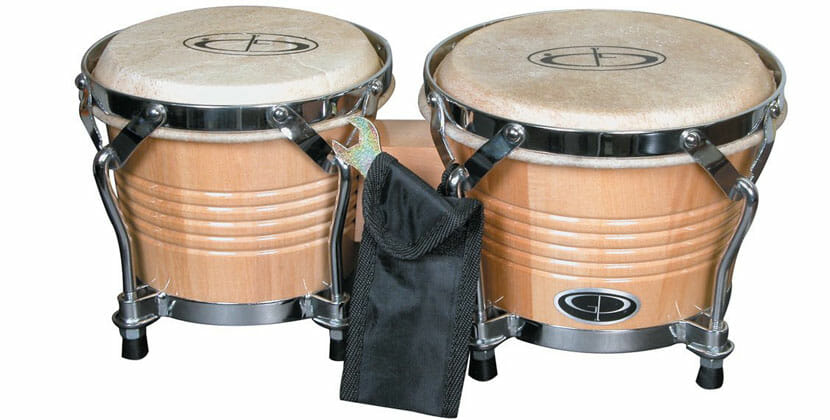 Table of Contents
Basic Construction
The bongos have a very simple and sober look and they look very elegant. It has a Hickory colored drum body, which is apt as per the construction and contrasts very well with rest of the apparatus. They are really light weight, weighing around 6.4 pound in total. The dimensions of the product are nearly 16.5 x 8.5 x 7 inches. The drum heads are 6 ad 7 inches respectively. The head, the drum body and other hardware is firm and sturdy and is of high quality. The best part about these bongos is the light weight, due to which they very much portable and can be carried to almost every place. You do not need a separate stand to play these drums on, as they can very easily sit on your legs or may be clutched between your legs for a support while playing. You may club them with rhythm sticks, however, fingers and palm are the best companions.
Attractive Features
These simple set of Bongos are a perfect drums for anyone, a beginner or even a master. It has following striking features:
The material that is used in making the product is hand-picked and assure a high quality.
The sound of the drum is very sharp and rich in volume.
The tunable head makes it even more flexible and can be tuned according to your style. It does include a tuning wrench.
The hardware of the drums is fitted well and has a great finishing in terms of assembled parts.
They are very low maintenance are idol for any age public.
How Does It Fare?
GP Percussion B2 Pro-Series Tunable Bongos are a must have bongo drums for any drummer who loves to experiment with different styles and kinds of drums. Even for a novice, these drums fare really well and are idol to keep them along with other drums that you may own. The promising quality and material makes these bongos stand out of the crowd ad people who own these are already on the top of their satisfaction level in terms of quality, performance, sound and durability. These are come features that can be vouched on when buying GP percussion series.
Value For Money
It is a matter of praise and to be surprised that in today's era when even the smallest thing costs you bombs, these tunable bongos are available in a very competent price. Not many of this type of products in the market offer a great performance and quality like this one and it would not be unfair to say that with this kind of price, the instrument is a win-win deal. Become you band's favorite person by simply practicing and playing the GP percussion's B2 pro-series bongos.
You Can Also Check Other Popular Bongo Drums: