First Act Discovery FB6125 Kids Bongo Drums is a hand-crafted percussion instrument that makes a great gift for your children. Built of wood, this instrument is sturdy, durable and can be paired with other First Act Discovery instruments for a complete musical ensemble. However, you can also enjoy the deep clarity of its sound without supporting instruments. The hardware packing of the product is better when compared to its market counterparts and it visually looks appealing.
The electric blue color and funky designs on the body, only adds to the beauty of this kid's bongo drums. It is also easily portable and comes in an easy-to-open packaging. These drums can be set on the floor, or on your lap or set on the table. The bongo drums are built so versatile that it can be used for the purpose of learning drums for beginners. Nonetheless, kids also love playing with it.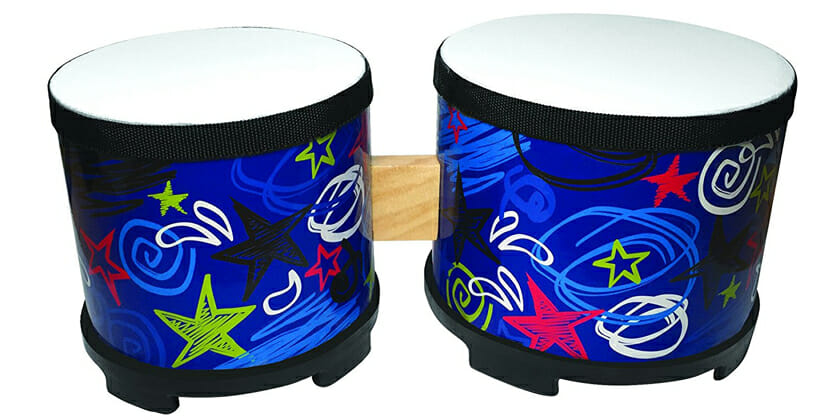 Table of Contents
Basic Construction
This originally 1.6 pounds percussion instrument is made of top quality, hand-select real wood and is fun and easy to play, with or without the mallets. Its shipping weight stays at 1.6 pounds. The product dimensions range at 12.2 x 6 x 5.5 inches. Made of solid wood shell, the head is pre-tuned. The sound produced has depth and clarity, unlike the cheap plastic counterparts.
Despite being labelled a toy for kids, the First Act Discovery Bongo Drums can very well be used for giving music lessons to beginners. It is suitable for children of 6 years of age and above. It's wooden built makes it alike to a professional Bongo and when compared the sound quality does not disappoint. You do not have to tune it separately as it comes pre-tuned to suit the needs. It is easy to place and transport and is hence user-friendly.
Attractive Features
The First Act Discovery Bongo Drums is built of real wood, much alike a professional bongo despite being meant especially for children. It also has other significant features that would make you want to buy it just about, now!
The 10-inch pre-tuned drum head makes it easier for beginners without compromising on the tonal clarity and richness.
It comes in attractive shades and mind-boggling graphics, etched onto it.
The product is durable and light, just what your kids need.
It definitely does not sound like a toy bongo. Bingo!
The wooden mallets that come along with the product are of good quality to prevent easy wear.
How Does It Fare?
First Act Discovery Bongo Drums is absolutely safe for kids aged six years and above. They can place it just about anywhere and play it by hand or with the provided mallets. Eitherway, it's sure to be super fun!
The pre-tuned heads only make it easier for those buying it. The raised shell, ensures that the sound produced is of full-tone and clear. The company promises to provide, "authentic tribal drumming experience" if you decide to put your money on this one. What better is that you can even pair it up with other instruments of the First Act Discovery percussion range to have a full-blown set-up.
Value For Money
Priced at a moderate price range on Amazon, this exclusive real wood percussion instrument is guaranteed to leave no room for complaints from buyers. The shipping fee for this depends on where it is being shipped. So, it may or may not be free. So, the First Act Discovery Bongo Drums is a complete thumb up from our side.
You Might Also Like the Following Bongo Drums: