Tycoon Percussion is one of the most trusted and reliable brands in instrument manufacturing industry. They never fail to surprise their customers with the quality, performance and durability that comes along with the products manufactured by them. They release new series of instruments every now and then with upgraded features and new technology. The Ritmo Bongos are the perfect example of their superior quality products.
Tycoon Percussion Ritmo Bongo Drums are one of its types. They are made with high quality professionally chosen Siam Oak wood with extensively fine and beautiful finish. It looks no less than a Mahogany wood, with the kind of finishing that has been implied by the pros.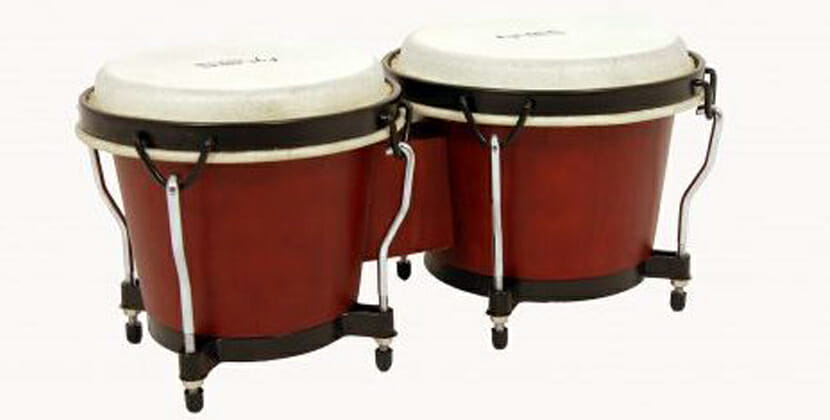 Table of Contents
Basic Construction
The 2 drum heads measure 6 inches and 7 inches respectively. The drum heads material is highly processed and in made of water buffalo skin, known for its strength and sturdiness. The attached hoops are coated with black powder and also have side plates. It is also equipped with tuning lugs which are 5/16 inches in diameter. Backing plates are also armed for a good support and strength. The overall product weighs around 7.5 pounds, which is considerably light weight and makes it portable to almost every place. The overall product dimensions are 16 x 9 x 8 inches, which is idol for a set of bongos. The finishing and fitting of the parts is very neat and the instrument also comes along with a tuning wrench for a perfect tune to the drums.
Attractive Features
However, the product has an eye-catching appearance, there are some of the features that stand out as compared to other products available in the market.
No one can deny the uncanny looks of the bongos made by hand chosen Siam Oak wood and giving a Mahogany like finish.
The sound is very crisp and the volume is highly rich which is gentle and will be loved by the ears.
These are very light weighted which make them flexible to shift to any place. You can even carry them along with you while travelling.
They do have tuning heads to set the sound according to you and for that they give a tuning wrench as well.
The color combination gives a retro and classic look.
How Does It Fare?
These bongos are everything that a drum player would want. They are perfect for experimenting with your tones if you are a master in drum playing; not to mention, this is what a beginner would look for. In any case, the Ritmo Bongos are an amazing choice.
Value For Money
There are many sellers who claim to be delivering the best quality product, but not many of them stand true on what they claim. Tycoon's Ritmo Bongos are efficient enough to deliver what they promise and that too in such a price. Expect a great performance, right product, strong fitting, neat finishing, amazing look and a great sound quality with Tycoon's Ritmo Bongos.
Also Checkout the Reviews of Other Bongo Drums: